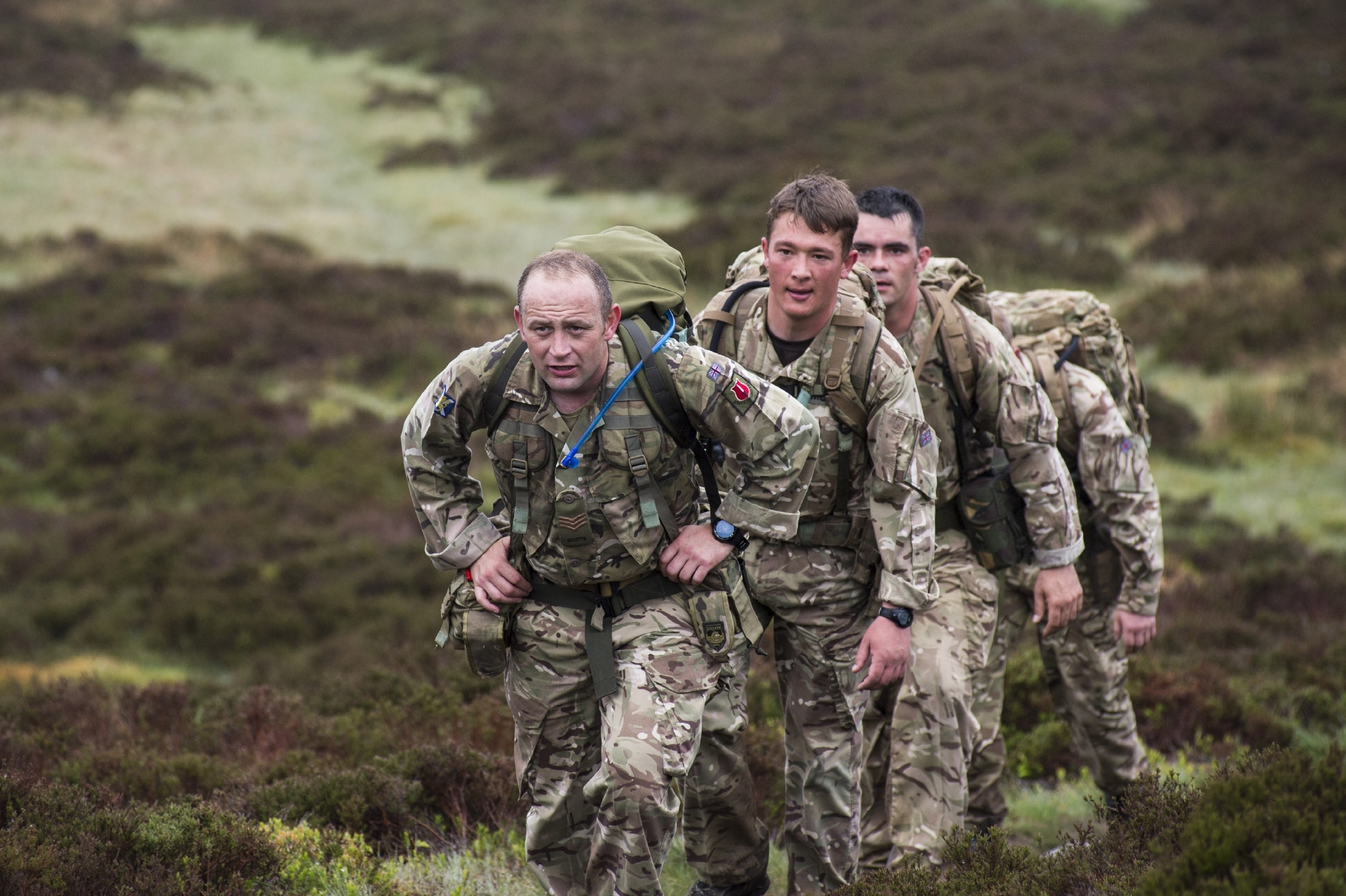 Still debating whether to sign up for the Cateran Yomp? If anyone can inspire you, these Yomp heroes can, as Gayle Ritchie discovers…
It's no secret that the Cateran Yomp is a tough challenge, physically and mentally.
Taking place from June 11 to 12, the event will see teams of three to six people hiking a stunning circular route which takes them through Kirkmichael, the Spittal of Glenshee and Kirkton of Glenisla.
If you're brave you'll attempt the bronze 22-mile route. If you're very brave you'll tackle the silver 36.5-mile alternative. If you're exceptionally brave, hard as nails or keen to push yourself to the max, you'll take on the epic 54-mile gold…in just 24 hours.
Already, a record-breaking 1,010 people have signed up for this year's event. That's compared with last year's 650!
This year, wheelchair-bound paraplegic Shaun Gash is taking part in the event for the first time. He'll push his way through the full 54-miles in a specially adapted wheelchair.
Then there's former Black Watch sergeant, Arbroath bus driver Bob Reid. He's been training for the yomp with his two Springer Spaniels.
And members of the fastest mixed team for four years running – Tim and Jackie Heilbronn – are gearing up for gold once again.
SHAUN GASH'S STORY
If you think you can't do something then you should probably meet dad-of-three Shaun Gash.
When he was 20 he was thrown through the back window of a car when it crashed and has been completely paralysed from the chest down ever since.
That hasn't stopped him raising more than £20,000 for his favourite charities by pushing himself to the edge of endurance.
His latest challenge is tackling the 54-mile Cateran Yomp in his wheelchair.
"The Yomp is going to be an incredible challenge, not only because it's supporting ABF The Soldiers' Charity, but more so because I will be the first adaptive wheelchair person to take on the 54-mile gold Yomp route," says Shaun. "I've never let the misfortune of being paraplegic hold me back."
Shaun says the Yomp is essential prep for an attempt in August to scale Mount Kilimanjaro in his state-of-the-art wheelchair, which has gears and pulleys that allow him to scale sheer peaks and every kind of terrain imaginable.
"The Yomp is key to everything this year," he says. "The Perthshire course is very similar to the challenges of the dormant volcanoes of Tanzania. It's a dry run that will tell me if I am ready for this ultimate challenge in Africa – to claim the record as the first paraplegic to scale the highest free-standing mountain in the world."
Shaun, who hails from Lancaster, is also the first UK Adaptive Athlete to compete and complete in the UK Championships for Obstacle Course Racing (OCR).
Taking part in the Yomp has become doubly important for Shaun given his background and experience of life-changing injuries and trauma.
As the son of military parents and the product of a military school, forces life has always been a constant in his life. "Add to that the network of forces people I rely on and the reality of my condition – I know the very worst of what can befall serving soldiers."
Ex-serviceman and friend Daniel Topping was the person who challenged Shaun to take on the Yomp. "We've completed OCR in the past and Daniel was fully aware of how I enjoy taking on a challenge," says Shaun. "I complete all these events with my team, No Fear on Wheels – a team consisting of fellow OCR runners who travel the length of the country for the honour and privilege of taking part in my journey."
Last year, Shaun completed a gruelling obstacle course called Born Survivor. He was helped by his wife Dawn and a group of friends along the 10km course that included muddy trenches, steep fences, and crawling under barbed wire.
TIM AND JACKIE HEILBRONN'S STORY
Dundee couple Tim and Jackie were members of the fastest mixed team to finish the Yomp…four years running.
The first year they took part was 2012 and the couple have done every one since. The first three times they did it as part of a four person team and then in 2015, it was just the two of them.
This year's Yomp will be their fifth time, and again, it will be just Tim and Jackie.
"Our fastest time was 15 hours and 54 minutes – embarrassingly slow, really, compared with the fastest military team," laughs Tim.
"I'm hoping that in my 60th year, I'll be able to knock a fair bit off that!"
Prior to their first Yomp, the couple hadn't done much walking, but now they're addicted. "I'd done nothing more than eight mile walks," says Tim, while Jackie says she did the odd 5K race.
They started training six months before the Yomp and say that enabled them to enjoy the challenge. "I'd argue absolutely anyone could do the Yomp, but there's a bigger chance of enjoying it if you put in the training," says Tim. "We get out training regardless of the weather."
They recommend simply making a plan and sticking to it. "There's no substitute for toughening up the feet like getting out onto the hills," says Jackie.
"Invest in a well-fitting pair of shoes or boots and a few decent pairs of socks which you can change."
Another reason to train for the Yomp is that you'll get fitter. Tim and Jackie found themselves combining fast walking with jogging along the route and then joined Dundee Road Runners.
They advise tackling the Yomp at the right pace. "Unless you're an athlete and are planning to do it in 10 hours, I'd say slow and steady wins the race – forget any early heroics," says Tim.
BOB REID'S STORY
As a former Black Watch sergeant, Arbroath bus driver Bob Reid knows all about the hardships our forces personnel face in civilian life and that's why he is pushing himself to the edge of endurance to raise funds for The Soldiers' Charity with the support of friends, family and his secret weapon – two Springer Spaniels.
Bob, a driver for Wisharts Coaches of Friockheim, was a popular fixture on the X7 Aberdeen to Perth Stagecoach for many years.
Now the 51-year-old grandfather of four is tackling the Cateran Yomp to raise funds and awareness for the plight of ex-services' personnel and their families.
"I served with The Black Watch for more than 22 years where I reached the rank of Sergeant," he says. "I am also a current serving member of the Territorial Army and serve with A Company 7 Scots in Dundee."
Bob was mobilised with the Territorial Army in 2010 to Afghanistan and attached to 2nd Battalion The Parachute Regiment on Operation Herrick 13.
"I'm raising money for Army Benevolent Fund Soldiers Charity which do an outstanding job of supporting soldiers, veterans and their families. Having been a serving soldier in the past, I feel it's important to support past and present soldiers and their families."
Taking part in the Yomp is a daunting task for anyone but Bob says the training is going well thanks to his biggest supporters – his dogs Lennie and Millie.
"Both dogs accompany me while I'm bike riding and training and Lennie especially enjoys our long treks bounding ahead and acting as a pacemaker," he says. "I'm no a spring chicken but I like to show them that there's definitely some life in the old dog yet."
Info
If the draw of experiencing some of Scotland's finest scenery isn't enough to convince you to sign up for the Cateran Yomp, then how about raising vital funds to support injured and sick soldiers and disadvantaged youths?
Now in its sixth year, the yomp has raised more than £1.8 million for the Soldiers' Charity and last year, the Alliance Trust Foundation donated more than £40,000 to various local community organisations.
With food and water stops at regular intervals, competitors are never further than a few miles from their next slice of chocolate cake and a team of elite masseurs are on hand to ease away any aches and pains.
Yomp ambassador 2016 Micky Yule will be motivating yompers along the route. Despite losing both legs when he stepped on an IED in Afghanistan's Helmand Province, Micky, 37, from Musselburgh, has gone on to win medals for powerlifting. He clinched gold at the Invictus Games and is heading to Rio for this summer's Paralympics.
Participants can expect to stumble on surprises along the way, including clay pigeon shooting, archery and a fire-breathing dragon hidden in the woods.
Registration is £99 per person for individuals and £80 per person for military or ex-military personnel.
The Courier is once again pleased to be media partner for the event.
www.soldierscharity.org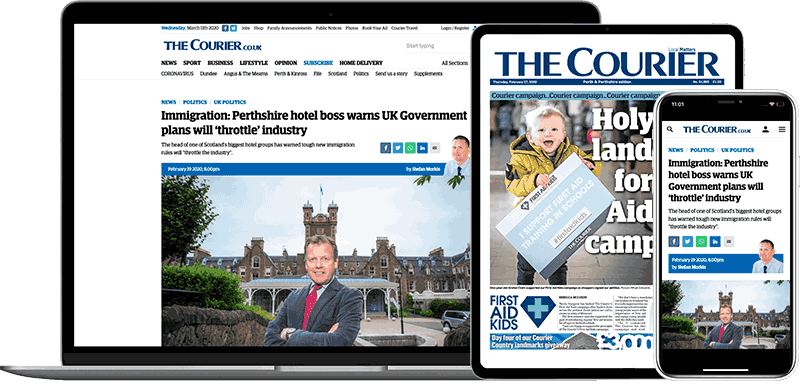 Help support quality local journalism … become a digital subscriber to The Courier
For as little as £5.99 a month you can access all of our content, including Premium articles.
Subscribe