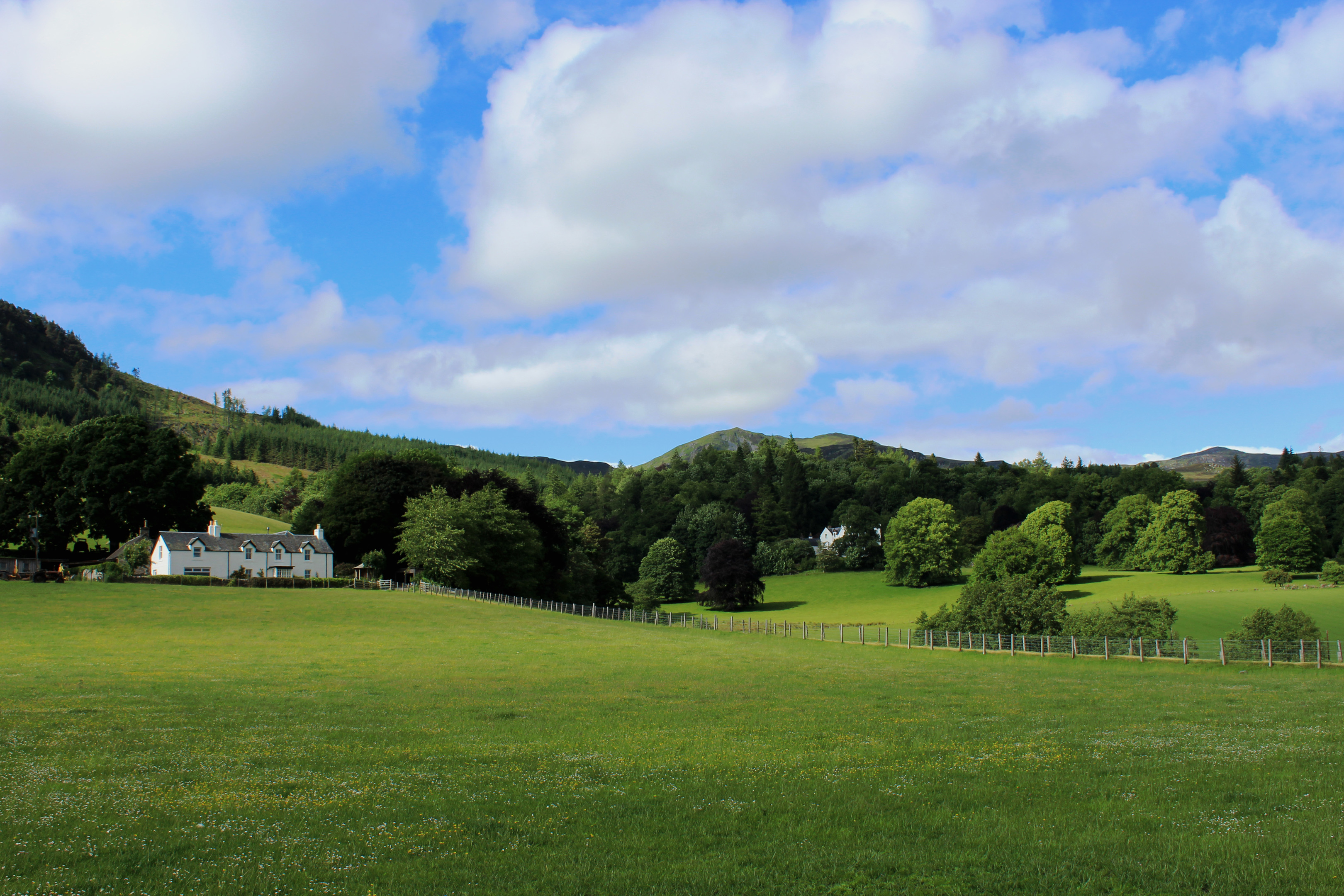 Pulling into Pitlochry in the pouring rain, my prospects seemed as gloomy as the sky above me. However, legs itching to go, I parked below Black Spout Waterfall and soon discovered just how important a steady flow of rain is.
Enjoying the protection of a leafy woodland canopy, I hiked up the path to Milton of Edradour, a tiny hamlet on the outskirts of Pitlochry. Well signed and dotted with yellow marker posts, the path climbs through mature oak and beech, skirting to the right of a golf course before branching right once again.
One can either stay on the main path, or break right at a bench – both routes converge at a viewing platform overlooking the gorge and waterfall, which has a drop of around 60 metres.
As spectacular as Black Spout is, whisky drinkers will appreciate Edradour Burn – and the rain that fills it – as the source of the whisky made at Scotland's smallest traditional distillery.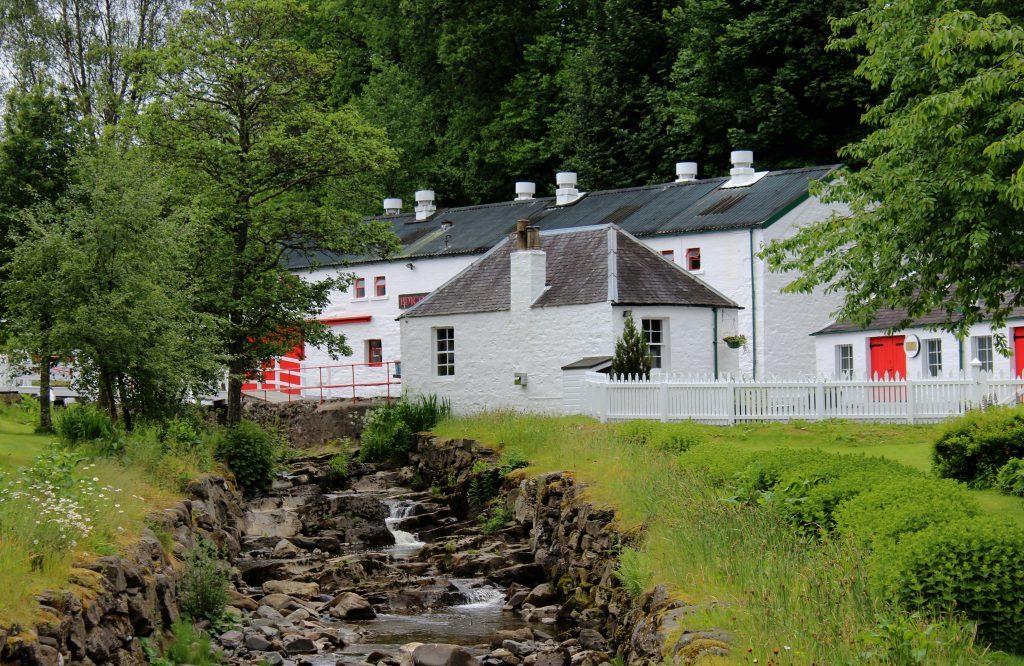 Following the burn upstream, the path runs along the edge of a field, where there is a fine view of Ben Vrackie to the west, before emerging on to the road opposite Edradour Distillery.
Established by a group of local farmers, the picturesque cluster of whitewashed buildings sitting by the burn dates from the 1830s and a guided tour offers a tempting deviation.
Ascending the road out of Milton of Edradour, I picked up a path dropping between fields into woodland where I joined the route to Moulin, my next port of call.
Walking west, the path emerges from the trees beyond a stream crossing and walkers can either bear left around the edge of the field, enjoying the shelter of adjacent woodland, or cut straight across.
Beyond a gate at the far side of the field, the two ways meet, progressing over Kinnaird Burn, and around the fringes of Pitlochry before crossing a meadow where the remains of Moulin Castle stand.
Constructed in 1326, the stronghold was inhabited until 1500 when its inhabitants were stuck down by the plague. Dubbed Caisteal Dubh (Black Castle), it was burned to the ground and the site never occupied again.
From this eerily quiet, overgrown spot, I made a beeline towards the prominent tower of Moulin Kirk, entering the hamlet by Moulin Hall.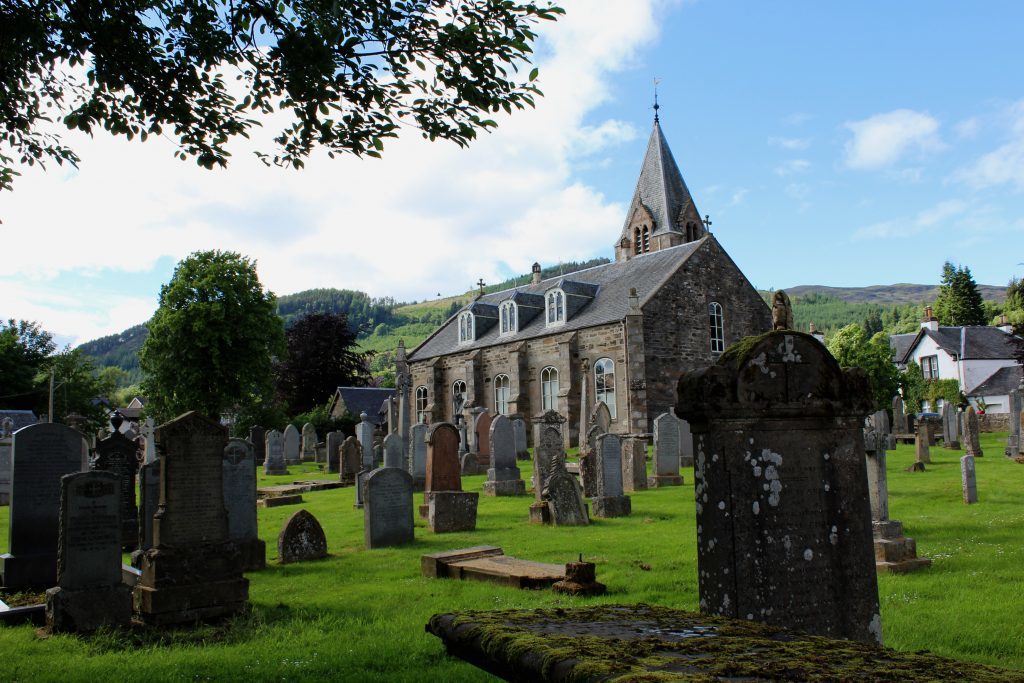 The church is now a heritage centre and the surrounding graveyard offers an interesting excursion.
However, I was keener to stop off at Moulin Brewery, one of Scotland's first micro-breweries, and a place where healthy downpours doubtless assist in the production of real ales.
The road passing between the brewery and Moulin Hotel, and a track beyond, lead west to the town's golf course, where the path negotiates the greens and fairways on its way down to Loch Faskally.
Crossing railway line and road, a path branching off Lagreach Brae beyond links to the lochside trail, a wooded way running along the edge of the water to Pitlochry dam and hydro-electric power station, an avid consumer of local rainfall.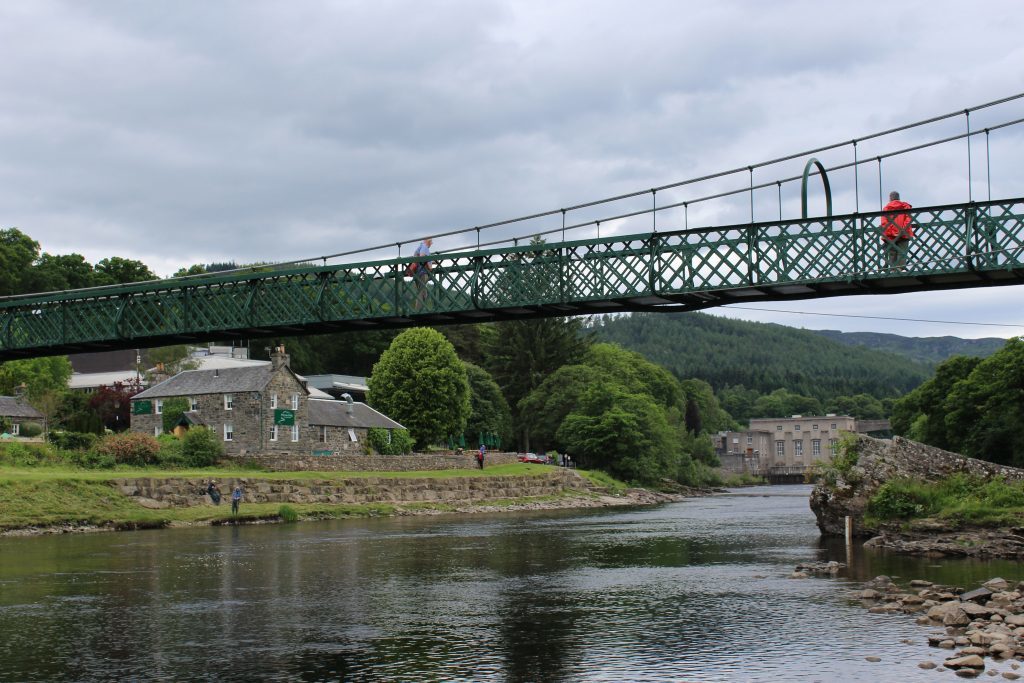 Downstream from the dam and its salmon fish ladder, at Port-na-Craig, a suspension bridge returned me to the north bank of the River Tummel and on to my last watering hole of the day, Blair Athol Distillery, where I concluded that perhaps a spot of rain is not such a bad thing after all.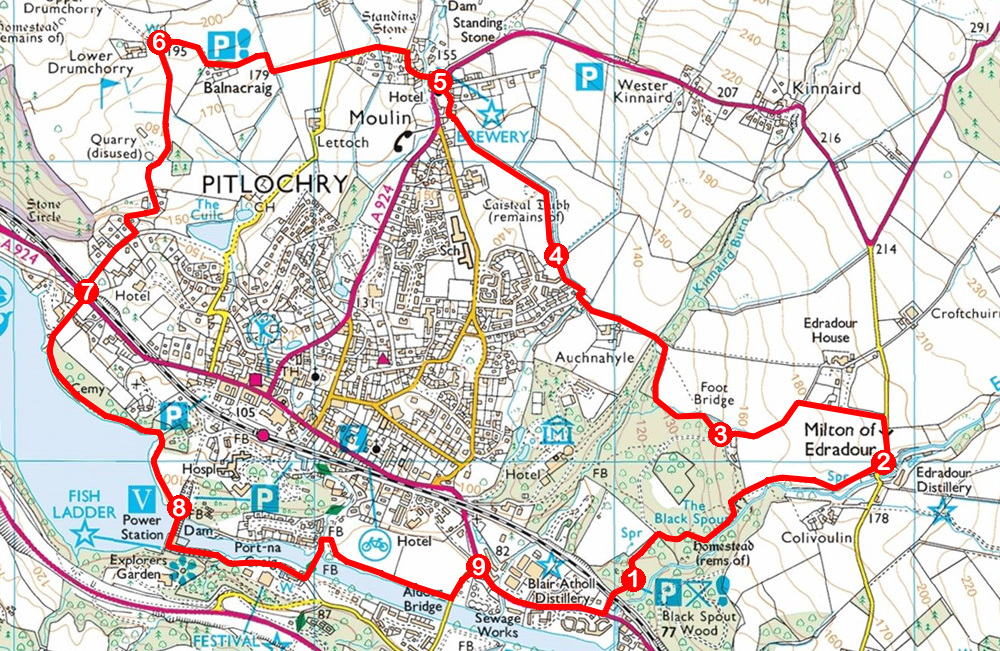 ROUTE
1. Ascend Edradour Path to Milton of Edradour.
2. Turn left up road then branch left on path (signed Pitlochry). Descend between fields to enter woodland at metal gate.
3. Turn right and follow path signed Moulin (light blue arrows).
4. Cross meadow by Caisteal Dubh and aim for church ahead. Leave field at gate and go right by Moulin Hall to Moulin Hotel.
5. Branch left on Baledmund Road and follow road then track west to golf course.
6. Turn left, descending edge of golf course (signed Pitlochry) then continue across course (signed Loch Faskally) to gate. Descend track then minor road.
7. Cross railway and A924, descend Lagreach Brae and path, bearing left on lochside path to dam.
8. Cross dam and follow road east to Port-na-Craig. Cross suspension bridge, go right on parkland path to Aldour Bridge then go left on road to A924.
9. Turn right and follow A924 to Black Spout car park access track.
INFORMATION
Distance: 8km/5 miles
Ascent: 215m/710ft
Time: 2 hours
Grading: Easy low level walk following well-signed paths. Keep dogs on lead where there is livestock and on golf course
Start/finish: Black Spout car park, signed off A924 at eastern end of Pitlochry (Grid ref: NN 951576)
Map: Ordnance Survey 1:50,000 Landranger sheet 52; Ordnance Survey 1:25,000 Explorer sheet OL49
Tourist Information: Pitlochry Information Centre, 22 Atholl Road, Pitlochry PH16 5BX (Tel 01796 472751)
Public transport: Citylink coach services stop in Pitlochry and there is a local bus service from Perth via Ballinluig. Alight at Aldour stop. The town also has a railway station