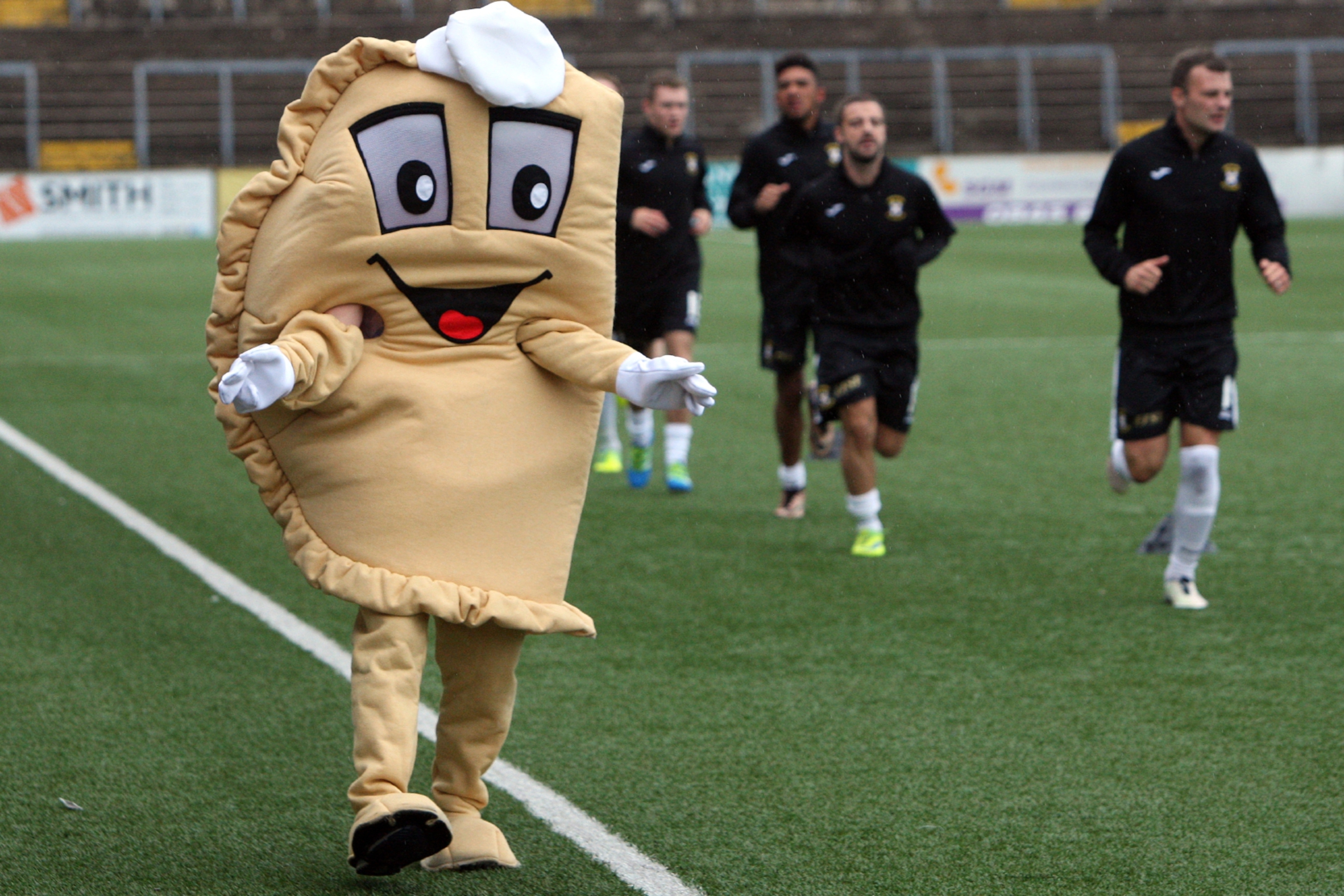 Ever wondered what makes a football mascot tick? Join us as we peel back the crust of Forfar Athletic's latest signing…
Prancing around on the football pitch, throwing shapes and high-fiving players while dressed as a giant meat pasty, you might suspect I'd feel a bit of a plonker.
But as I hug yet another fan and join in the pre-match warm-up regime, I feel surprisingly liberated.
"You're really enjoying this, aren't you?" laughs photographer Kris Miller, and I have to admit, that yes, I am.
I've taken on the role of Baxter the Bridie – Forfar Athletic's new mascot – and I'm pretty much ad-libbing my duties.
Stepping into the super-size character's costume, I'm struck by how warm it is inside. Luckily it's a cool evening, with light showers, or I'd be cooked alive.
It's quite tricky to see through the mesh covering Baxter's "eyes", but maybe that's a good thing – it certainly enhances the surrealness of the experience.
As I chatter and flap around, Aisling Fitzgerald, of Forfar's merchandising team, tells me I've got artistic licence to do whatever I want…within reason.
"Don't talk though – you'll shatter the illusion," says Kris.
The aim is to entertain the crowds, and plenty of folk seem to love Baxter, who sports white gloves, a chef's hat and a fixed grin.
I get pats on the back, high-fives, hugs and banter from fans on both sides (Forfar Athletic are hosting East Fife at Station Park).
I jog alongside players as they do their warm-up drills, run sideways and backwards waving my four-fingered floppy "hands", perform some jumps, squats and static stretches, and even kick a couple of balls, all the while, beaming my huge, unwilting grin.
But I really get into the swing of things when the music starts, and on hearing the famous Korean dance pop single Gangnam Style booming out through the speakers, I start to dance.
I've no idea how good or bad the moves looked – it's quite difficult to judge while leaping around in giant bridie "feet" with dexterity limited by the narrow placing of the arm holes, but it feels fantastic. What better excuse to go wild and lose your inhibitions than when dressed as a bridie!
The fact Kris is laughing is a positive outcome…I think.
A major highlight is being presented with a Frank's Law (a campaign for free care for dementia sufferers under 65) T-shirt by Dundee United legend Frank Kopel's wife Amanda ahead of the match.
The Kopel family, who are fronting the Frank's Law campaign for free care for dementia sufferers under 65, have a strong connection with Forfar Athletic – Frank's son Scott played for the team in the early 1990s.
When kick-off approaches, the players run out on to the pitch, and Baxter takes the opportunity to give as many of them as possible a lucky high-five.
Sadly, some of the more serious team members sprint on by, but those who do take him on do so with good grace.
Duties done until half time, I head back to the dressing room and strip off the sweatbox costume.
My hair is frizzy and stuck to my forehead, my mascara is running, my eyes are bloodshot; quite frankly, I looked a lot better as Baxter.
It was the second time the mascot had entertained fans after making his debut at a friendly against Dundee United at Station Park on July 5.
And Baxter — already well on his way to cult status — proved his worth as a lucky mascot, with Forfar beating East Fife 2-0.
Alll in all, being a bridie was a fun and somewhat enlightening experience and one I may even (whisper it) repeat.
The club is keen for volunteers to take on the role on match days and stress it's open to anyone. No previous experience or knowledge of football required!
Anyone interested should email fafcretail@gmail.com
info
Baxter the Bridie is Forfar Athletic's first mascot. The bridie (a horseshow-shaped meat product) was an obvious choice as it's iconic to the town.
The club has been delighted by the reaction to Baxter since he was launched in May, and there's a long waiting list for replica mini bridies.
As well as meeting golf hero Phil Mickelson and Scottish football legend Kenny Daglish, fun size versions of Baxter met rugby giants Gavin Hastings and Craig Chalmers, and presenter Hazel Irvine. Baxter even boasts his own Facebook page and there's a competition for fans to take mini-mascots to far-flung places.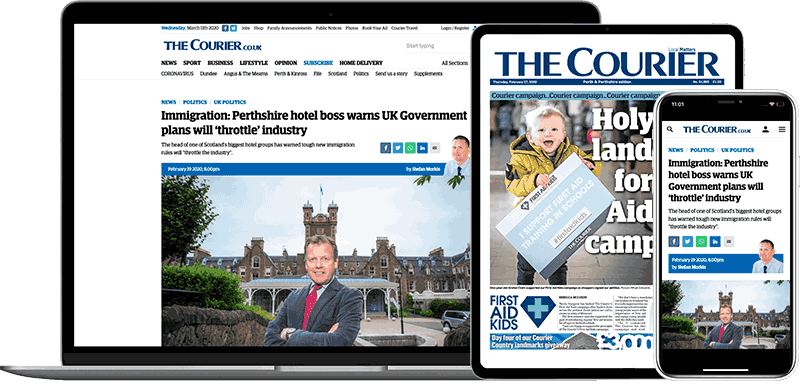 Help support quality local journalism … become a digital subscriber to The Courier
For as little as £5.99 a month you can access all of our content, including Premium articles.
Subscribe