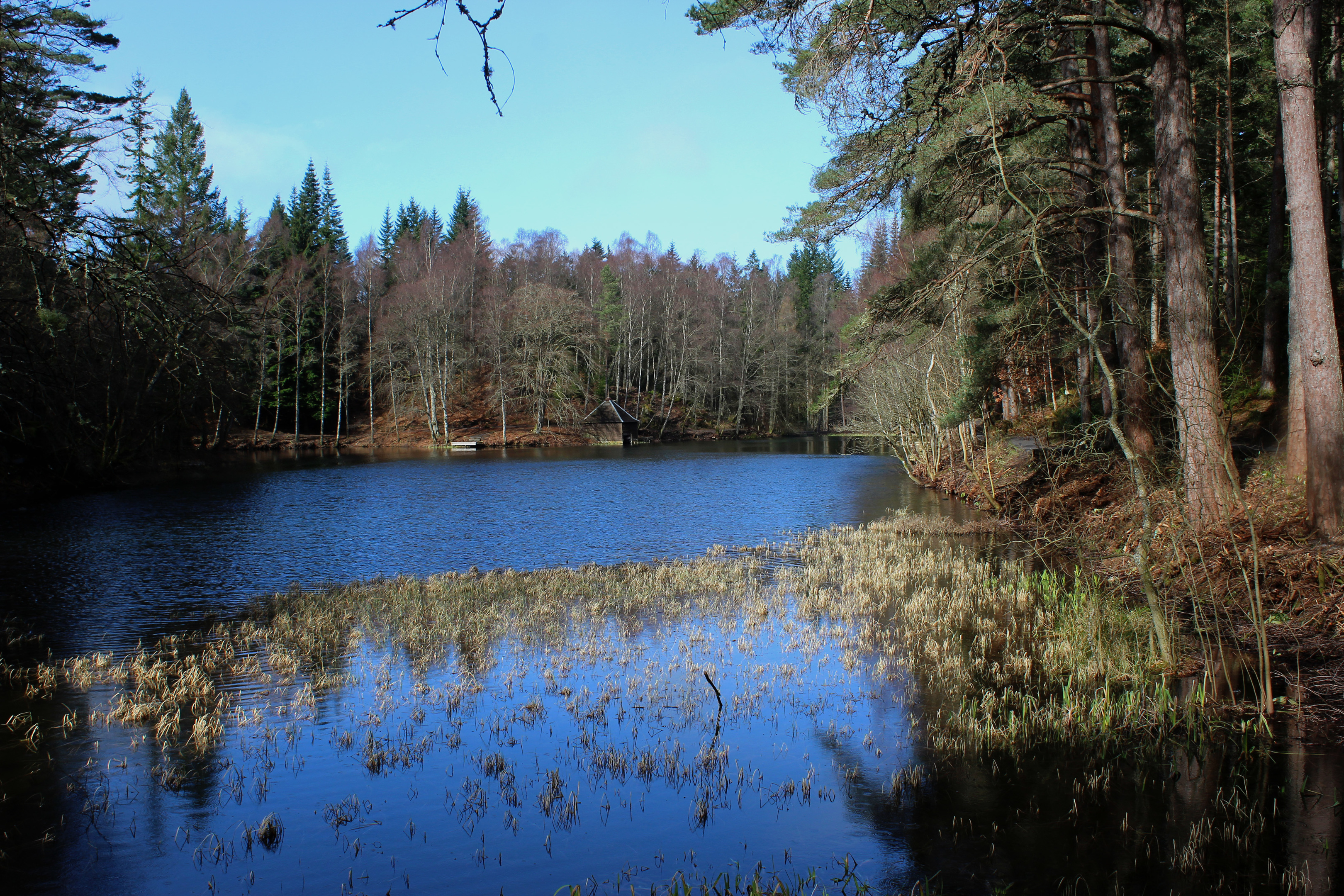 Renewable energy may be all the rage, but it is nothing new, as the glens of Scotland will testify.
While the country's earliest public hydro-electric supply was created by the monks of Fort Augustus Abbey in 1890, it was in the 1940s that the first major developments were initiated by the North of Scotland Hydro-Electric Board.
Early projects included the extensive Tummel Valley scheme. With a catchment area stretching from Dalwhinnie, in the north, to Rannoch Moor, in the west, and Pitlochry, in the south, it incorporates Loch Faskally.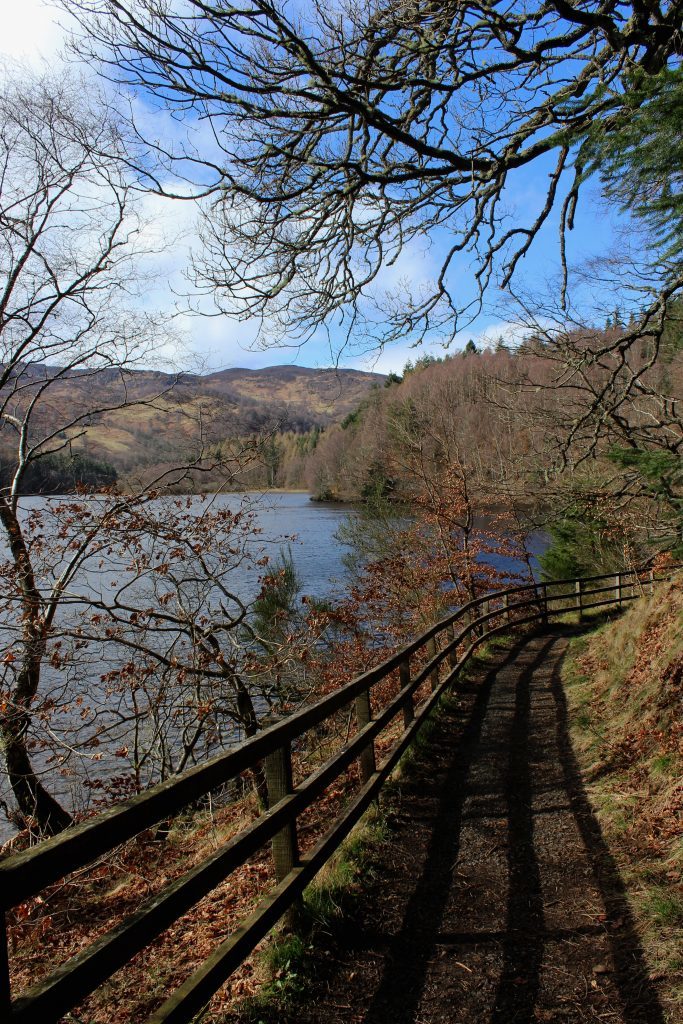 Opponents were quick to predict the 'ruination of tourism' in Highland Perthshire but, despite its reservoir roots, the newly created Loch Faskally became an enduringly popular visitor attraction.
Flanked by steep wooded slopes and fed by the rivers Garry and Tummel, this scenic stretch of snaking water has long been a favourite of mine too.
With energy levels high, I descended from the western end of Garry Bridge, crossed the rocky river gorge below by a venerable old footbridge and turned south, a fine woodland path following the flow downstream to Loch Faskally.
The Garry converges with the Tummel by Clunie Power Station, perched across the water at this, the northern end of the loch, and the onward path hugs the shoreline, strips of pebble beach offering tempting deviations from the route.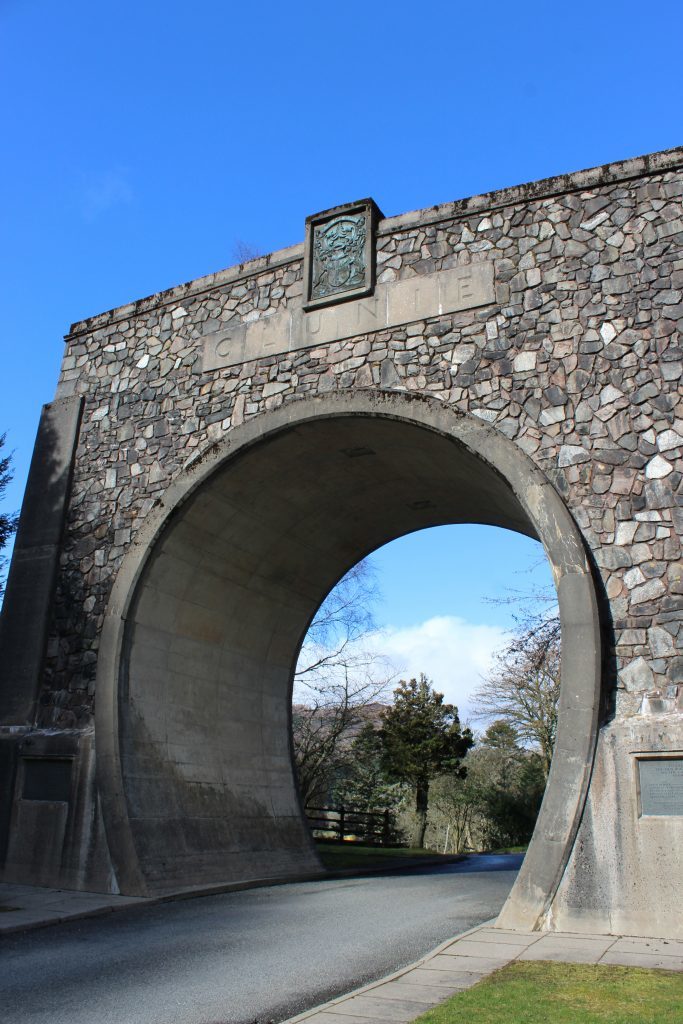 By contrast, a section of roadway serving Faskally House and the government's Marine Scotland Freshwater Fish Laboratory, drew me away from the loch, into Faskally Wood where, amid the trees, I discovered a captivating sliver of water.
Dunmore Loch, the setting for the annual Enchanted Forest light and sound spectacle, is an idyllic spot, complete with timber boathouse and, at its reedy midpoint, a charming wooden bridge.
Wandering along the western side of the water, I spotted ducks and a heron and a passing dog walker suggested I look for a kingfisher that she regularly saw scouting the shoreline.
I kept my eyes peeled but, despite unmistakable bright blue and orange plumage, the little bird evaded me and, reaching the southern end of the loch, I headed back into the trees to re-join the Loch Faskally trail.
Hydro power is not the only development to have impacted upon the landscape here. Ahead of me the A9 trunk road cut rudely across loch and, in the shadow of a soaring concrete and steel viaduct, I stepped over a more delicate cast-iron span.
From Clunie Bridge, the lochside road led me north, first to the carved seventh century Priest's Stone, and then to Clunie Arch, imposing entrance to Clunie Power Station and a memorial to the five men who died in the late 1940s during the construction of the pipeline that links Loch Tummel with its turbines.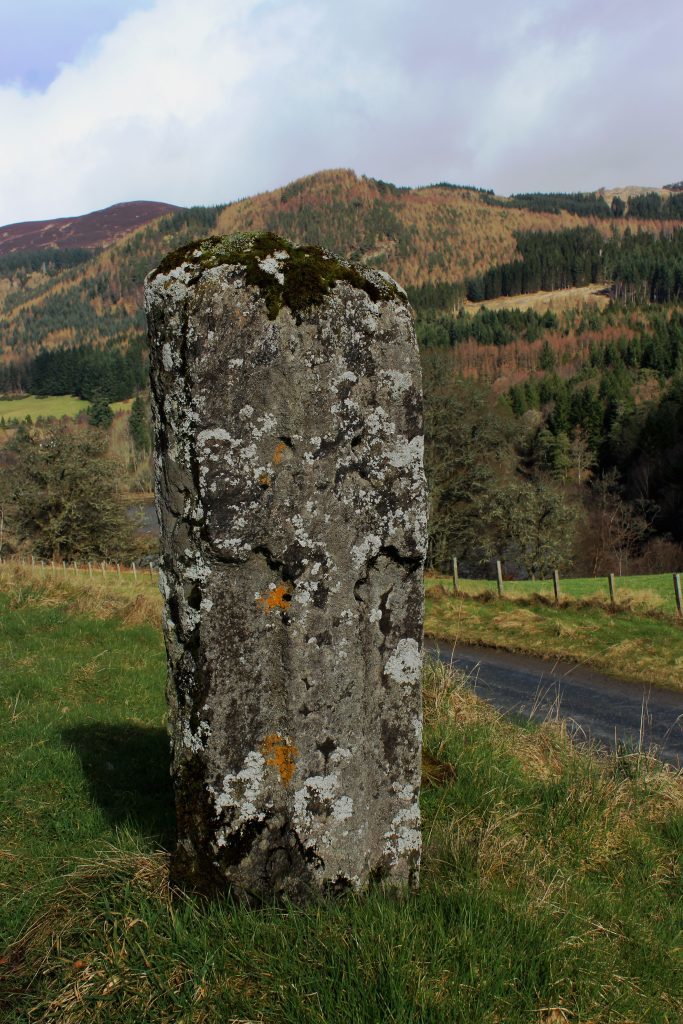 What water is not consumed by the seven-metre wide tunnel cascades through Linn of Tummel and, crossing the suspended walkway of Coronation Bridge, I pottered downstream past frothing white water to a viewpoint with a couple of curiosities.
A channel hewn through the rock is an early example of a fish ladder, created in 1910 to assist salmon on their journey upstream, while a wee obelisk marks a visit by Queen Victoria in 1844.
With the raising of Loch Faskally the outlook today is quite different to the one she witnessed over 170 years ago. Would she approve? I'd like to think so.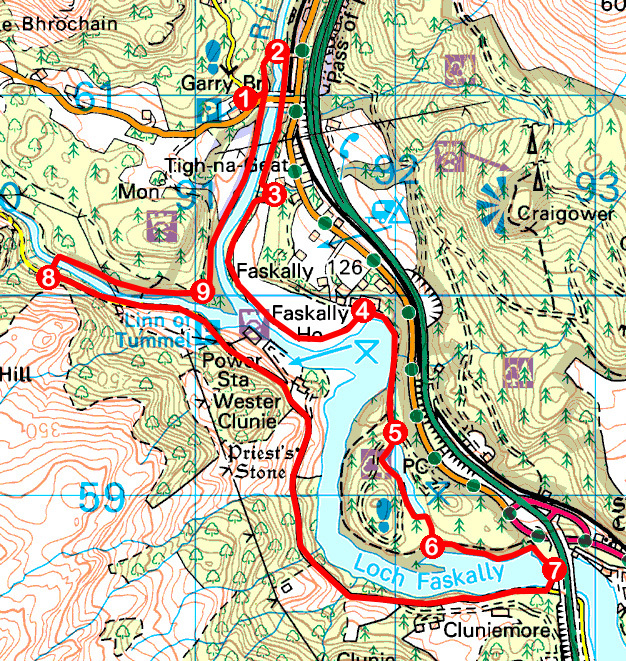 ROUTE
1. Descend steps by bridge (signed Linn of Tummel Trail) then bear left down path to footbridge.
2. Cross bridge and go right (signed Pitlochry), bearing left where path forks.
3. Cross wooden footbridge and bear right (signed Pitlochry), following riverside path.
4. Turn right and follow minor road south for 750m.
5. Branch right (signed Pitlochry) into parking area, cross footbridge and follow path to south end of Loch Dunmore. Go right at far end of fence, following path south.
6. Turn left on broader path, ascend to junction (white waymarker) and go right. Descend through woodland and continue along lochside path.
7. Cross metal footbridge, ascend to road, turn right (signed Garry Bridge) and follow road for 3.5km.
8. Branch right (signed Garry Bridge), cross River Tummel by Coronation Bridge then go right on woodland path.
9. Bear left above viewpoint and go straight ahead at next junction, following riverside path to Garry Bridge.
INFORMATION
Distance: 10km/6¼ miles
Ascent: 270m/890ft
Time: 3 hours
Grading: Easy low level walk with good signage following paths and quiet country roads through woodland and along lochside
Start/finish: Car park at west end of Garry Bridge on B8019 Pitlochry to Tummel Bridge road (Grid ref: 912610)
Map: Ordnance Survey 1:50,000 Landranger sheets 43 and 52; Ordnance Survey 1:25,000 Explorer sheet OL49
Tourist Information: Pitlochry Information Centre, 22 Atholl Road, Pitlochry PH16 5BX (Tel 01796 472751)
Public transport: Elizabeth Yule bus service 87 (Mon-Sat) or Stagecoach bus service 83 (Sun) from Pitlochry