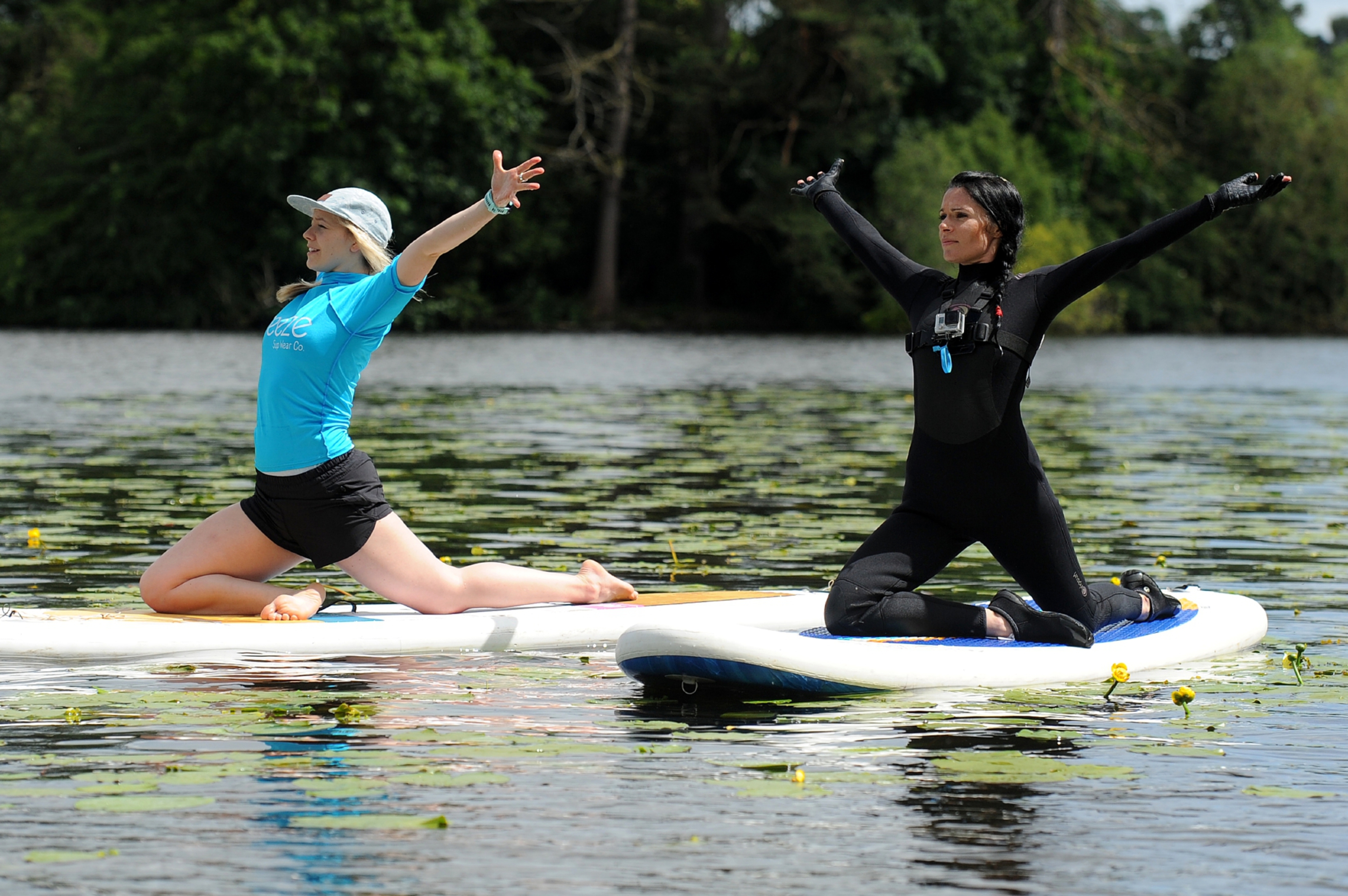 Yoga on a paddleboard? Gayle gives it a go.
When I tell colleagues I'm heading to the wilderness to do yoga on a paddleboard, their jaws drop in disbelief.
"How's that possible?" asks one, and I have to admit I have no idea.
In the past, I'd done both yoga and standup paddleboarding, but I couldn't imagine being able to combine the two; surely it would be an impossible balancing act?
Turning up at Clunie Loch near Blairgowrie to meet instructors Michaella Robb and Matt Gambles, I'm about to find out.
Changing into a wetsuit in a graveyard behind Clunie Church (sorry folks, if that was disrespectful, but there was nowhere else), I feel slightly pathetic when I realise neither Matt nor Michaella have bothered and instead, are sporting just shorts and T-shirt.
"We probably aren't going to fall in," chuckles Matt, "but you might."
It's not the warmest of days but the loch is quite shallow apparently, so I shouldn't get too chilly.
The advice from the two Ms is to kneel on the board to get the hang of it before attempting to stand.
My legs are quivering just trying to keep the board from wobbling – it's a great workout for legs and core – but finally I manage to stand up.
The three of us paddle round the loch and I'm given top tips on technique and plenty of encouragement.
"You should be able to do it without thinking – that's when you get good at it," offers Matt.
Warm-up over, we head to a shallow and sheltered area near the lochside which is peppered with lily pads. These will work as good "anchors" for the yoga session, says Michaella.
As we start off with some very basic moves, such as the downward dog (on all fours, bringing the body into an inverted V), the seated twist, the cobra (arching the back) and the relaxing child's pose, I'm surprised by how stable the board is.
However, when it comes to the more challenging poses, such as the triangle, the warrior and the pigeon pose, I lose my balance and take a head dive into the water.
The water is definitely not cold, although it still comes as a shock to the system.
But after the first fall – when I realise it's not that bad – I become braver and allow myself to relax more, and as a result, get a better workout.
It's a smooth and gentle yoga sequence that brings presence to the body and mind.
"This is an important benefit of SUP (stand-up paddleboard) yoga – your mind cannot wander as it would perhaps in a studio yoga class," says Michaella, 25.
"You must concentrate on the movement of your body and your balance on the board with the soft movement of the water beneath you.
"I feel this is a really special aspect, because you can really disconnect from everything that you left back on the land, and connect with yourself and the beautiful nature surrounding you.
"Once people become more comfortable on the boards, we introduce more challenging poses, and this is where the physical body benefits.
"The core muscles are really activated as they help you to maintain your posture and balance on the board."
The sessions finishes with "Savasana", or corpse pose. We lie on our backs, close our eyes and completely drift into full relaxation as the water laps beneath us.
Chilled to the max, Matt reminds us there's a ruined castle on a crannog in the middle of the loch to be explored.
Grabbing our paddles, we stand up and head for the small island and it all gets very Famous Five-y as we come ashore and enter the crumbling building.
There's evidence of beaver activity here too, with tree trunks having been gnawed away by their huge teeth.
Paddling back to the sandy beach, I ask Michaella what it is about SUP yoga she loves.
"As soon as I paddle out into the loch, I get this sense of absolute calmness and serenity," she reflects.
"Taking a deep breath and becoming present on the water has to be one of my favourite feelings. You get a real sense of freedom."
Michaella was first introduced to paddleboarding by friends while living in New Zealand and she tried SUP Yoga in Cambodia.
Qualifying to become a SUP Yoga teacher in Australia, she brought the practice back to Scotland and teamed up with Matt to run classes.
They're hugely popular so be sure to book up pronto!
info
SUP Yoga runs through summer via Michaella's company, Sattva Wellness, www.facebook.com/sattvawellness1/ and classes are limited to eight people.
Clunie Loch is an ideal venue, as it's calm, scenic and sheltered from the wind. Other venues are being explored.
No experience of paddleboarding or yoga is required and wetsuits are available.