Ahead of the 2018 Cateran Yomp, Gayle gets some hints on how to tackle the gruelling adventure challenge from the event's new ambassador, Les Binns.
Having tackled the Cateran Yomp four times, I can honestly say it's one of the most inspirational (and challenging) experiences of my life.
I've never been quite brave enough to attempt the epic 54-mile gold route, but I've been pretty pleased with my 36.5-mile silver success.
While the next Yomp – in June – may seem a long way off, it's never too early to start training, especially if you're considering going for gold (and I may yet!)
So when I was invited to do a "mini yomp" with the new event ambassador Les Binns, I jumped at the chance.
Some brilliant Yomp coverage from Forces Network and Forces News!Last week they joined us for a taster of the Yomp trail along with True Grit Events, Little Scottish One, Adventures in a Kilt and ABF The Soldiers' Charity beneficiary Les Binns.A cracking day it was too!

Posted by The Cateran Yomp on Monday, 13 November 2017
Having completed Yomp 2017 – a week after attempting to summit Mount Everest a second time – Les will be there to motivate yompers along the 2018 route.
Les, 42, from Rotherham, South Yorkshire, was in the Army for 13 years, serving in Bosnia, Iraq and Afghanistan, and was blown up four times.
In 2009, he was injured by an IED, leaving him permanently blinded in one eye.
Since being medically discharged from military service in 2010, Les suffered from PTSD and got a grant from the Soldiers' Charity to retrain in electrical engineering.
Having always loved the outdoors, he found the best medicine was to head into the mountains.
Taking on Everest for the first time in 2016, he heroically abandoned his climb just 500m from the summit, turning round to save a fellow mountaineer who was sliding out of control towards almost certain death.
For his life-saving actions, Les was awarded the Silver Medal by the Royal Humane Society.
He attempted the climb again in April this year, but again had to abort his mission because he stopped to help stricken climbers.
Today's plan is to walk from Little Forter to Kirkton of Glenisla, a mere 7km, but it gives us time to chat through Les's top tips.
"In my time as a soldier and a civilian, I've taken on many challenges, both physical and mental, but the Cateran Yomp is up there with the best!" he beams.
"Last year, I paired up with a guy called Jack McNeive. I usually do a 50-mile ultra in around 12 hours but due to my deteriorated state and Jack getting injured, it took around 21.
"I'm just glad I dragged my butt round!"
The most important focus should be on training and preparation because, as Les says, not many people walk 54 miles a day or even a week.
"You need to tune your body into travelling long distances and over undulating terrain," he says.
"I try to run four miles a day no matter what's on the calendar and I always try and get up onto the hills once a week.
"Hill walking while carrying weight in your rucksack is a good plan. Just don't overdo it; we all have our limitations."
Don't make the mistake Les made last year by wearing only one pair of socks. "My feet were like cauliflowers!" he laughs.
So bear in mind footwear and "foot admin" because if you get it wrong, it can scupper your chances of success.
"Choose footwear you're comfortable with – some do it in boots and some do it in trainers; I wear a hybrid," says Les.
"No matter what, your feet will get wet! So bring spare socks, a blister kit and some foot powder and use the medics and sports massages at checkpoints.
"Just remember, you are capable of a lot more than your body will tell you."
Certainly, there were many things that kept me going and boosted my spirits when I was soaked to the bone and caked in mud during Yomp 2017 – amazing people with incredible stories, stunning scenery, and the fact I was raising funds for the Soldiers' Charity, which supports soldiers, former soldiers and their families.
Les agrees: "When I genuinely needed help, the charity gave me the opportunity to gain a trade and the tools to earn a living.
"By taking part in the Yomp, you'll gain a fantastic sense of achievement while supporting the charity.
"Getting to the end knowing you've pushed yourself and helped such a worthy cause, and feeling the weight of that coveted Yomp medal round your neck makes all the wet feet and hard work worthwhile!
"The mud washes away, the pain and blisters subside but the memories last forever!"
Info
Cateran Yomp 2018 takes place on June 9. The adventure will see teams starting in Blairgowrie and hiking a breathtaking circular route through Kirkmichael, the Spittal of Glenshee and Kirkton of Glenisla. You can choose between a 54, 36 or 22-mile route.
It's a unique opportunity to experience some of Courier Country's finest scenery while raising vital funds for ABF The Soldiers' Charity.
Last year a record-breaking 1,150 people signed up for the endurance event.
To sign up for the Yomp, see www.soldierscharity.org/events/the-cateran-yomp/
Check out Courier Weekend in January for a big feature on Les and his heroic endeavours.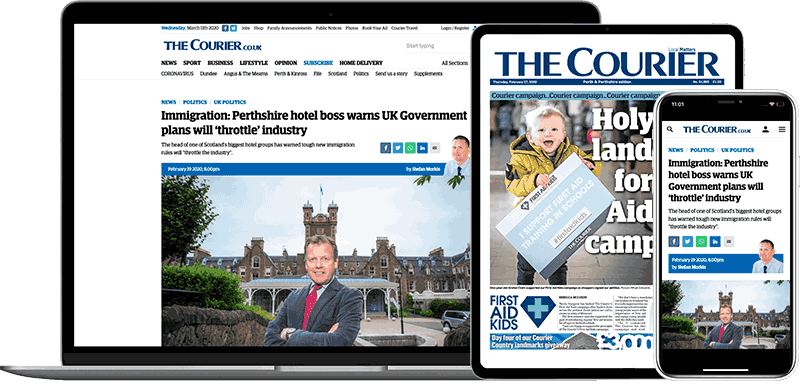 Help support quality local journalism … become a digital subscriber to The Courier
For as little as £5.99 a month you can access all of our content, including Premium articles.
Subscribe