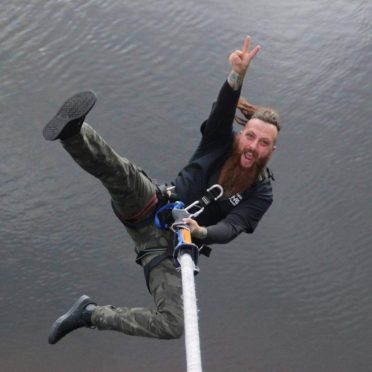 It's the ultimate adrenalin booster and definitely not for the faint-hearted. Chris Telford is a massive bungee jumping fan, as Gayle Ritchie discovers
Bungee jumping – an exploration of limits, a personal challenge, a few seconds of heart-thumping bliss…or terror.
Since thrill seeker Chris Telford fell 40m from a bridge into a dramatic gorge in Killiecrankie three years ago, he has been completely addicted to the experience.
Chris, 32, has done a staggering 50 jumps since 2014, and he never gets bored of doing them.
"It doesn't matter how many times I jump – I get the same butterfly feeling every time," he beams.
"Bungee jumping is epic. It takes you and your mind to a point of adrenaline that you can't explain in words."
Chris, who admits he is an all-out adrenaline junkie, decided to give bungee a bash after he and a friend became fixated by the concept of doing "something crazy".
"I love doing anything that gets your heartbeat racing – so bungee is very much up my street," he says.
"I definitely still get scared and I hope that never disappears as that's the best part."
While the majority of Chris's jumps have been at Highland Fling at Killiecrankie – the UK's first static bungee jump – he's also braved the Titan Crane in Glasgow, a drop of around 45m towards water from the cantilever of the A-Listed crane.
Chris, a lifting engineer originally from Grangemouth, considers himself part of the "bungee family" and he got so into the craze that he now works part-time for Highland Fling.
There are plans to attempt to beat the record for the most jumps in 24 hours but Chris just needs to pin down a date.
He has jumped from the platform forwards, backwards and even attempted to jump through the "retrieval hatch" – not for the faint-hearted.
"Let's just say I was completely sxxxxxxg myself!" laughs Chris.
"I tried falling from the centre of the jump deck through the opening where we bring the customers. There were quite a few safety checks to do but we decided to go ahead with it.
"I had to basically drop straight down. It was a successful jump but very scary all the same."
For those who have never bungee jumped, you first stand on a platform – 40m high at Killiecrankie – and free-fall towards water below. You're airborne for just a few seconds but you're speeding towards the ground at 50mph before a special bungee jump cord springs you back to "normal" upright life.
"It's a safe and unforgettable experience using the latest technology and safety equipment, led by experienced, qualified bungee jump masters," says Chris.
"The platform is suspended below the Garry Bridge over River Garry and is perched above a dramatic gorge surrounded by ancient trees. It's stunning."
When Chris isn't throwing himself into the abyss, he enjoys drawing, tattooing, travelling and catching up with friends and family.
"I'm very outdoors oriented and absolutely love Perthshire," he says.
"I'm originally from the west coast and have lived all over Scotland due to work commitments but I'm now looking to find a home somewhere in beautiful Perthshire – it's got everything going for it."
What would he say to someone too scared to try bungee?
Chris laughs: "I'd have to somehow try to explain the feeling it gives you…it's out of this world.
"It's one of those things that's on most people's bucket lists, so definitely get out there and give it a go. It'll be one of the best things you've ever done."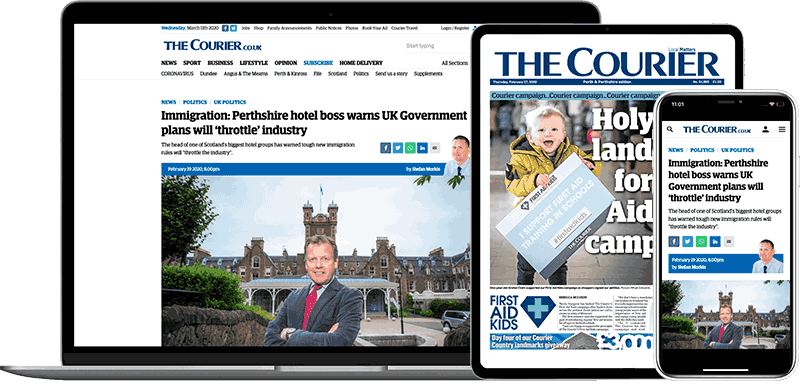 Help support quality local journalism … become a digital subscriber to The Courier
For as little as £5.99 a month you can access all of our content, including Premium articles.
Subscribe