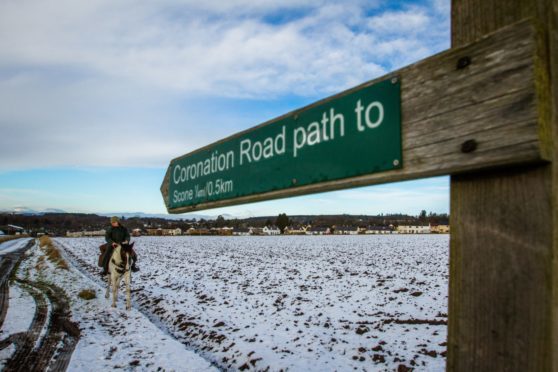 Hundreds of miles of heritage paths snake their way across Scotland. Gayle Ritchie meets those on a mission to preserve and promote the old routes…
A dusting of snow coats the hills and fields around Scone and there's scarcely a breath of wind.
On a lonely path just outside the Perthshire village, a dog trots along with its owner who, dressed in green and sporting a tweed cap, is mounted on horseback.
Hoof and paw prints make their marks in the white stuff as the trio tramp the Coronation Road – an ancient route thought to have been built for the kings of Scotland as they moved between the palaces of Falkland and Scone.
Today, horse, dog and human aren't taking on quite such a major feat. Rather, they're enjoying the simple pleasures of exploring a section of this scenic trail.
The rider in question is Karen Inkster, and she's accompanied by her rescue animals – collie Pip who is deaf, and coloured mare Connie.
As development officer at ScotWays, the UK's oldest outdoor access group, part of Karen's job is to research, promote and preserve heritage paths so that future generations can continue to enjoy them.
Karen, 42, is hugely passionate about riding, and while she competes in cross country, show jumping and endurance events, she loves nothing better than taking on long-distance adventures with her four-legged friends.
Last year, she completed a mission which saw her, Connie and Pip travel the length of the Outer Hebrides to raise funds for Riding for the Disabled.
"We rode two heritage paths, including the Old Road to Tarbet in Harris, which is a former packhorse route," she recalls.
"It was a lovely, albeit boggy path which climbed up to a bealach (mountain pass), boasting stunning views across a loch."
The trio also spent two days trekking sandy trails and beaches on the Machair Path on South Uist.
Hebridean memories aside, Karen, who lives in Caputh, Perthshire, appreciates what's on her doorstep and the Coronation Road is one of her favourite heritage paths.
"It's an old carriage road that must have seen a lot of traffic over the centuries," she says.
"Starting at New Scone, it winds past trees, fields and dykes and into forestry and passes Elcho Castle above the River Tay.
"It's open to riders, cyclists and walkers and it's great to see people using it."
At this point, Karen's colleague – ScotWays former vice-chairman Richard Barron – appears on foot and tells us more about the path's history.
"One theory why it's called the Coronation Road is because the Earl of Fife had the hereditary responsibility of crowning the king, and would've had to travel to Scone," he explains.
"If this is the case, then the road must date to the very early Medieval period as the Stone of Destiny was taken to London by Edward I.
"Another theory is that it was used by the Scottish Royal Family to travel between Scone and Falkland."
In Angus, there are dozens of ancient rights of way and some, like the Firmounth and the Reedie Market Drove Road, were used by drovers taking cattle to market, while The Monega Pass, between Glen Isla and Glen Clunie south of Braemar, and the Fungal Road, between Glen Esk and Birsemore near Aboyne, were reputedly used by smugglers.
"There are also herring roads, salter's roads, military roads, coffin roads, kirk roads – all names that reflect purpose," says Richard.
One of the most famous rights of way in Scotland is Jock's Road, part of the Tolmount linking Glen Clova with Braemar.
It's often said to be named after John (Jock) Winter, a shepherd who, in 1888 along with the Scottish Rights of Way Society, successfully challenged the landowner and established the route as a right of way after proving it had long been used by drovers taking sheep to market.
However, the tale is apocryphal – the name pre-dates the court case and Jock's identity is a mystery.
"To be a right of way, a route must have been used for at least 20 years, must connect two public places, and must follow a more or less defined route," says Richard.
"We need people to use these routes or they become overgrown and fall into disrepair. Local authorities have a duty to keep routes free of obstruction.
"In the 1990s, if a tree fell and blocked it, they would remove it. These days, when money is tight, priorities have changed and they might weigh up whether to lift your bins or remove a tree. Our message is – use it or risk losing it," he adds.
A bridge over troubled waters?
Dalnamein Bridge near Blair Atholl – a gorgeous single stone arch spanning the burn that boils and tumbles over the boulders below.
It's a perfect spot, perhaps, for a picnic.
Yet the future of the bridge, built in the mid-18th Century, like many Wade bridges, hangs in the balance. The new A9 will come very close to it – threatening its scenic setting, as well as people's access to it – while other bridges are falling into disrepair.
Little is being done to protect them and if left untended, they could vanish completely, as three have done in recent years.
Historian Colin Liddell loves nothing better than exploring old military roads, often called Wade's Roads, and campaigns to protect these old routes, which cut across the Scottish Highlands.
"I'm worried about a number of bridges," he laments.
"Each has a clear historic value. However, some such as the Prince Charlie Bridge between Pitlochry and Dunkeld – the middle of which has collapsed – are beyond saving. I hate to think how many more may be lost."
For those in the dark about Wade's Roads, they are a network of roads, bridges, barracks and forts constructed between 1728 and 1735 under King George I's command to allow government forces to deploy rapidly to key locations in the Scottish Highlands if there was another Jacobite uprising.
Built initially under General George Wade, the network expanded considerably under the direction of Wade's engineer Major William Caulfeild.
The programme ceased with Caulfeild's death in 1767, with almost 1,100 miles of road linking Dunkeld and Crieff with key points such as Dalwhinnie, Ruthven, Fort William and Inverness.
Despite the fact Wade was responsible for about 250 miles of road and 30 bridges, and Caulfeild the remaining 800 miles, the latter's name has been largely forgotten.
"You can imagine groups of men toiling away here," reflects Colin, a lawyer based in Pitlochry. "Each group of 100 men was responsible for an impressive 150m of road a day. Wade referred to them as his 'Highwaymen'".
As the Jacobite threat cooled off towards the end of the 18th Century, the need to maintain the roads for military purposes diminished and many sections fell into disrepair.
Today, miles of old road can still be traced, either completely abandoned or serving as estate tracks or paths for walkers, riders and cyclists. Colin is passionate about the subject, gives talks about it and leads guided walks along the old, often overgrown, tracks.
"While much of the Great North Road from Dunkeld to Inverness has been subsumed by the railway and the A9, it's still possible to walk elsewhere along good sections of original military roads today," he says.
"There's a great route through the Sma' Glen near Crieff for example, and some sections of the Dalwhinnie to Fort Augustus road.
"The problem is that these roads and bridges have been given very little formal protection, with some exceptions, notably on each side of the Corrieyairick Pass near Fort Augustus and around Corgarff in Strathdon."
Without protection, bridges crumble and disappear while roads erode, become enclosed within forestry plantations, or are disrupted by pylon construction and maintenance.
"Many people are aghast that they aren't protected," frowns Colin. "I've given Historic Environment Scotland (HES) a presentation showing the degradation and disappearance which continues to go unchecked.
"HES suggests people should take action within their own communities, but such small-scale and local approaches, all unfunded, are in my view no way to tackle a national problem.
"Instead of seeing this as a problem, we should be proud of these military roads and it's a national issue that they are being ignored while their equivalents in England and Wales are designated and maintained."
It's not all bad news in Scotland, though. Perth and Kinross Heritage Trust have done some excellent restoration of old bridges and installed informative signage which gives Colin hope.
"People who come on my Wade's Road walks remark how special it is to 'walk on history' even though the road or bridge might be covered in heather and moss. But I have to wonder what will be left of these roads and bridges as their 300th anniversary nears in 10 years' time.
"Three bridges have collapsed in the last 15 years and I fear for Dalnamein.
"A great outcome in, or before, 2028, would be an announcement by HES that more sections of these wonderful and atmospheric military roads and bridges will be protected with a suitable designation, and that money will be made available for restoration, conservation, interpretation and improved access."
info
Established in 1845, ScotWays, www.scotways.com, works to protect and develop access to the Scottish countryside for all and is home to the Heritage Paths Project which aims to identify, research and record Scotland's old paths and roads. See www.heritagepaths.co.uk
Colin Liddell is leading a Wade Walk as part of the
Crieff and Strathearn Drovers' Tryst 2018 walking festival in October. See www.droverstryst.com for details.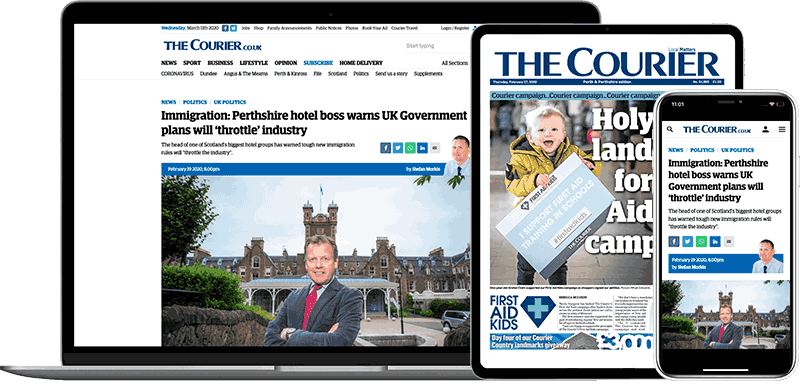 Help support quality local journalism … become a digital subscriber to The Courier
For as little as £5.99 a month you can access all of our content, including Premium articles.
Subscribe