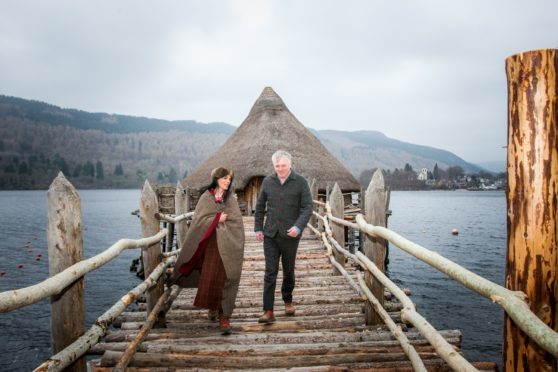 The Scottish Crannog Centre sprang into life this weekend. Gayle Ritchie meets the centre's new director and finds out what's in store this season
Dressed in a voluminous wool cloak and a suede and fur cap, I look one of two things – totally ridiculous or a decent attempt at acting the role of an Iron Age crannog dweller.
I'm chipping away at the bark of a tree with a bronze axe and later, I'll check out a replica of an ancient dugout canoe moored in Loch Tay.
No, I'm not an extra in some weird budget film, or re-enacting some fantasy (although perhaps, maybe I am, just a little).
What I am doing is visiting Scottish Crannog Centre ahead of its "Celtic Spring" weekend, and getting a flavour of what's on offer.
You don't have to go wild on the fancy dress front, but it certainly helps to get into the spirit of things, even if you just try on a hat, grin manaically and take a few selfies.
Mike Benson is the new director here, and he can't wait to see the centre spring into life after a long, hard winter.
"As Celtic Spring finally arrives, the crannog dwellers wake up, sharpen their tools and get busy for the warmer months ahead," he beams.
"The weekend will be fantastic fun for everyone, with a children's treasure hunt for 'fool's gold', wire jewellery making, tool repairs, woodworking, sowing grain, baking bread, making butter – all the basics of life in the Iron Age!"
Other activities include stone-drilling (stones with holes were used in looms and spinning whorls), textile repairs, spinning, fire-making, cooking stew and making cordials. Up for a song and a dance? You're in luck as Rena Gertz will be laying on Gaelic music sessions.
If you can't make it this weekend, a visit to the centre at any time will instantly transport you back to the Iron Age, especially if you venture inside the reconstructed crannog.
The thatched roundhouse, on stilts in the shallows of Loch Tay, overlooks the remains of four of 18 crannogs preserved in the loch.
It was built between 1994 and 1997 as an archaeological experiment by Dr Nick Dixon and Barrie Andrian of the Scottish Trust for Underwater Archaeology based on their excavation of Oakbank Crannog.
Wondering what on earth a crannog is? It's a type of ancient loch-dwelling found throughout Scotland and Ireland dating from 2,500 years ago.
Many were built in the water as defensive homesteads and represented symbols of power and wealth.
They were also thought to have been used as farmer's homesteads, hunting and fishing stations.
It's thought up to 20 people may have lived in a crannog at one time; in winter, they shared with animals; perhaps the odd sheep, goat or cow.
Once abandoned, the structure would eventually rot away and keel over, crumbling down on top of all the debris that had dropped into the loch.
Artefacts and food particles dating back 2,500 years and beyond were discovered during the Trust's underwater excavations. Lack of oxygen and no light are the main reason why they were preserved.
Mike took up the role of director in December and while I hack away at a strip of wood, he tells me a bit about himself.
A former Teeside steelworker, he became involved with heritage while completing an Open University degree.
Before taking up the helm at the crannog centre, he was the director of the National Coal Mining Museum for England.
"I came to Perthshire a zillion years ago on holiday and fell in love with the area," he recalls.
"There's a huge affection for the crannog – it's an iconic image – and I feel we've got a responsibility to educate people about their past.
"Our biggest responsibility, however, is to those people who lived in crannogs 2,500 years ago; it's up to us to tell their stories
"I'm hugely excited about 2018 – it's going to be a great year for the centre as we celebrate all the seasons."
info
The earliest crannog in Scotland is some 5,000 years old but people built, modified, and re-used crannogs up until the 17th century AD. Today, crannogs appear as tree-covered islands or remain hidden as submerged stony mounds.
Hundreds have been discovered in Scotland but only a few have been investigated.
The Scottish Crannog Centre is now in its 21st year and is always on the hunt for volunteers. www.crannog.co.uk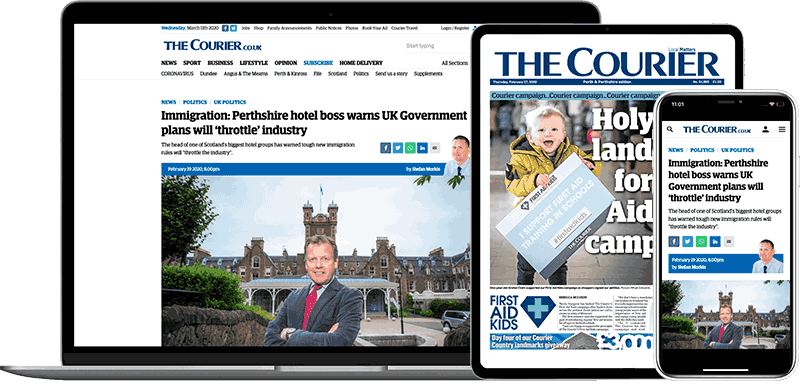 Help support quality local journalism … become a digital subscriber to The Courier
For as little as £5.99 a month you can access all of our content, including Premium articles.
Subscribe