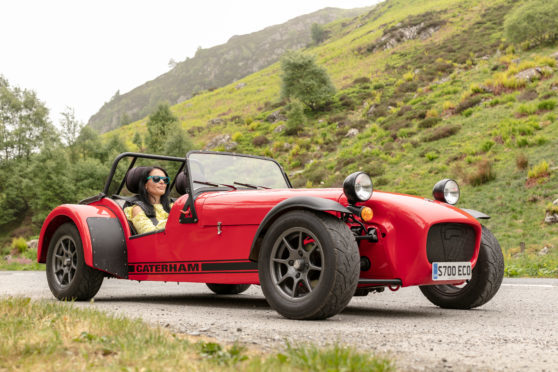 It's one of the most iconic British cars around, offering thrills like no other. Gayle goes for a spin in a Caterham Seven
Ten o'clock on a misty Monday morning and I'm zipping up Sma' Glen near Crieff in a beautiful beast of a car.
My pulse races and my spine tingles as I catapult the glossy Caterham Seven from 0–60mph in less than five seconds.
With the exhaust roaring in my ears and the wind whipping through my hair, it's as raw a driving experience as I've ever had.
Sitting in the passenger seat is Guy Halley, founder of 7ecosse, a recently launched self-drive hire company based near Crieff.
Of course, I jumped at the chance to be among the first to take his stunning pride and joy out for a spin. I mean, come on – it's an honour to get behind the wheel of this iconic British car, developed by Colin Chapman in 1957 and based on the Lotus Seven.
Sliding into the driver's seat, you can't help but feel utterly connected to the car.
Sitting so low and strapped in so tightly, it almost becomes an extension of you; you feel inextricably linked to its glorious, beating heart.
Seamlessly shifting up through the gears, I tear up the scenic glen, birds scattering, the car gripping the road at every corner.
Make no mistake – the Caterham makes you feel like a driving god. And certainly, it's thrills and spills away from my rattling old BMW 1 Series.
Its top speed is around 120mph but Guy, 35, says its forte is its acceleration.
"The Caterham only weighs half a tonne so it's very nimble," he says."It's built for acceleration and corners great at speed so there's less braking."
Petrolhead Guy raced go-karts from a young age, becoming Scottish Kart Champion aged 17.
He swiftly progressed to racing Caterhams at national level, securing the British Caterham Champion title in 2006.
Despite forays into rallying with MK2 Escorts and years spent instructing in some of the most expensive supercars in the world, Guy (who also races lawn mowers!) maintains that the Caterham offers the most raw, exhilarating and affordable driving experience.
"The noise, the air whooshing past, the feeling of being in a go-kart – it's the best driving experience you can get," he says.
Guy bought the iconic ex-race car in October last year and he and his dad Willie – himself a huge motorsport fan – spent winter transforming it into a road car.
"It's been a labour of love, right down to the last nut and bolt," says Guy.
"We set up the car up to deliver a raw driving experience and let you feel at one with the road.
"You won't find any ABS, traction control or power steering but what you will find is a palpable driving experience, taking you from 0-60mph in under five seconds and delivering a top speed of 120mph."
The Caterham Seven Supersport was originally blue but Guy and Willie painted it stunning Porsche Guards Red, transforming it into the ultimate head-turner.
"The plan is to buy another Caterham in blue; I always wanted a red car and a blue car as a kid!" beams Guy.
"Ultimately, I'd like to have at least three of four cars to hire out."
While the roads around Crieff are undeniably stunning, Guy is happy for drivers to take the Caterham wherever they wish, and for as long as they wish.
"The possibilities are endless. You could hire it for half a day or a week, explore Perthshire or head to the West Coast.
"I've been on reccies across Scotland and I'm happy to suggest bespoke tours, whether to Torridon, Tyndrum, Loch Tay or beyond.
"I love Scotland and touring it by Caterham is one of the most memorable ways of experiencing the country's unrivalled scenery."
Back in the car and Guy takes the wheel. I won't disclose what speed we reach, suffice to say that our journey back to Crieff is fast, furious and fun – a major adrenalin boost, a buzz and a natural high I'm still coming down from.
info
The Caterham Seven Supersport is powered by a 1.6 engine with five-speed gearbox. Top speed is 120mph and 0-60mph takes less than five seconds. There's a USB charging point, tunnel bag and small boot with travelling rug and space for two small weekend bags. The car has a bikini (half) hood, sidescreens and a shower cap in case it rains. Full insurance and AA breakdown across the UK is covered.
Hire starts at £110 for a half day and gift vouchers are available. With Father's Day round the corner, the 7ecosse Caterham experience would make a great present!
For more details, see see www.7ecosse.com
The company, 7ecosse, is a real family affair, with Guy at the helm, his dad Willie working on and maintaining cars, and his sister Elspeth doing the marketing. Their friend, Dave Jack of Space21 Photography, designed the logo and took fabulous images of the car at sites across the country.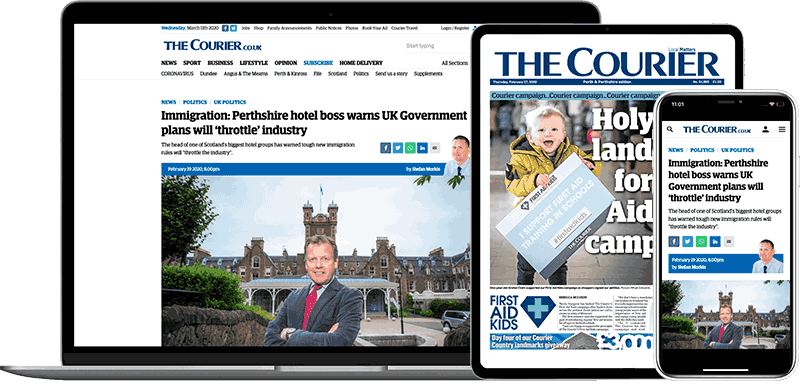 Help support quality local journalism … become a digital subscriber to The Courier
For as little as £5.99 a month you can access all of our content, including Premium articles.
Subscribe