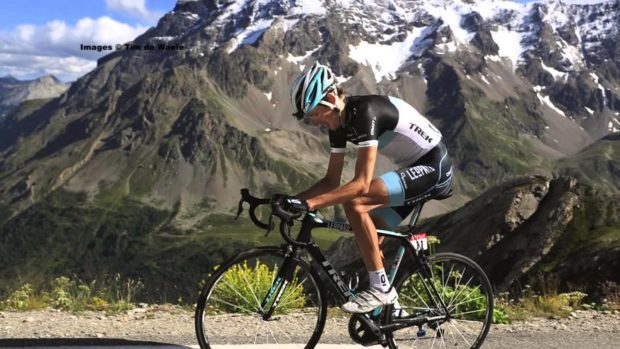 Mountains have always fascinated, intrigued and terrified me in equal measures. I have bookshelves groaning under the weight of tales of mountaineers, hillwalkers, and cyclists who have taken on the challenge of scaling the peaks, many successful, some unfortunately not so.
My own introduction to uphill gradients came when I joined my first cycling club in Dundee, the now-defunct Charles Star CC. Previously I had spent my time riding on the flats of the Carse of Gowrie, riding out to the Horn Milk Bar for a 'scooshy"'ice cream.
I had never really noticed there was a line of hills to the north and even less considered the prospect that I would soon be cycling in them.
All that changed when I joined a club ride that took me up and over Abernyte, down to Coupar Angus and then back up Tullybaccart to Menzieshill. That route soon became a staple of my early riding ventures and I spent many an evening after school, suffering on the uphill and more than once crashing on the descents (once over a fence and into a particularly stinging patch of nettles).
The more I rode on hills the more I learned to respect them; I was never going to be a gifted climber, I was too tall and heavy for that, but I relished the challenge that they posed.
Around the same time, Channel 4 started to show the Tour de France and I was gripped by these mythical climbs that seemed to take the professional riders hours to ride up. To a young lad who saw the 4km climb from Inchture to Abernyte as a mountain, these climbs in the French Alps and Pyrenees were completely off the scale of what my imagination could handle.
Added to that were the stories I heard older club members talk about: Tom Simpson dying on Mount Ventoux; Jaques Anquetil and Raymond Poulidor battling it out shoulder to shoulder on the Puy de Dôme – these were legends that ignited my love of cycling and elevated it above all other sports, and I devoured every morsel of cycling that I could find. T
The fact that my friends seemed to be little interested in it only increased my fascination – it was my thing that I could disappear into.
Surprisingly it was only 13 years ago I had an opportunity to ride those mountains of the Tour de France. A few friends and I took on the Tour de Mont Blanc, a route that leaves Chamonix and heads into Italy then back into France, over the fearsome Grand and Petit Saint Bernard passes.
Since then I have been lucky enough to head back to the Pyrenees and Alps on many occasions, both for work and play, as well as other mountain ranges across Europe, and I never fail to be impressed.
Recently I was in the Pyrenees for two weeks of guiding riders from the Atlantic coast to the Mediterranean. The Pyrenees, in particular, are filled with Tour de France history and routes that head over the Tourmalet, Aubisque, and Aspin have featured in the race since 1910 and it feels like every corner you turn there is a monument or plaque to some event in Tour de France legend.
The 105th Tour de France starts today in Noirmoutier-en-l'Île and ironically I will miss most of it as I am working in the French Alps at the moment and, although on some occasions will be in the next valley from the race, I won't have any opportunities to spectate.
However, whenever I get a chance I will be sitting in front of a TV in the evening to watch the riders climb those mountains that inspired me all those years ago.
Join the Blazing Saddles Strava Club at: www.strava.com/clubs/BlazingSaddlesWeekendCourier
Where to ride: Cormet de Roseland – Beaufort department
Start: Beaufort
Distance: 21.1 km with 1351 m of ascent
Details: On my first trip to the Alps the climb that stood out for me was the Cormet de Roseland. I actually climbed it from Bourg-Saint-Maurice and descended to the typical alpine village of Beaufort, but either way it is a beautiful climb offering views of Mont Blanc and the stunning Lac de Roseland. Cafes by the lakeside offer refreshment as does the sandwich stall at the summit.