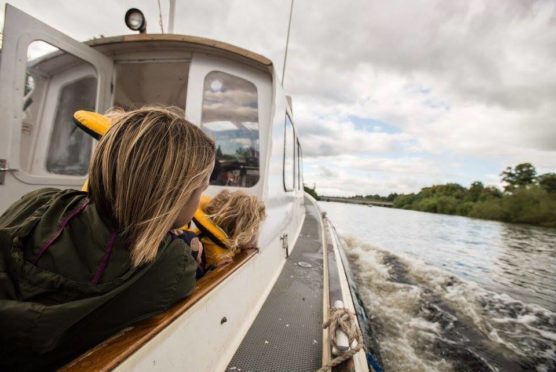 Ahoy there! Gayle explores a scenic stretch of the Tay during a boat trip from Perth.
The rain is chucking it down as I stand waiting for a boat at Perth's new Fergusson Pontoon.
Typically, I don't have a brolly but the air is warm and the group of people around me are radiating friendly, happy vibes.
Some are holidaymakers, others are locals, but we're all here for a trip down the River Tay.
The operators reckon the Tay is truly "the jewel in Perth's crown" and say the venture is an exciting way to make the most of one of the city's greatest assets. And who could argue with that!
The boat we're in today is the Badger, an eight-seat covered cruiser skippered by David Kett and George Millar.
"This is the first day of rain we've had since the trips launched in May!" beams David.
"Keep your eyes peeled for otters, kingfishers, swans and their signets – you never know what wildlife is out there."
David reveals he spotted a kingfisher "as bright blue" as my jacket sitting on a tree a few weeks ago, so I keep my fingers crossed he or she makes another appearance.
Puttering off down the water, David tells everyone a bit of history about the Tay, including the fact it's been navigated by small boats from as early as 1147.
We pass Moncrieffe Island and catch a glimpse of golfers playing on the King James VI Golf Course.
Apparently the course was built in 1897, making it one of the oldest surviving golf clubs in the UK.
Designed by the legendary Old Tom Morris, it's believed to be the only inland island golf course in the country.
The noise of screaming kids draws our attention as we pass Willowgate Activity Centre and wave to a group of excited children playing football.
This is a stop-off for some boat trips, offering everything from paddleboarding to zorbing and kayaking.
Soon, the sheer, rocky cliffs of Kinnoull Hill rise up to meet us on our left, and Kinnoull Tower – usually spotted from the road as you whizz up the A90 – is equally impressive.
We also spot Kinfauns Castle, now one of the homes of Stagecoach co-founder Ann Gloag.
As Badger motors under the Friarton Bridge, I crane my neck to gaze up at the huge structure, traffic rumbling over it. It's a strange feeling to be going under it for the first time.
During our 45 minute trip, rain, mist and cloud dominate, with no sign of the sun whatsoever.
Most of the wildlife must be hiding as the only thing we spot is a heron; there's no sign of any otters or kingfishers! Ah well, maybe next time.
As we head back to base, David invites me to take the helm and I have a shot of steering. I do my best not to crash into any rocks or wildlife and, thankfully, succeed.
What's truly fascinating is the journey the Tay takes, and it's mind-blowing to think we're just experiencing a tiny section of it.
Originating in western Scotland, on the slopes of Ben Lui, it's the longest river in Scotland and the seventh-longest in the UK.
Being on it in a boat feels truly fantastic, so get yourself out there while the sun is shining!
Even if there's a torrential downpour, you're guaranteed to have fun, meet new people and (hopefully) encounter some local wildlife.
As I say goodbye to David and George and head back to my car, I reach for my keys and wallet…and realise I've left my handbag in the boat!
Panicking, I ring a number I've been given by the lovely lady who organised the trip and am assured that Badger will be heading back in less than an hour. Phew!
I while away that time perusing the fantastic (and free) Fergusson Gallery, so it's not all bad.
As well as the Kinnoull Hill trips, other trips go to 16th Century Elcho Castle and Willowgate Activity Centre.
If those don't float your boat, then check out the big trip all the way from Perth to Broughty Ferry.
info
Due to the tidal nature of the river, boat trips run at certain times of the day. The trips are organised in partnership with Perth and Kinross Council and the Tay and Earn Trust who contract charity Taymara and David Anderson Marine to run the trips. Most trips run until September 30 but the ones to Broughty Ferry run until October 9. For more details and to book, see www.perthcity.co.uk/boating-on-the-tay