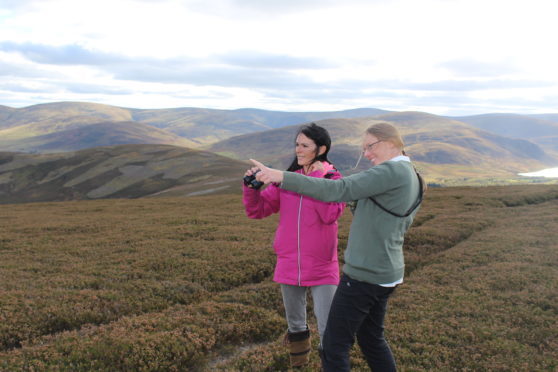 Autumn is one of the most incredible times of year for nature as Gayle discovers when she joins a wildlife tour in Glenesk
A huge bird glides high above the Cairngorm mountains, its body glinting gold in the sunlight.
Adjusting my binoculars, I gasp when I realise it's a golden eagle – one of the rarest and most elusive species in Scotland.
I'm on a newly launched autumn tour with Glenesk Wildlife, an off-road trip into the hills, glens and heather moorlands of 50-acre Dalhousie Estates.
It's a special time of year, with the red deer rut just beginning, so if you're lucky, you'll experience the sight and sound of stags seeking female friends.
The sound of them roaring is indescribably haunting, and the sight of them, majestic, proud, and full of testosterone, is beyond breathtaking.
Our tour guide, Jackie Taylor, has driven us deep into the glen, a place you wouldn't expect to see another soul, but it's here that we meet gamekeeper Andy Malcolm, hard at work.
As we pause for coffee, Jackie and Andy point out not only the golden eagle, but a mountain hare and a herd of red deer way in the distance. They're grazing into the wind, enabling them to smell predators.
Before heading off, we enjoy stunning views, picking out the dark peak of Lochnagar, shimmering Loch Lee and Carlochy of Lee, an impressive, amphitheatre-like corrie.
Minutes later, as we're trundling along in the 4×4, Jackie stops to let a pair of red grouse cross the track.
Before they vanish into the heather, we're treated to a rare sighting of their fluffy white feet. Apparently, the birds are known as "hair-foot", because their hairy feet keep them insulated!
Autumn is, for Jackie, a highlight of the year.
"The landscape changes and the light is different – it's sharper and casts a golden glow," she muses.
Driving down towards Loch Lee, Jackie is hopeful we might spot otters.
No such luck but we do find evidence of their scat on the riverbank.
We stop for a picnic near Invermark Castle and my jaw drops when I spy the fantastic spread, courtesy of Glenesk Retreat, laid on for us. There's everything from sumptuous sandwiches to scones, jams and juices, all locally produced.
The latter part of the afternoon is spent around Lochy Linn, which Jackie describes as a "forgotten area".
Here, we spot a peregrine, a kestrel, more glossy red grouse and hares.
Pointing to dead, straggly heather stalks, Jackie tells us these are known as "heather cows". She's not 100% sure why but surmises they poke up sheep's noses, preventing them from eating young shoots below.
Echoes of the past are everywhere in Glenesk – in the run-rigs of once-farmed land and abandoned settlements.
Standing among crumbling ruins, it's tempting to imagine what life would have been like here.
Once a thriving community with 70 crofts, a township was established here in the mid 1700s before being cleared to make way for deer forests, and may have played a part in the illicit whisky trade.
Another great anecdote is about Burnside, a cottage still occupied.
Apparently, peat was burned here every day for 250 years to stop bad luck from blighting families who lived there!
The translation of Glenesk is "glen of the rowans" and, true to form, rowan trees abound, plus there's Hill of Rowan.
Superstition plays a big part in the glen – rowans were thought to keep witches away, while the odd ash tree was believed to bring luck.
Those who join Glenesk Wildlife tours will learn a great deal about deer.
"Stags roll in their own urine and do what they can to look impressive and intimidating – even dragging their antlers through ferns and heather," says Jackie.
"Testosterone is high but they'll only fight if all else fails. During the rut, they
don't eat so they lose condition.
"They spend their days mating, bellowing, scenting and wallowing in mud!"
Our final wildlife encounter of the day is not, alas with a stag, but it's almost as exciting.
Driving along towards Glenesk Retreat, we spot a tiny red squirrel scurrying over a dry stane dyke. A fantastic finale to a phenomenal day!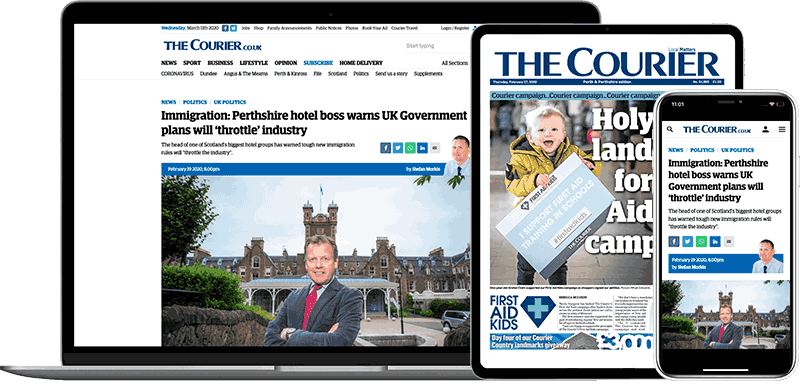 Help support quality local journalism … become a digital subscriber to The Courier
For as little as £5.99 a month you can access all of our content, including Premium articles.
Subscribe