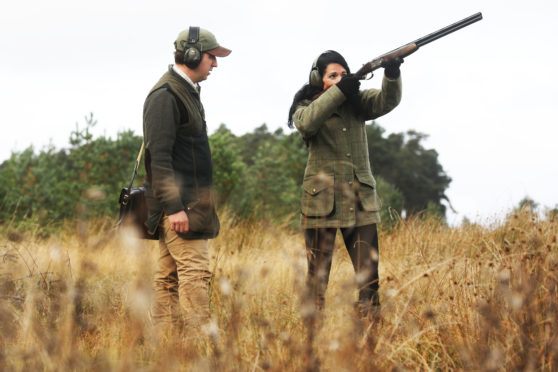 Fancy a spot of shooting? Gayle takes out some clay targets lined up for her at Gleneagles Shooting School
As the "rabbit" bounds through the heather, I lift up my gun and take aim.
To my surprise and delight, the "animal" explodes into millions of tiny pieces.
No, I'm not some cold-blooded rabbit murderer – I'm having a blast at clay target shooting at Gleneagles Shooting School.
Set amid spectacular grouse moor, the school teaches the full range of shooting disciplines.
Many folk will want to move from clays to real targets, like deer and game birds, but I'm only interested in taking out the fake stuff.
My instructor is David Harris, a cheery young man who worked as a gamekeeper in Sutherland before he took up this post at Gleneagles in April.
Once he's strapped me up in a shoulder pad to protect against recoil, he shows me a collection of shotguns and selects a 20-gauge Beretta 686 Silver Pigeon for me.
Next up, he checks my eye dominancy. "If you're right-handed, you'll probably be left-eye dominant, so you're best to shoot with your left eye closed," he advises.
Safety is paramount and David only hands over the gun after he has run through some rules.
Most importantly, you should never point a gun at anyone, whether it's loaded or not and instead, hold it "down range".
As I'm a beginner, David shows me how to stand, with my weight forward on my left leg, my hips back, the butt of the gun nestled into my shoulder and my cheek pushed down onto the stock of the gun.
Then, with my left eye closed, I look down the barrel and focus on the bead at the end.
Different stations at Gleneagles mimic different birds and animals, whether rabbits, grouse, pigeons, woodcocks, pheasants, pigeons, partridges or hares.
Some fly overhead, while others, like rabbits, bounce and bob around.
We start off at the blackcock station, which David tells me is a relatively slow moving clay – easy to see but difficult to shoot when it drops.
The process of watching a target in flight is known as "reading" a clay – and it's one of the principal skills that needs developed when you're learning to shoot.
As David releases clays from a machine called a trap, my job is to hit them as they fly through the air.
Using the bead to line up the target, I follow the clay and…miss. That's because, in David's words, I'm "waving the gun around like Harry Potter's wand!".
Instead, I should keep it slow and steady, and follow just ahead of the clay, taking aim when it reaches its apex.
On my next attempt, I'm more successful, and the clay shatters into pieces. Bingo!
"You're a natural!" beams David. "But I'm not surprised – women are some of the best shots I know."
Moving on, we come to the partridge stand, a target which flies up and overhead and is supposedly one of the hardest.
"You need to tell your brain to shoot something you can't see," warns David. "Try calmly overtaking it as you'd overtake a police car – nice and slow – and then shoot ahead of it."
My final target is the "bolting rabbit" which David says is the nemesis of many a shooter!
The target runs along the ground from left to right – and sometimes bounces into the air. You need to track it and keep ahead of it before you shoot.
Aim directly at it and you'll miss because by the time your shot gets there, the target will have moved on.
"Shoot where it's going and not where it's been!" says David.
Amazingly, I manage to wipe out a couple of "rabbits" and David is ecstatic.
There's also a "haggis" stand which purports to provide "a realistic jumping target that propels itself away from the shooter", but I decide to let the haggis live another day and instead, finish up on a positive note, with both David and I grinning from ear to ear.
info
There are 13 shooting stands at Gleneagles Shooting School so the possibilities for shooting are endless. Most targets emulate sporting game and there's also a stand called The King's Pheasant Tower, described as THE place to practise for driven "pheasants".
This 100ft tower with two ball-traps mounted can, at the press of a button, present almost infinitely variable targets over the gun.
All cartridges used at Gleneagles are biodegradable and eco-friendly, using fibre wads as opposed to plastic. For more details and to book a lesson, see www.gleneagles.com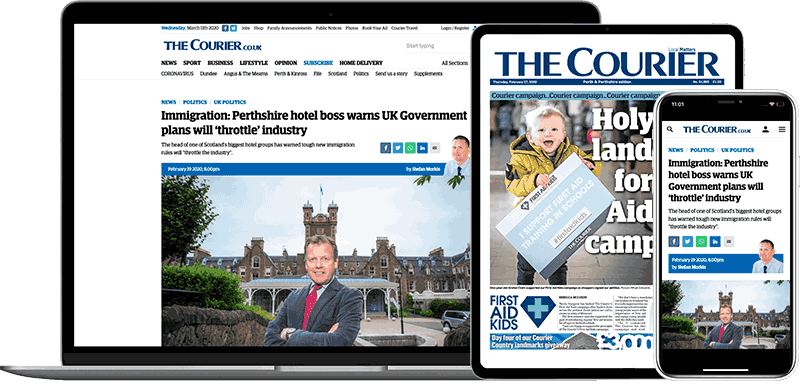 Help support quality local journalism … become a digital subscriber to The Courier
For as little as £5.99 a month you can access all of our content, including Premium articles.
Subscribe