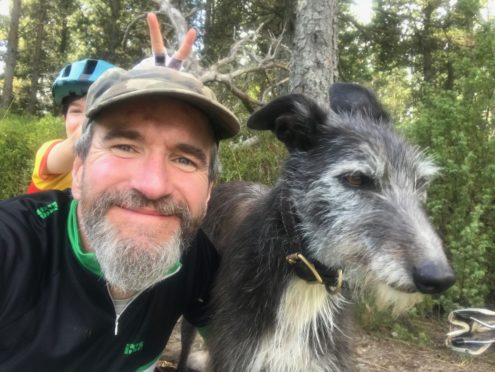 I love riding my bike with other people; there is a certain sense of shared adventure and camaraderie knowing that the people you are with just get it.
The bicycle seems to be a unifying bond that brings together all walks of life into a shared commonality.
However, my favourite riding buddies have four legs each, never say a word to me and don't even pedal. As soon as my dogs see me pulling on my mountain bike shorts they will not leave my side, telling me they do not want to be left at home.
As I pack my backpack I am constantly tripping over them and, on the occasions I do leave them at home, the look of devastation on their faces as I close the front door breaks my heart.
I have always loved dogs and being in the great outdoors and happily the two (in my mind at least) are inseparable. Several years ago when the last of my previous two dogs died I was distraught and stopped going out for MTB rides and hill walks – I just couldn't see the point without my furry friends.
Despite that, I struggled with the concept of getting another dog. I had been so attached to my previous two I was convinced that no other dog would ever come close to them. It took about 18 months and then, purely by accident, I was browsing the internet and happened to look through a dog rescue centre's rehoming page and I instantly knew I had to get the dog that was looking back at me from the screen.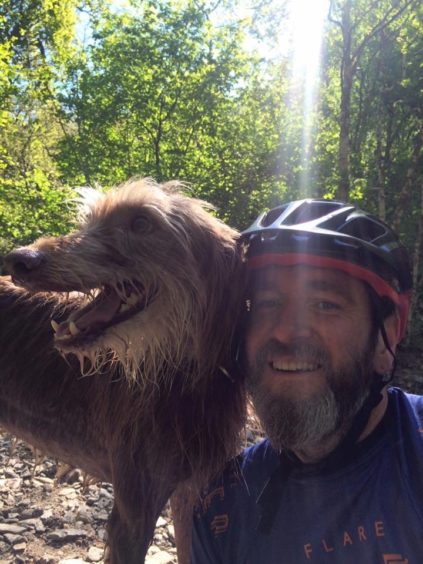 One week later I had my new riding buddy and, even without any training, he was a natural. He tracked alongside my bike, never getting too close to the wheels and spent most of his time running ahead of me, sniffing and exploring through the trees and coming back every few minutes with a "keep up, pal" look in his face, before sprinting off ahead again.
A year later I got another rescue dog and the three of us ride and run through the forests and trails of Highland Perthshire as a pack – the primeval instinct of man and dog coursing through our bodies.
That was about eight years ago and the older of my two rescue dogs is approaching the autumn of his life. I call him my old man and our rides together have taken a distinctly more serene turn of pace.
Often, rather than our previous long adventures, we now ride on shorter loops, where I can focus on practising technical sections of trails giving the dogs plenty of time to rest.
Frequently we will make our way to the viewpoint at the top of a hill and stop at the top, admiring the view and my dogs, senses still as sharp as ever, will have their ears pricked up and noses cast to the wind taking in what smells they can.
I have had people tell me that as my dogs get older they will need to stop coming out with me, but I know that would take away one thing my dogs live for. Despite the milky cataracts forming in the older dog's eyes, I can still see the youthful glint that sparkles as soon as he gets in the back of the car as we make our way up to the trails. Instead of curtailing their adventures accompanying me on my bike, I just need to adapt my riding style to suit them.
When my last dog was put to sleep he was 14 and the week before he died he was in the centre of the Cairngorms with me. We went on a route that we would have normally covered in half a day, but on this occasion I took a tent and travelled it over two days.
Tears ran down my cheeks as I said goodbye to my best buddy but I did so knowing he had lived life to the full. Now when I am in the Cairngorms I can still imagine his spirit running through the glens and over the summits. That day will come again and I will once more be left to ride along the trails alone, but until then I am going to make the most of every minute I have with my dogs. They are already at the front door waiting for me to get my bike out of the shed.
Join the Blazing Saddles Strava Club at: www.strava.com/clubs/BlazingSaddlesWeekendCourier
Where to Ride? Ladywell
Where: Craigvinean Forest–Dunkeld
OS Landranger Map 52 NO 015 418
Details: Parking at Ladywell is on the north side of the A822 Amulree road, just before the Rumbling Bridge junction. Crossing the road gives access to several loops of forestry tracks as well as some single-track riding and a wider scope for exploration around Craigvinean Forest and beyond