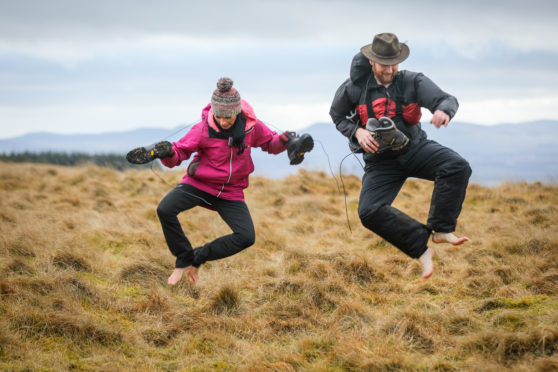 Ahead of the gruelling Cateran Yomp on June 8, outdoor skills instructor (and habitual barefoot walker) Malcolm Handoll shows Gayle how to walk with all five senses…
A bitter wind whips up as I march towards the summit of Alyth Hill.
The ground, on which tufty grass and moss grows, is pleasantly spongy beneath my bare feet.
I do a funny little dance to avoid the hill's abundant scatterings of rabbit poo before realising I really don't care whether I step in it or not. Heck, I am fully embracing nature and all it throws at me!
I've been encouraged to go barefoot by walking guide and outdoor skills instructor Malcolm Handoll.
He wants to show me how to connect with the natural world and indeed, it's rather liberating to wheech off the socks.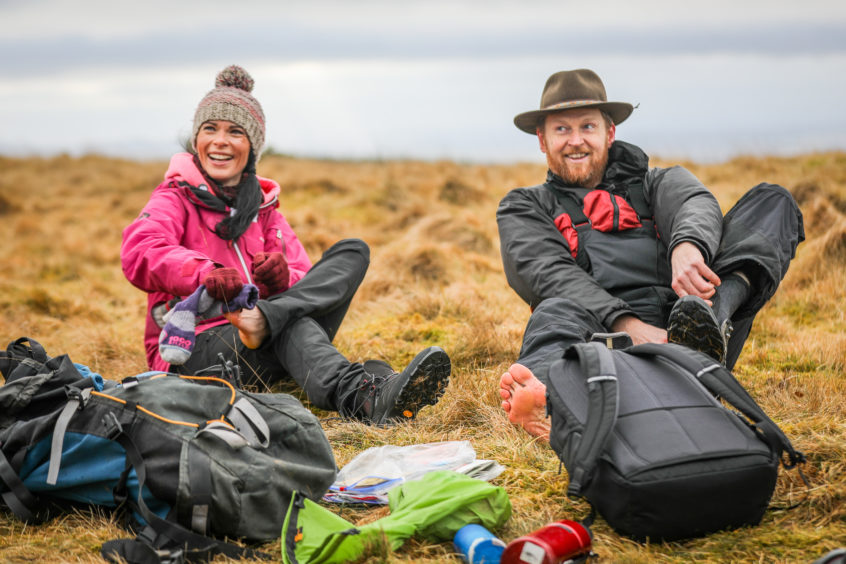 Malcolm, 52, reckons there are an abundance of health benefits to be gained via barefoot walking.
"It feels blissfully stimulating on soft surfaces: you feel beautifully connected to the earth," he says.
"Barefoot allows your body to discharge stress and negativity, changes how you walk and how you interact with nature."
Ahead of this year's Cateran Yomp – which takes place in the Perthshire wilderness with teams of "yompers" hiking 22, 36 or 54 miles – Malcolm is running two training sessions for novice walkers.
His aim is to give those who don't consider themselves "hard-core" – and are perhaps threatened by the gruelling nature of the event – the skills and confidence to conquer it.
"There can be great focus on how tough you need to be to tackle the Yomp but not everyone needs to be," he says.
"You just need a bit of confidence, some knowledge about the route and the best way to do it."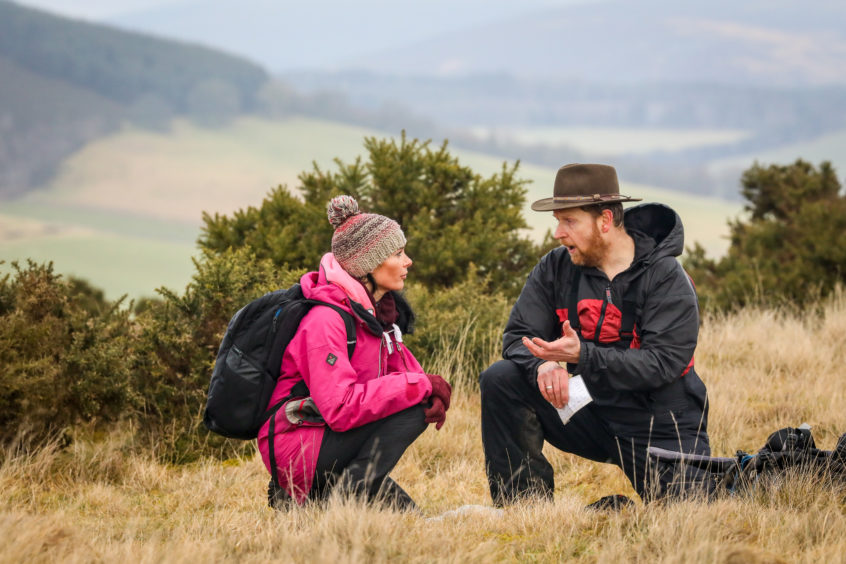 Malcolm's sessions will involve route planning, map reading, navigation, kit preparation and hill safety.
He's invited me for a taster of what to expect, and as we stroll, he explains why we should use our five senses outdoors.
"Visually, there's glorious scenery to enjoy," he reflects.
"Pay attention to the sounds of nature – the tweet of a bird or the rush of a burn. The smells might be vegetation or the burning of a fire. Barefoot walking is all about sensation and touch, while taste might be the wonderful food you're enjoying along the way."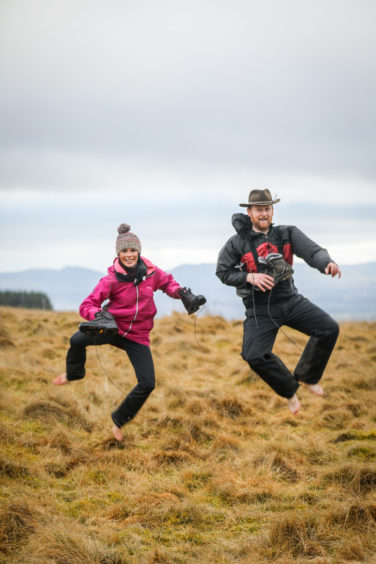 Malcolm's not expecting yompers to go barefoot the entire route. Rather, he extols the benefits of getting the feet out on the odd grassy section or perhaps dipping the toes in rivers to cool off and ease swelling.
Malcolm, who uses methylated spirits to toughen his feet before long walks, has completed major routes such as the West Highland Way, covering up to 40 miles a day. He's planning to complete the 54-mile Yomp route.
"Walking that distance can sound terrifying so I break it down into manageable chunks," he says.
"Many people fear and see obstacles in their lives. I want to show them how to stretch themselves. It's about empowering them to do things they didn't believe they were capable of and in so doing, empowering them to change their lifestyles."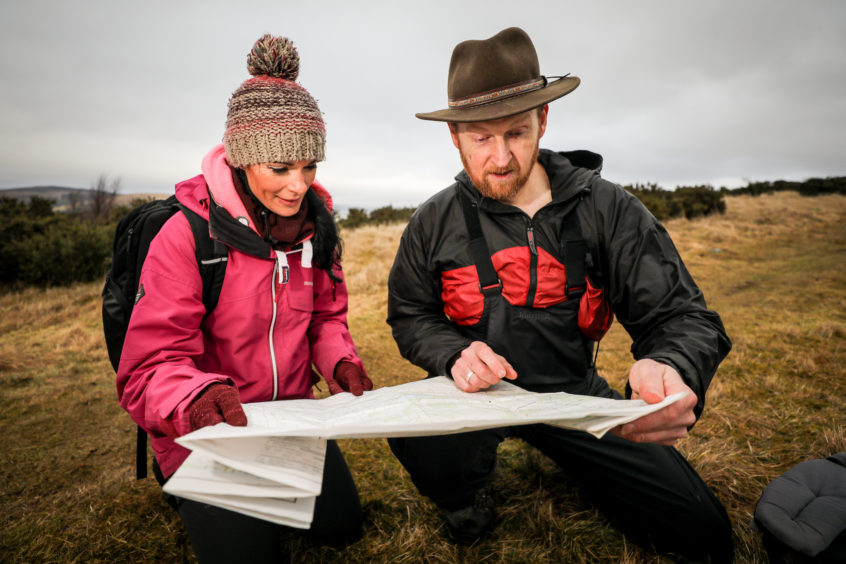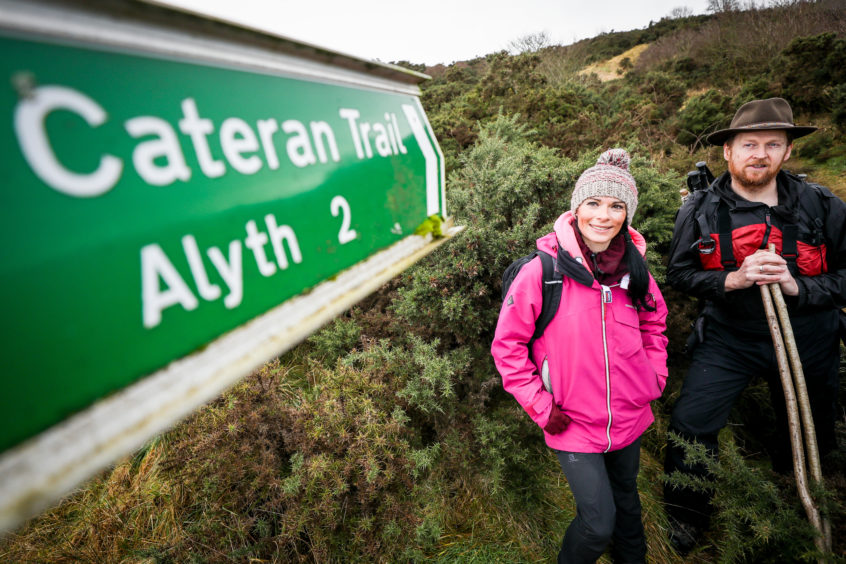 Malcolm has been sugar-free for 20 years and plans walking the Yomp fuelled only by water and raw oats he'll have stashed along the route.
He stops short of encouraging others to do the "oats only" option but teaches people how to "eat smart"…although most yompers won't want to miss out on the scrumptious food stations!
"It's simple things. If you eat at the top of a hill, your body can process the food; it won't be under stress. But gorge at the bottom and it'll be hard to digest and you'll struggle."
Malcolm also tackles the misconception that it's essential to spend a fortune on kit.
Instead of walking poles, he uses sticks crafted from hazel wood "which can be like extra legs for river crossings" and he knows how to fashion waterproof jackets out of bin bags.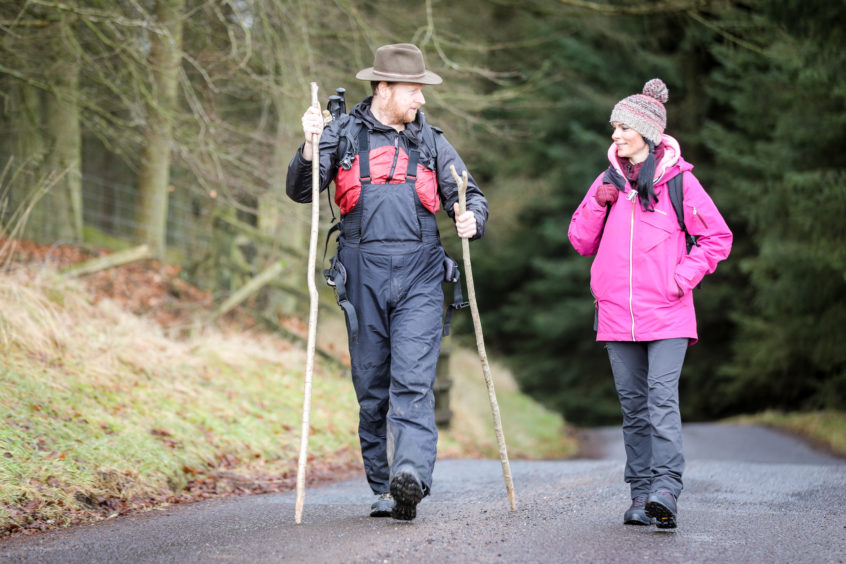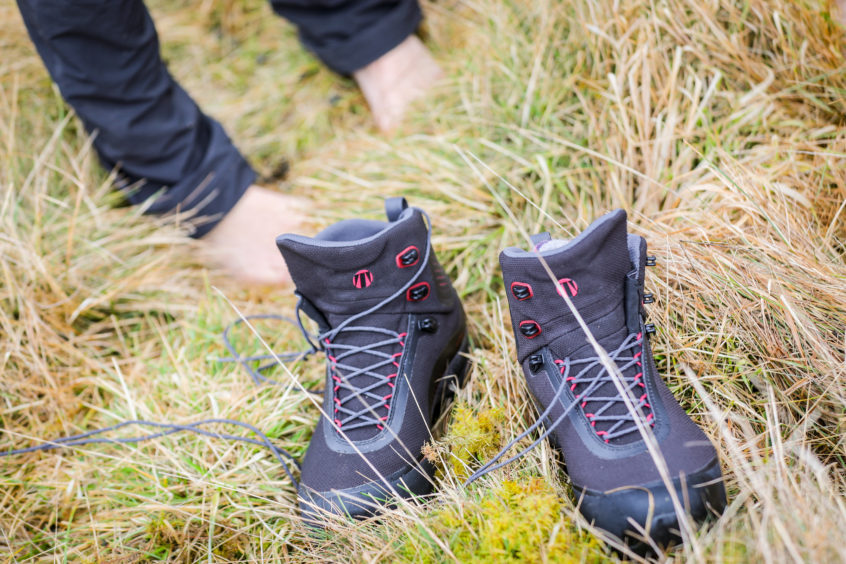 How does he feel about my (rather expensive) new customised heat-moulded Forge Tecnica boots from Tiso? They're unbelievably comfy and I'm pretty sure they'll whisk me through the Yomp blister-free.
Malcolm laughs: "Most people, including myself, will wear boots for the most part, but I'd advise taking every chance you can to go barefoot. Every time I do, I feel happy and connected. Chances are, you will too."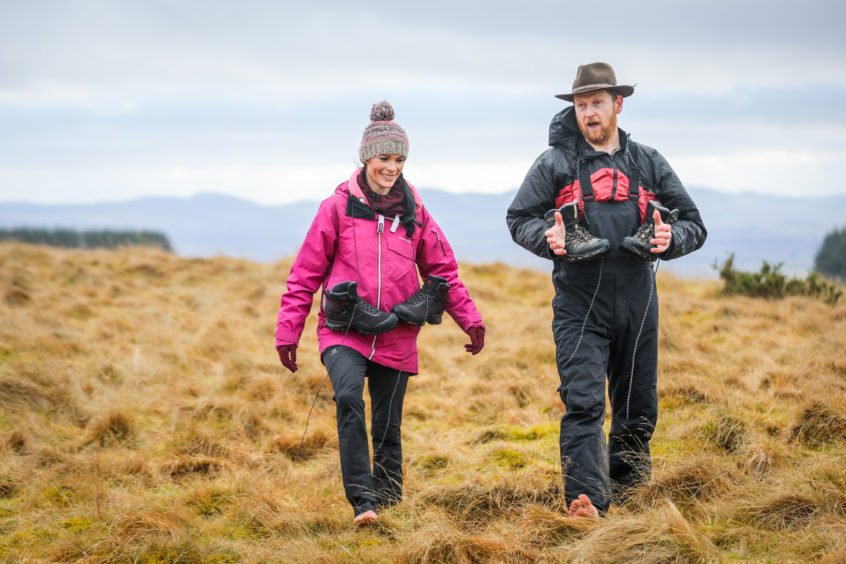 Ultimately, Malcolm aims to make walking easy and pleasurable and "to allay any fears".
"It's about having the practical skills to look after yourself. It's about an attitude of not only surviving, but thriving – of having the confidence to be at ease with nature, yourself and the world.
"My sessions aren't about tough training; they're for people who aren't into pain and suffering – fairweather walkers!"
info
Malcolm Handoll runs Alyth-based outdoors adventure company Five Senses.
His sessions, "How to walk with all five senses", take place on March 16 and May 12 on the Cateran Trail.
They offer expert guidance for novice walkers planning to do the Cateran Yomp.
Tickets are £50 including high tea at Glenisla Hotel, with a donation going to ABF The Soldiers' Charity, the charity behind the Cateran Yomp.
The Yomp takes place on June 8 and 9.
To book a space on either of the training walks visit www.allfivesenses.com/events/ or on Facebook Five Senses
For more info on the Yomp and to register, see soldierscharity.org/events/the-cateran-yomp-2019/