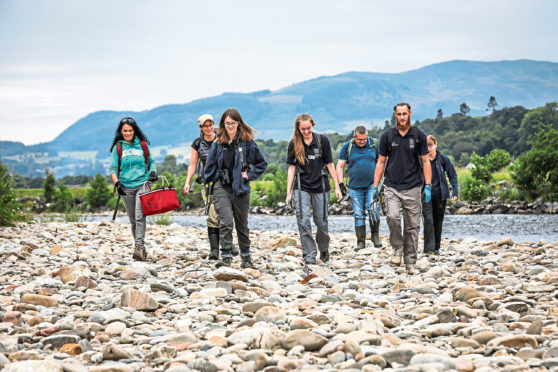 Lupins – gorgeous flowers that add a pop of colour to your garden, or an invasive species that needs to be ripped from the ground?
I thought only the former could possibly be true, until I joined a group of folk clearing the plants from an area of Perthshire.
Pitchforks at the ready, we went hammer and tongs in our mission to remove as many lupins as we could from Tummel Shingle Islands reserve near Pitlochry.
At first, I didn't understand the logic behind this brutal attack.
Surely, such beauties should be oohed and aahed at, and allowed to go forth and prosper?
Nope. As many as possible were (and continue to be) lopped down in their prime, some of them just babies, and others in the twilight (and most dangerous) zone of their lives.
If this all sounds rather bizarre, let me explain.
I'd been keen to get involved in one of the Scottish Wildlife Trust's conservation days for a while, and the one that most intrigued me was on the Tummel Shingle Islands reserve.
It turns out the reserve, an SSSI (Site of Special Scientific Interest) made up of islands and an area of riverbank, is one of the rarest habitats in the UK.
The freshwater shingle provides an ever-changing environment in which more than 400 species of plant thrive.
Alas, lupins are a non-native, invasive species boasting a strong mass of roots which act to stabilise the ground. And this act of stabilising is not desired on the shifting shingle.
"The River Tummel continually scours the shingle and changes direction of flow around the islands," explained the Trust's Perthshire ranger, Sara "Raz" Rasmussen.
"Different features, like oxbow lakes, form as a result of the eroding and depositing of shingle in some areas.
"It's because of the movement of the river that we see this unusual selection of plants, and it's this movement that we want to encourage. Lupins, which act to stabilise the shingle, stop this consistently changing movement, so we need to do what we can to remove them.
"That means ensuring they don't get their 'feet' in and assume greater dominance of this unique environment."
Dishing out gloves, garden forks and loppers, Raz then explained to the group – which consisted of trainee rangers and volunteers – the task in hand.
"If you can dig the lupins out with forks, fantastic, but if it's too tough, it can be impossible," she said.
"If that's the case, then snap off the seed heads and dump them in a pile.
"But make sure the seed heads are not black – that means they're ready to pop and we really don't want that!"
Gazing around, my heart sank. There were literally hundreds if not thousands of plants in various states of maturity, some with glorious purple and white flowers, and others just tiny wee leaves poking through the shingle.
How on earth would we tackle this?!
"We're probably never going to get through it all, but we can try!" winked Raz.
"We've been here a few times already this year and we will no doubt be back many times."
As we strolled along the riverbank, Raz pointed out another non-native, invasive species – Himalayan balsam.
Again, it looks pretty but spreads quickly and seeds can drop into water, contaminating land and riverbanks downstream.
"Feel free to pull that out!" encouraged Raz, and we did exactly that. Thankfully, it has shallow roots and was easy to rip out, unlike lupins.
Grabbing a fork, I had a bash, loosening the roots of my first lupin and then, triumphantly pulling it out. I was breaking a serious amount of sweat after just three plants!
It was much easier snapping off the green pod heads of those almost, but not, quite, ready to pop, therefore preventing spread.
We also found some lupins with black seed pods, which indicated they were most definitely on the verge of exploding, especially given the dry heat, and we bagged these up for disposal.
Does Raz think lupins will ever be completely eradicated from the shingle islands?
"That's the aspiration but you pick your battles!" she said.
"Ultimately, we want to maintain a unique strip of 'edge' habitat with some mature trees like alder, birch and Scots Pine as well as a mix of wildflowers and plants.
"Right now, it's a huge number of lupins in a very small and special place, and they threaten the existence of this celebrated shifting environment."
info
The Tummel Shingle Islands reserve consists of a number of shingle islands created by the River Tummel where it meanders across its gravelly valley floor between Pitlochry and Ballinluig. Most of the year, the islands are linked to the riverbank. It's only at times of flood, when the water level in old backwaters rises, that they become true islands. Shingle islands are relatively unstable features as rivers constantly shift course. As a result, the reserve's habitats range from open shingle to grassland and scrub, to birch, juniper, alder and Scots Pine woodland. More than 400 plant species thrive, including meadow-rue, globeflower, meadow saxifrage, cowslip and buttercups. Seeds washed down from different habitats upstream are able to germinate and survive, particularly on the bare shingle.
Join the Scottish Wildlife Trust ranger team and gain practical experience as a volunteer at one of their Perthshire conservation days. Dates include: Himalayan balsam removal, Tummel Island, Ballinluig, August 8; bracken cutting, Balnaguard, August 13. Booking is essential. Contact Raz on 07920 589 069 or email perthshireranger@scottishwildlifetrust.org.uk
Also, Scottish Invasive Species Initiative is looking for volunteers to help control invasive species. See invasivespecies.scot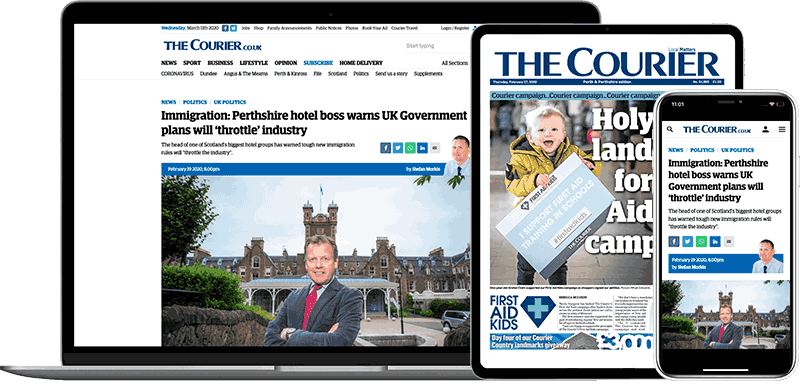 Help support quality local journalism … become a digital subscriber to The Courier
For as little as £5.99 a month you can access all of our content, including Premium articles.
Subscribe