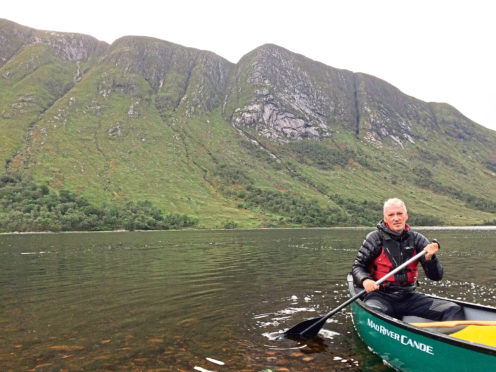 Alan Rowan bagged a Munro on every full moon in 2018. His new book, Mountains of the Moon, is available tomorrow. Gayle Ritchie finds out more…
As Alan Rowan reached the ice-rimmed summit of Ben Hope, swirling mists parted like curtains, giving tremendous views of the moon and the sparkling landscape below.
"The row of little lochans disappearing into the horizon shone gold," reflects Alan, 65. "It looked like golden teardrops from the moon itself."
You couldn't have scripted a better finale – a fitting climax to the grandfather-of-three's mission to scale an iconic Scottish peak on each of the 13 full moons last year.
Known as the "Midnight Mountaineer", Alan has a passion for climbing mountains through the night, and he's written two books about his journeys – Moonwalker: Adventures of a Midnight Mountaineer, and A Mountain for Breakfast.
His new book, Mountains of the Moon, is published tomorrow and charts his latest exploits.
"The first two books were historic records of my night walking, and I was looking for something to bring it full circle," explains Alan, who lives in Carnoustie.
"While planning for a year of full moon ascents in 2017, I discovered that 2018 would be an unusual year, with not only 13 full moons but also two blue moons, a pattern that only occurs roughly every 20 years. It seemed the perfect opportunity."
Alan picked Munros whose names linked in some way to the moon, such as Cairn Gorm and Bla Bheinn, both meaning "blue mountain" and climbed these on the two Blue Moons – in January and March.
For the Strawberry Moon in June, Alan scaled the hills above Strawberry Cottage in Glen Affric
"I tried to spread the coverage as much as possible, taking in as many of the classic Munro areas – Torridon, Skye, Knoydart, Cairngorms, Affric and so on, but I also tried to find two hills for every moon as an option to take into account the weather."
It wasn't all plain sailing though, and Alan had to turn back short of the summits on his first two Munros, on Beinn Alligin because of the avalanche risk and a storm, while the weather deteriorated on Cairn Gorm.
"I had to navigate out of the corrie in a whiteout. But in both cases, I only needed to get into the corrie to make it a success," he explains.
His third walk was abandoned altogether because he couldn't reach his destination thanks to road closures as a result of the Beast from the East, while his fourth walk, on Bla Bheinn in Skye, was the dodgiest.
"It was the most intimidated I've ever been on a mountain," admits Alan.
"I knew the mountain well, had climbed it half a dozen times before, but that counted for nothing.
"Just as I was on the final push to the top, I was engulfed in whiteness, with no visibility in any direction, and my watch, phone and camera froze. With a lot of potentially dangerous ground now out of sight, I was relieved to reach the top and get down to safety without mishap.
"After these four, I was seriously thinking of calling a halt if the next one was miserable, but luckily Beinn Eighe delivered. Then I had five good ones taking me into late autumn. They were memorable for the roaring of the stags. It's a sound that travels for miles – a wonderful Scottish soundtrack for any ascent."
The "best" moon, says Alan, was the Flower Moon in May on Ben Lawers – "it was the brightest and most perfect" – while the Strawberry Moon was also sensational.
"My favourites had to be the Pink Moon on Beinn Eighe in April and the last one, Ben Hope, on December 22," he recalls.
"The April walk was a make or break one, as the previous four had proved problematic and I was ready to call a halt if the Beinn Eighe walk was disappointing.
"Fortunately, it turned out to be a superb night on snow-packed ridges with stunning light all around."
Alan started night climbing when he was sports editor for a daily newspaper and didn't finish work until midnight.
The job was high-pressure and with his mind buzzing, he found it impossible to go home and fall asleep.
"For 15 years, from 1994 to 2009, I regularly climbed Scotland's mountains in the middle of the night, getting through the best part of two rounds of Munros and one round of Corbetts," he recalls.
Having taken early retirement in 2009, Alan works as a freelance writer, author and journalist.
He still enjoys night walks, although now the emphasis is on aiming for sunrises and sunsets.
However, he wouldn't encourage others to follow in his footsteps.
"I'm always wary of advising anyone to take up night walking," he says. "It's a totally different experience to walking during daylight hours – much more intense. You need to be confident with navigation.
"My best tips are not to go alone and be prepared to turn back if you're feeling unnerved.
"Also, always carry two head torches – in winter three won't go amiss – and spare batteries. There's a comprehensive guide to night walking dos and don'ts on the Mountaineering Scotland website."
So what can readers expect from Mountains of the Moon? "Apart from the walks themselves, there's a great deal of mountain safety and lore, plenty humour and quite a few surprises. It's not just a book for mountaineers."
info
*Mountains of the Moon: Lunar Nights on Scotland's High Peaks, is available from Waterstones and selected book stores from September 1. It will also be available on Amazon, Kindle, and at Munromoonwalker.com