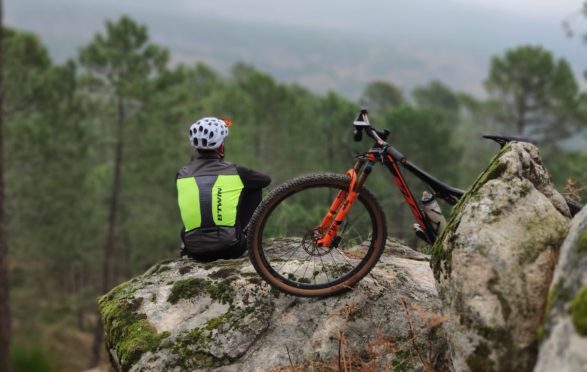 "Nature is an old lady with few friends these days, and those who wish to make use of her charms, she rewards passionately."
These words have echoed through my life since I first read them in the cycling novel The Rider by Dutch journalist Timm Krabbe and they resonate just as much in today's society.
Modern life lulls us onto a treadmill where we stumble from house to car to office in a perpetual cycle that neglects what is primal to us. It is well documented that mental health and wellbeing are improved markedly by getting out in the fresh air for a bout of physical activity.
I find my own mood improves when I have been out on my bike, even for just an hour; and for that short period my head becomes clear of the trials and tribulations of life as I focus on the environment I am cycling through.
This happens best when I am on my mountain bike with my two canine companions, always ahead of me. They move along the trails so fast, with a keen sense of everything around them, that I often lose sight of them, my own mind becoming more focused on my own movement through the forest.
There is a connection to my surroundings that cannot be achieved by looking out of a window. The rain, the wind, the mud and the snow, as well as the sunshine, all play a part in that link: the elements make you feel alive.
However, summoning up the initial motivation to get out there and enjoy the outdoors can be difficult. I would argue that the relationship we have with our electronic devices is a big part of the problem; we become locked into a virtual world where our moods change and time slips by without us noticing.
Ironically I spend a lot of time using my phone to look at social media and fitness apps like Strava to see what others are doing outside, while I sit and fester, trying to summon up the motivation to get outside myself.
I have had days at work where the last thing I want to do when I get home is get my riding kit on, put a light on my helmet and hit the trails in the dark and wet. Often the only thing that motivates me is the fact I am meeting a friend to ride with and I don't want to let them down. I still have to force myself out of the door though.
A few hours later I am usually soaked through and caked head to toe in mud, but every time I will have a big smile across my face and telling anyone who'll listen (usually just my dogs) that it had been "the best ride ever".
The point is that it is often those days when we don't want to ride that we need to put most effort in to do so. Motivation is mood dependent and the lower our mood the less inclined we are to do something about it. The best way to free ourselves from those shackles is to get on our bikes and ride.
You won't regret it.
Where to Ride: Drummond Hill
Location: Highland Perthshire
Start: OS Landranger 1:50,000 Map 52 NN781460
Details: Part of Tay Forest Park Drummond Hill towers over the north eastern edge of Loch Tay, its forestry clad slopes hiding a network of tracks and trails just waiting to be explored.
Drummond Hill is in fact one of Scotland's oldest managed forests, originally planted with oak, birch and pine by Black Duncan, the Laird of Breadalbane in the 17th Century.
The best way to approach Drummond Hill is to get a map and then get out and ride, but it is worth visiting two viewpoints: the Black Rock viewpoint overlooking Kenmore and the iron-age hill-fort that stands guard over the top end of the Appin of Dull.
If you are very lucky you may see one of Drummond Hill's resident capercaillies.