The movie Back to the Future might have predicted that by 2016 we would all have self-lacing shoes, kids would be scorching around on hover-boards and flying cars would leave the streets blissfully free for cyclists – but it didn't predict social media.
No one knew they needed it but now we have it many can't envisage a world without it.
Cycling has been in on the social media act for some time now.
Apps such as Strava have revolutionised the way many people cycle by making it possible to post routes they have ridden online, receive kudos for those rides and pit themselves against others on timed segments.
It was only a matter of time before that progressed to the point where riders don't even have to leave their house to cycle with others.
Several application development companies are working towards virtual training tools that link indoor static trainers with ANT+ (wireless technology that allows devices to "talk" to each other).
One of those leading the way is Zwift.
It is essentially a game you participate in by pedalling your bike.
At its simplest, it involves setting your bike up on an indoor trainer in front of a monitor screen, linking in to the programme via ANT+ and then pedalling.
As you get going along the computer generated roads you will come across hundreds of other avatars of riders from around the world, each linked up to the programme.
It is possible to race against these riders, ride with them and communicate too by sending messages via your smartphone, which then appear on-screen.
Live updates of where you are on the route, who is around you and is fastest up the climbs also appear as you ride. Your own speed, cadence, heart-rate and power data is displayed on-screen and is adjusted depending on the gradient of the road ahead.
If you are lucky enough to own a smart trainer, then the resistance on that trainer also adjusts to replicate the difficulty of the gradient.
Regular readers of this column will know of my back to basics view of cycling. I'd rather be out riding on my single-speed, steel framed bike than getting sidetracked by technology.
I also very rarely use an indoor trainer but having used Zwift for a few weeks now, I have found it an enjoyable distraction and on a couple of occasions, hours have passed unnoticed as I "have just wanted to carry on to the top of the next hill".
For many it could be a useful training tool, particularly during a Scottish winter.
However, as the daylight extends later into the evening I reckon I will find my initial enthusiasm wanes somewhat.
Last week I joined friends on my club's first midweek evening ride of the year. The evening was warm, the company was great and the cycling was hard.
I suspect that no matter how realistic "virtual cycling" becomes there will be nothing that can beat the feeling of just getting out on the bike.
Where to ride: Soldier's Leap, Killiecrankie to Pitlochry
Off-road ride
Distance: 4 miles
Start: OS 1:50,000 Map 43 and 52, Killiecrankie Visitor Centre NN915628
Description: This one-way route takes in the dramatic gorge at Killiecrankie and follows the River Garry down to Loch Faskally and then Pitlochry. It's a shared use path and can have a lot of walkers on it but is suitable for all the family with lots of great spots to stop and enjoy the views.For those looking for a bit more adventure it also forms a link for those riding up Ben Vrackie from Pitlochry and then back down to Killiecrankie via the Bealach Moine behind Loch a Choire.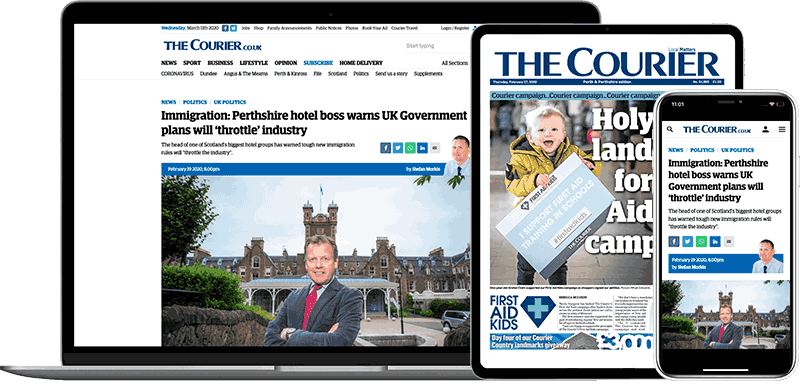 Help support quality local journalism … become a digital subscriber to The Courier
For as little as £5.99 a month you can access all of our content, including Premium articles.
Subscribe