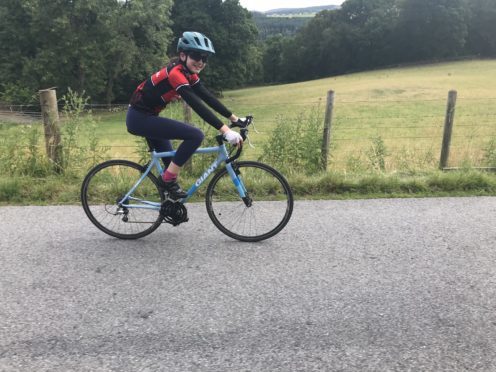 I can't quite remember how old I was when I first went out cycling on roads by myself, without an adult, but I was definitely less than 12 as I used to cycle the mile from my home to Invergowrie Primary School every day.
Of course, the perception was that the roads were safer in those days – there was certainly less traffic and fewer distractions for drivers to divert their attention and concentration from the road ahead. I also remember doing my cycling proficiency training but missing the end of week assessment due to an absence.
The training was run by the police, but never ventured further than the school playground, so perhaps wasn't the best at equipping us with the skills needed to be safe riding on the roads.
In those intervening years, since I made my first adventurous forays on my bike, exploring my local environment and gradually venturing further and further afield, to present day where I am now a parent of two children who love cycling.
Neither of my kids has ventured out of our village on their bike without an adult. Our reasoning for this was that we live on a single-track road with high hedgerows and very limited visibility. The speed limit there is 60mph and often cars, lorries and tractors will use it with no regard to meeting cyclists or walkers.
So when my daughter Maisie asked if she could head out on her bike, down the road to the next village my wife and I were hesitant. Even my son was nervous and didn't want her to go, worried she might be involved in an accident with a car. We were more than happy to let Maisie launch herself off the top of a downhill mountain bike track, or ride at the top of the 45degree slope of the Glasgow Velodrome, but sadly it seemed that riding down our local road was a step too far.
This seemed insanity. What had been a rite of passage for me was now off-limits for my children. We had become a society ruled and defined by cars – and defined by them. My daughter was adamant that she would be safe and we knew she was responsible enough to head out on her own, but the big doubt was the lack of consideration from others – Maisie could be the safest rider in the world, but other road users may not be so forgiving in their attention to her needs and vulnerability as a young cyclist.
Fortunately, I have been in the position to ride with both my children on the road on many occasions and equip them with an awareness of anticipating other road users and how to maximise their own safety. It was never going to be a rock-solid guarantee of their security, but just as my parents had once let me cycle out on my own I felt it was something I was going to have to let my daughter do as the next step of her growing self-reliance.
On her ride she phoned us to tell us she had arrived safely in the next village and that she was "loving it" and on her return she was buzzing with excitement – it seems that, just like her dad, a ride on a bike for my daughter was the perfect tonic to improve her day.
She told me that a few impatient drivers who had tried to squeeze past when there wasn't really enough room to pass, but also an encouraging story. When Maisie had seen a lorry approaching from behind, she stopped and got off the road to let him past. As it approached, the driver tooted and shouted out of his window to carry on ahead of him as he was going to be turning right soon anyway.
Another pedestrian also called out to her: "Well done, it's so good to see young people out and about on their bikes".
Scarily, even as a regular road cyclist and Bikeability trainer I had conveyed a negative, scary experience of riding a bike on the road to my children. Instead, Maisie had a great time that she was still talking about days later. To her It wasn't just a bike ride, it was the next step in her growing up and becoming more independent.
Join the Blazing Saddles Strava Club at: www.strava.com/clubs/BlazingSaddlesWeekendCourier
The Route: The Lomonds
Details: 20 miles/ 34km
Maps OS 1:50,000 Maps 58 & 59
Start/ Finish: Leslie OS 1:50,000 Map 59 – NO254019
Details: Starting in the centre of Leslie ride north on the unclassified road towards Falkland. This long drag of a climb will take you between East and West Lomond. In Falkland follow the A912 north west until you can join the National Cycle Route 1 at Strathmiglo. Follow this to Wester Balgedie and turn left on to the A911 back to Leslie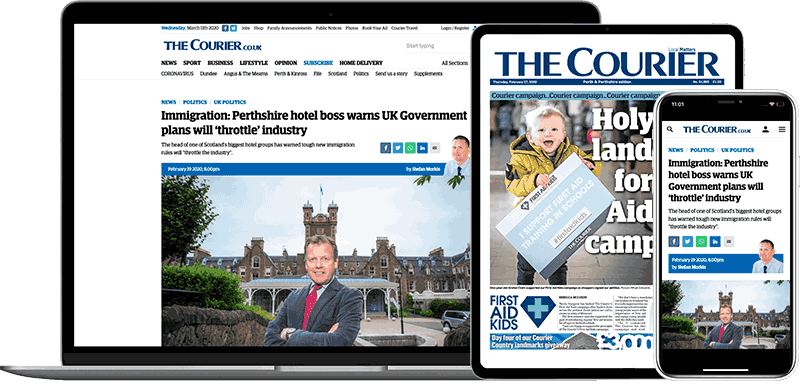 Help support quality local journalism … become a digital subscriber to The Courier
For as little as £5.99 a month you can access all of our content, including Premium articles.
Subscribe