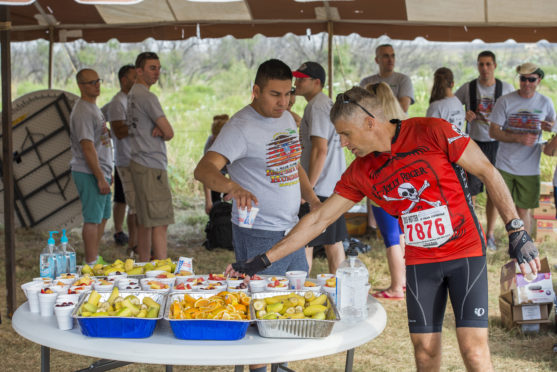 Losing weight will be on many cyclists' resolution lists in 2019, but make sure you're not restricting your diet to your detriment.
Anna Boniface finished the 2017 London Marathon as the fastest amateur female runner, earning her a place in the England team for the Toronto Marathon. Unfortunately, at that event, she ended her race after only 10 miles with a stress fracture in her ankle. Further tests found poor bone density, including osteoporosis in her spine. The news was devastating for the 25-year-old.
The diagnosis was "Red-S" – Relative Energy Deficiency in Sport. This occurs when sports people restrict their diet with the aim of improving their performance, to the extent that some of the body's functions start to shut down.
Cyclists are already at risk from poor bone density. To keep your bones healthy and strong you need to put a significant strain on them, which, for all its other health benefits, cycling, as a non-load bearing activity, does not do. Consequently, those who ride frequently at the expense of all other activity may be putting themselves at risk.
Added to that, cyclists, alongside runners, benefit greatly from lower body masses – the lighter you are the less load you have to pedal up that hill – so many, when they are training, will strive to obtain and maintain a lower body weight. British Olympic Champion Chris Boardman gave up a professional cycling career at the age of 32 due to osteopenia.
To be clear, Red-S is not an eating disorder, although eating disorders can become an issue with many sports-people. One cyclist, Sam Woodfield described it as a simple equation: "Lighter meant faster which meant I stood more of a chance of winning". So he restricted his diet in the belief that he was improving his health, not damaging it.
There haven't been many studies into the prevalence of Red-S and the #TrainBrave campaign is trying to highlight the dangers among amateur sports-people and aspiring young athletes – who are vulnerable and at risk from expectations and pressure to succeed in their chosen sport – who may not be aware of how damaging their diet may be to their bodies.
As cyclists we are constantly bombarded with media telling us what products we should be eating and drinking to get the best performance from our bodies. I know of lots of cyclists I have guided across Europe who will refuse to eat at cafes for lunch, claiming all they need are a few energy gels and carbohydrate bars.
They ride like this day after day and week after week, putting processed products through their body and avoiding "real" food, either for the sake of convenience or in the mistaken assumption that it is not good for their performance.
There is a droll adage amongst cyclists that the only reason we cycle is so we can eat as much cake as we like, without ever having to worry about putting weight on.
That may have been true many years ago, but unfortunately now, in an age of mass-processed foods, many riders cannot lose weight. I have coached riders who, despite riding several hundred miles every month, cannot get to the race-weight that they want to get to. When we have explored further, it has transpired that even on their shortest training rides they will supplement their diet with processed energy products they don't need, then restrict their main meals but still serve themselves highly processed and factory produced food that is low on nutrients. Such a regime does no one any favours.
As we emerge into 2019, lots of us will already be on out on the trails, roads and indoor trainers readying ourselves for a new season of cycling. We spend a lot of money on our bikes and time training, so let us all put a little thought into our diets too – after all what we eat is the fuel that keeps us moving forward.
Join the Blazing Saddles Strava Club at: www.strava.com/clubs/BlazingSaddlesWeekendCourier
Visit TrainBrave.org for more information and resources on Red-S and eating disorders in sport
Where to ride
Where: Queen Elizabeth and Achray Forests – The Trossachs
Start/Finish: OS Landranger 1:50000 Map 57
Start: Aberfoyle NN 523011
Finish: Callendar NN 626075
Distance: 13 miles/22 km one way
Details: This on- and off-road route through the Queen Elizabeth and Achray Forests leads you over the Dukes Pass and down to Loch Venacher and onto Callander. It is suitable for adults and older children and follows traffic-free forest tracks, some minor roads with a short section of main road at Aberfoyle. The start of the ride has a stiff climb, but then it is steady going after that and mostly downhill.