Everything was prepared and we arrived at the start before anyone else. It was going to be my first ride with my local cycling club that I had managed to get along to for a few years.
It was also the first time my children had cycled with the club with them since becoming inaugural members earlier that month.
I was going to be riding my new bike; I had only just picked it up from the shop a few hours before. The sun was shining and we were looking forward to a great evening on the bikes. On reflection, I was to learn a great lesson in positivity, one that bucked me out of my despondent attitude.
The problems started only minutes into our ride. The three of us had set out on our ride with a 10-minute headstart in front of the rest of the club riders. My thought was that the other riders would catch us several miles in, we would ride with them for a short section, then take a shortcut, meeting up with them in the last few miles.
It quickly became apparent that my plan was a bit too ambitious and although my daughter was pedalling ahead with apparent ease, my son was struggling to keep any kind of pace going. I kept encouraging him, but he was getting slower and slower.
After a few miles I offered him a push on a few of the hills, but he point-blank refused, adamant that he was going to do this, but as the rest of the groups of club riders caught and passed us he became downhearted. He had convinced himself that he wasn't a good cyclist and didn't have what it takes to be a good rider.
I reminded him of when he had cycled the Pedal for Scotland event from Glasgow to Edinburgh, passing hundreds of cyclists on the way. It wasn't until about four miles and we were struggling to stay above an eight miles-per-hour average that he said that his legs were in agony trying to push the pedals around.
Considering we were on a downhill section I figured that something must be wrong with the bike. I got him to jump off and immediately found that his back wheel wasn't seated right in the rear-dropouts of the frame, meaning the tyre was rubbing on the frame and effectively acting as a brake.
I rectified it in seconds and he jumped back on, taking off like a rocket, quickly catching up with his sister and then proceeding to fly up the next hill shouting that he loved cycling.
We were behind schedule now and, despite my son's renewed delight in his cycling skills, a black cloud was descending over me. I felt rotten for not checking his bike properly beforehand and putting him through 30 minutes of misery.
Worse was to come however. We had only progressed another mile when I changed into my lowest gear and the rear-derailleur caught the rotating back wheel and was ripped off, snapping the chain in the process. My new bike!
Although I knew it was easily repaired, that was not going to happen at the roadside and our ride was over.
I found a safe place at the roadside for us to wait and I called home for an emergency lift home. As I waited for my wife, becoming more and more dejected at our predicament and the seemingly disastrous night we had just had, my kids started playing a "let's wave at every driver who passes us" game which had them in hysterics for the next 30 minutes. They tried to involve me in their shenanigans, but my sullen attitude had taken hold and instead I sat glumly on the pavement.
It wasn't until the drive home and they sat excitedly in the car telling their mum what a great night they just had that my melancholy started to lift. Obviously I had been disappointed at the mechanical mishaps, but I was more upset that I had promised them a great night of cycling, which in my mind had ended up disastrous.
The final proverbial kick-up-the-backside for me came when my 10-year-old son told me: "Dad, no one was hurt." I had been so focused on the fun coming from our cycle ride that I had forgotten that just being together was more important.
Perhaps, once in a while, I need to heed the words from the infamous former pro-cyclist Lance Armstrong: "It's not about the bike".
Where to ride
Where to Ride: Castle Dow – near Balnaguard
OS 1:50,000 Map 52 Start – NN935524
Distance: 8 miles/ 14km return – The route can be extended beyond Castle Dow
Details: A small parking area can be found on the B898 between Grandtully and Balnaguard. The route climbs steadily on forest track to the iron-age hill fort of Castle Dow.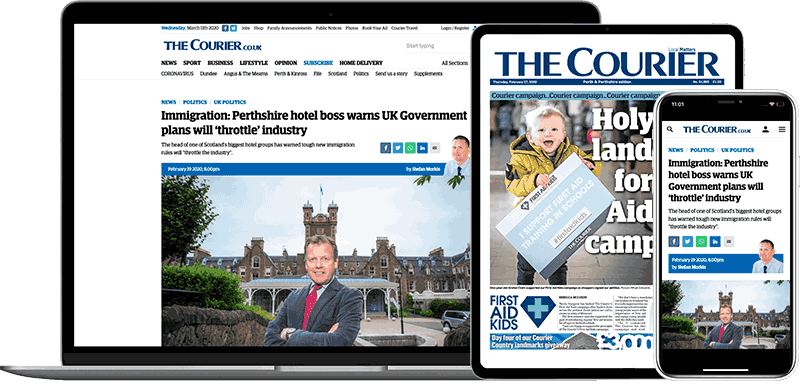 Help support quality local journalism … become a digital subscriber to The Courier
For as little as £5.99 a month you can access all of our content, including Premium articles.
Subscribe