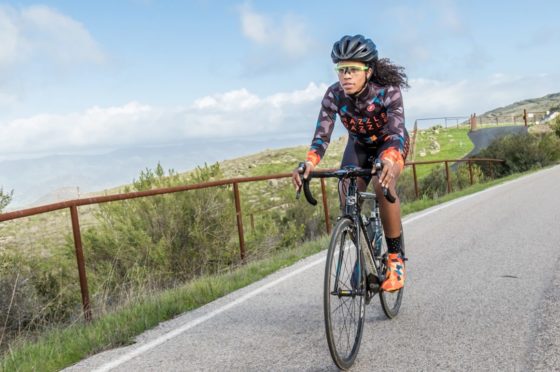 Why is it that the promotion of diversity in our society creates such strong reactions from many?
Any calls for the promotion of inclusiveness and fairness for all in our society are usually accompanied by some call from keyboard warriors that lefty-liberals are undermining society.
It is an attitude that always comes across to me as completely grotesque when our society is made up from millions upon millions of individuals, each with their own beliefs, fears, hopes and dreams.
Fortunately, times are changing and movement, albeit slowly, towards parity and equal opportunities, but yet the media and cycling industry still lag far behind.
In terms of cycling, the industry is still emphatically geared towards the testosterone-fuelled white male stereotype who arrives at a trail in a van, shreds some single track in slo-mo, pops open a beer and receives a bunch of high-fives.
Road cycling has a similar problem with stereotypical lycra-clad MAMILs and such imagery isn't inclusive. Realistically it doesn't need to be inclusive – why should it, according to Mintel, the total bicycle market in the UK is estimated to be worth £1.5 billion with a 5% annual growth.
But if bike brands, race promoters, media firms, and anyone else with a vested interest in seeing that growth continue, need to sit up and take note that their market is primarily stale and populated by males. If they are not careful the market will head in the same direction as golf, where a perceived image of stuffiness and lack of diversity has hit many clubs hard.
For the majority of people, cycling will not be about pulling a wheelie or bagging a King of the Mountains on Strava, but we are pointed in that direction. The imagery we are shown doesn't speak to the larger population who may otherwise have taken up cycling: people of all races; those with disabilities; those who want to just ride a bike to work to be more environmentally friendly; or people looking to improve their mental health are missed out from marketing and hence the cycling industry as a whole, and by that I mean from grass-roots levels right up to the highest levels, are cutting out a massive chunk of their potential market.
Basically, those in the cycling industry are talking to themselves – they are cut from the same homogeneous cloth of the people they are trying to sell their product to. This translates across to sponsorship, where marketing executives assume the demographics of the "typical" cyclist and conclude that no one really wants anything else.
So we are left without a full three-week grand tour for women at the highest level and at grassroots young girls are leaving the sport at youth level because it does not speak to them.
There is also a myth in our world that cycling is for the reserve of the wealthy and the thrill seekers. It does nothing to draw in others who may benefit from cycling for health maintenance, or transportation.
There are, of course, those who stubbornly refuse to accept these stereotypes and are on a mission to buck those trends – Ayesha McGowan is determined to become the first African-American woman on a pro-road cycling team. Her words perfectly sum up how I perceive cycling: "Cycling is a unifier. We all enjoy bikes. I want to encourage an idea of unity, not just among cycling disciplines, but also all different ways people present or identify."
Promoting inclusiveness and diversity will benefit our society as a whole and the individuals who live in it, no matter what background and aspirations they have.
Join the Blazing Saddles Strava Club at: www.strava.com/clubs/BlazingSaddlesWeekendCourier
What's On:
Let's Ride Edinburgh
Date:
Sunday September 22
Details:
In August it was the roads in Glasgow that will be closed to traffic, now t's the turn of Edinburgh to join in the fun. Celebrate a free cycling festival for everyone. The event includes a cycle around traffic free streets of Glasgow, music, local street food and live stunt shows.
Find out more:
https://www.letsride.co.uk/events/edinburgh