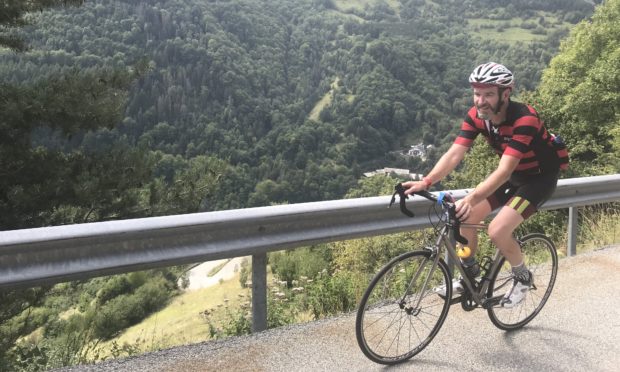 The cycling commentator Phil Liggett is never short of an idiom to describe the sport of cycling.
One of his, "Dancing on the pedals," has become ingrained and describes a rider who climbs mountains whilst out of the saddle.
Often this style of riding can be seen as gruelling as riders grind up in their lowest gear, using their extra bodyweight to push down on the pedals. But to those "dancers" it translates as an effortless flight up the mountainside with the apparent ease that a ballet dancer may display.
Alberto Contador is a modern day proponent of this style. It has fallen out of fashion over recent years, mainly due to the introduction of lower gear ratios, but is sitting down all the way up to a summit any more efficient?
When I cycle with my young boy his first instinct when the gradient goes up is to get out of the saddle. He is small and light and this seems to suit his style and no amount of guidance from me seems to change his mind.
My cause is further weakened by the fact that someone once commented that he was like Alberto Contador. Now he exaggerates the swinging of his shoulders to comical levels. I have to say, for my money, the out of the saddle style favoured by Contador looks more elegant and efficient than the seated and awkward-looking high-speed cadence of someone like Chris Froome.
However, both riders are great climbers, so is one wrong and the other right?
A lot of it will depend on the steepness of the gradient. I find when I am seated I can get into a steady gradient, but as the gradient kicks up I tend to get out of the saddle, even if only for a moment, to accelerate slightly before sitting back down.
I usually find I need to click up a gear or two before I stand to give me something to push against, then click back down when I sit again. The momentary change of position is also beneficial to my posture, especially when climbing for long periods.
In 2008, Professor Ernst Hansen deduced that road cyclists were more efficient seated on climbs of less than 10%, but as the gradient steepened they became more effective in terms of power output. The caveat to that was they consumed 5% more oxygen when standing due to the engagement of more muscles.
In effect, when seated your body mass is supported by the saddle, so you can conserve energy. However, when standing you will change the position of your hips and activate more muscles including your glutes and more of your calves, giving you more power – a position similar to a runner's propulsive downstroke.
It is interesting to note that the bigger riders tend to be the ones who stay seated, whereas the smaller riders, such as the Columbian Nairo Quintana, tend to spend more time standing up, which makes sense if they have less body weight to support and can increase their power by doing so.
Like many aspects of cycling, ultimately it comes down to doing whatever you feel suits your riding style best. There is no right or wrong answer – if it works then keep doing it.
Whether you stand or sit on a bike there is one thing that unites us all – climbing still hurts.
Where to ride: Glenfoot/ Glenfarg Circular
OS Landranger Map 58 NO 160159
Distance: 13 miles
Details: Starting at the Baiglie Inn at Aberargie this route can be ridden in either direction. If riding it clockwise, ride along the A913, before turning right at Glen foot. Continue on past Glen Tarkie, before joining the A91. At Gateside turn right on the A912 and descending back to Aberargie