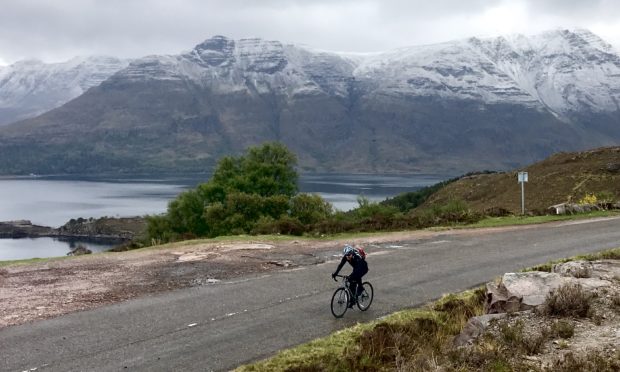 "Familiarity can blind us to the wonders that surround us," I told one of my two riding companions from the United States a few years ago.
I'm not usually prone to such instances of lucid thought, but the sentiment occurred to me as the two Americans kept telling me how lucky I was to have such a wonderful place to cycle through not far from home.
They were stunned by the scenery: the way that it seemed to change every few miles: the relatively traffic-free roads (at one point we didn't see a car for a 10-mile stretch), the weather and the light. I had told them to take warmer clothing, but we were blessed with yet another of those warm and sunny days we have come to expect this summer.
Even the strong headwinds that I had told them to expect couldn't wipe the smiles from their faces as our route headed west from Bankfoot and entered Little Glenshee, which I think should be renamed Glen Suthain Gaoith – Glen of the perpetual wind. However, I had told them that, as compensation for the initial slog, the return leg through Strathbraan would have us travelling with a strong wind at our tails and a road that was slightly downhill for almost 10 miles which they duly enjoyed.
The route we were on was a regular ride for me and as such, at that time, I didn't really appreciate the scenery around me. I know the Sma' Glen is a popular tourist haunt and that the narrow pass through the glen lends a dramatic feel to the surroundings, but my companions weren't only impressed by the mountainous terrain; they loved the woodland, the farmland, the rivers and most importantly the long views.
From the highest point in Little Glenshee, the view across Strathmore is stunning and it was only through the eyes of my companions that I really appreciated this overly familiar view.
I think as a society in general, but more specifically as cyclists in particular, we can often spend a lot of time, money and effort seeking out new routes, trying to top the last one and travelling the world to do so.
I can't scoff at that as my foreign companions had done just that, and since then I have also enjoyed cycling in various places around the world, albeit mainly for work.
Those trips abroad have given me an even greater appreciation of my home trails and roads.
A recent cycling trip to the far north west of Scotland brought this into focus for me again recently. I had started to view Scotland as somewhere less spectacular than say, perhaps the Dolomites.
Obviously I was wildly off course with that particular train of thought and again it took riders from further afield to bring that home to me.
As we cycled down from Durness, through the Geopark and around the roads that hug the west coast of Scotland, I started to see the landscape through their eyes and once again it took my breath away.
So much so that I immediately cancelled a family cycling trip to the Alps and changed the venue to the north of Scotland instead.
My decision was met with some consternation from my family, but I told my children it was sad they knew parts of France better than they knew Scotland. They acquiesced and we headed north with our bikes.
I'm glad to say the trip was an amazing success. The sun shone every day and we had barbecues on the beach every night.
It was a trip that rekindled my love for Scotland and made me realise, again, that we have so much. We just need to take the time to appreciate it and not take it for granted.
Join the Blazing Saddles Strava Club at: www.strava.com/clubs/BlazingSaddlesWeekendCourier
Where to Ride: Lednock Wood – Comrie
Where: OS Landranger 1:50000 Map 51 NN776 223 Start at the car park by Comrie Golf Course
Distance: 1km one direction, with potential to explore further
Details: This short off-road route runs along by the River Lednock and is ideal for young children, particularly on balance bikes, and their families looking for a short cycle. As well as offering a scenic route it has plenty of features on the way and plenty of picnic stops along the way