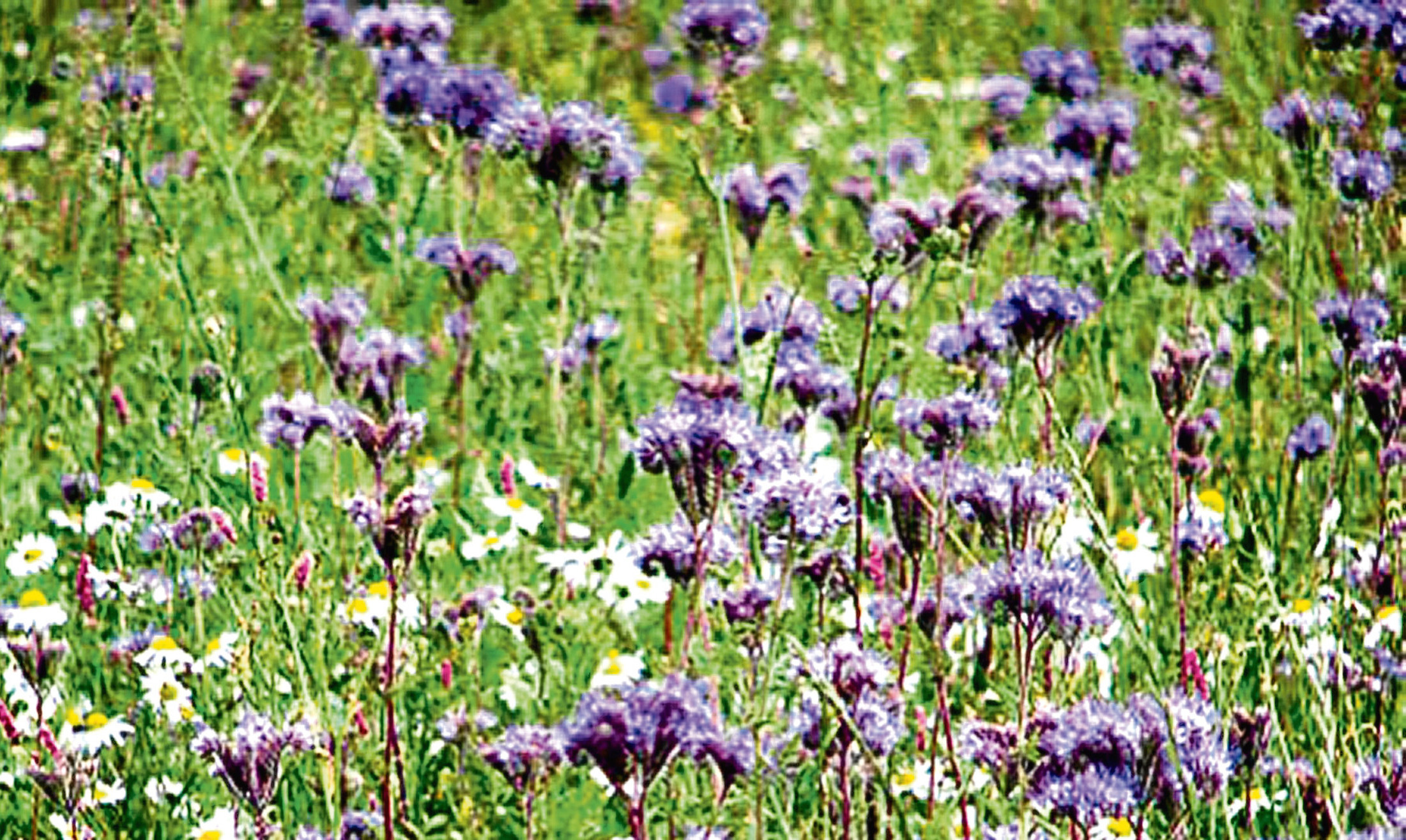 Just before the turn-off to Brechin, travelling north up the A90, you can't miss the field of startlingly blue flowers. It is a field of phacelia, which is something of an ecological win-win plant.
Farmer Roy Kerr told me he is growing it as green manure. Once the flowers and foliage die back they are ploughed into the ground to provide an organic answer to artificial fertilisers, promoting healthy soil and healthy crops.
Phacelia has another benefit apart from its value as green manure. Its nectar-rich flowers attract bees, hoverflies, lacewings and other pollinators which are essential for successful crops and good news for the farmer.
Aphids are destructive agricultural pests and consequently, bad news. But hoverflies feed on them, acting as gratuitous biological pest controllers, which would seem to make good economical as well as agricultural sense.
Black polythene-wrapped bales of silage are a common sight in the grass fields. However, readers may have noticed bales wrapped in rather fetching pink polythene.
I'm told it's an enterprising charity fundraiser. For every roll of pink polythene wrapping sold to the farmer, the manufacturers make a donation to Cancer Research. Sounds like another win-win situation.
This is a time of year I look forward to – the chanterelles appearing in the beech woods.
I've had three fry-ups already of the delicious orange-capped mushrooms – sinfully good fried in the fat of thick cut bacon.
By way of atonement and as an antidote to such wilful indulgence, the Doyenne halves a Galia melon – which are at their best just now – scoops out the seeds and fills the cavity with strawberries or raspberries.
We had wild strawberries in a previous garden and the contrast between the sweet melon and bittersweet taste of the wild berries was an offering fit for – well, a Doyenne. I was always thankful that melons come in two halves.
It's easy to forget what a finely tuned thing the balance of nature is.
I was sitting between the big roots of one of my favourite old trees with my back against its bole, watching two young buzzards on a training flight. They were practising wheeling and soaring on the brisk wind, tacking, banking, side-slipping, stalling almost motionless to hover before rolling and turning to hover again over the wood. All that was missing was a loop-the-loop.
They were joined by a third, which I took to be an adult bird. All the while I heard their plaintive mewing calls which I find so at odds with their handsome but predatory appearance.
It brought to mind the comments of a farmer who watched 13 buzzards on one of his fields following a tractor and plough in the same way as seagulls do. Birds and small mammals are an important part of their diet but earthworms and beetles thrown up by the plough are welcome additions.
That number of buzzards needs a lot of food. "That's why we had no leverets", was the farmer's observation. It did seem that the numbers were tilted unfavourably against them.
We all have lightbulb moments when unbidden memories flash into our consciousness.
I woke up thinking about the Cross Stone at the side of the old whisky trail on the Hill of Rowan in Glenesk – clearly a subliminal bidding to take a walk up that way again.
Glenesk is the most easterly of the Glens of Angus, stretching into the hinterland almost to neighbouring Royal Deeside. I suppose I'm biased, having known it all my life but you'll never persuade me it's not the loveliest glen of all.
The deeper you venture into the glen the more completely Highland it becomes.
There's history, atmosphere, wildlife, skies, rivers, lochs, castles, traditional shooting lodges, abandoned villages, wild beauty, red deer and red grouse, eagles, romance, intrigue, murder, the whisky trail, a fugitive cave and heather in season.
Drive through Tarfside, the village at the head of the glen, cross the Water of Tarf by the old stone bridge and park beside St Drostan's church.
The track heading off up the Hill of Rowan is the Whisky Road down which, in the 18th Century, illicit whisky was brought on pack ponies from Deeside and even Moray to satisfy the demand of the Lowland drouth. Not that the glen itself wasn't a hotbed of illicit whisky bothies too.
On the left hand side, just half a mile up the track, you'll find the crudely carved Cross Stone, almost certainly Pictish and about 1,500 years old.
It was a good decision to listen to my inner self. The sun was out, the bell heather was out, Inka had the freedom of the hill and I had peace and escape from the tyranny of the mobile phone. (If you walk up there with a dog, take a lead or keep your dog strictly at heel whenever you meet sheep).
A country reader heard scratching behind a boarded-up fireplace.
Opening it up, a young, male great spotted woodpecker hopped out, blinking in the unaccustomed light. Nature's always got a story up her sleeve – or down the lum!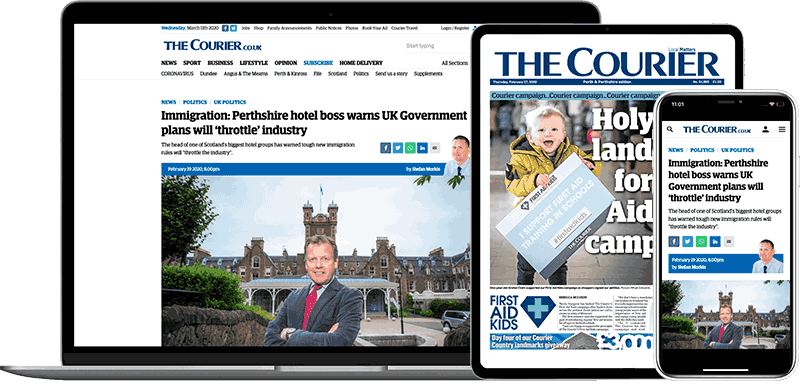 Help support quality local journalism … become a digital subscriber to The Courier
For as little as £5.99 a month you can access all of our content, including Premium articles.
Subscribe