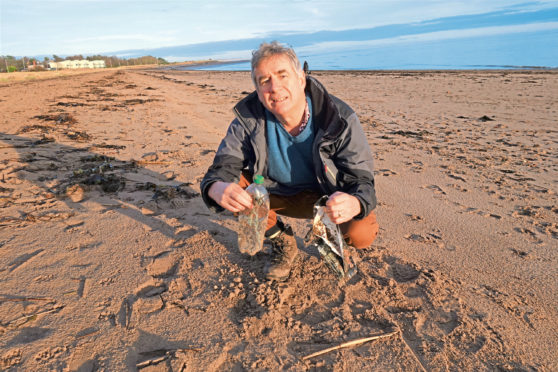 Nature at work down by the beach at Broughty Ferry: a lone oystercatcher probes the wet sand with its long orange bill, and a small group of dunlins run this way and that by the water's edge, while out at sea, a cormorant roll-dives in its quest for fish.
It is hard to imagine a more peaceful and heart-warming scene of gentle lapping sea backdropped by the calls of seabirds. But all is not as it seems, for by my feet on the strandline is an atrocity, an abomination that strikes at the very heart of humanity and the respect we have for our planet. It is plastic and it is everywhere, a proliferation of bottles, cartons, fishing net fragments and the like.
I walk slowly along the shore and start counting this plastic perversion. After having identified 20 different items in just the space of a few hundred yards, I stop counting – depressed and shocked in equal measure.
Typically, approximately 5,000 items of marine plastic pollution is found per mile of beach in the UK, and it is thought that more than eight million tonnes of plastic enter the world oceans each year. There may now be more than five trillion macro and microplastic pieces floating in our seas.
The end-result is horrifying with recent studies showing that every single seal, whale and dolphin washed-up on British shores had traces of plastic in their stomachs, as did every fulmar. Plastic is ingested by fish and shellfish and has even been discovered in our deepest living marine organisms. It is everywhere, an omnipresent threat that is choking the very lifeblood out of our precious marine life, and with that, threatening humanity, too.
Our addiction to single use plastic is largely to blame – over half of plastics produced come under that category, and one just to has to think of a typical supermarket basket shop and the amount of plastic packaging involved. In 2018 alone, UK supermarkets and their suppliers produced one million tonnes of plastic. Does that cucumber really need to be shrink-wrapped? I think not.
So, what can be done? Well, Governments, of course, must act with urgency to legislate, and set and enforce targets to reduce our reliance on plastics. Manufacturers need to innovate and develop alternatives, and, of course, every individual has a responsibility, too.
With a new year now upon us, what better time than for each and every one of us to resolve to reduce our dependence on plastic.
Four simple steps can make a real difference: where possible, refuse to buy inappropriately packaged products, consider non-plastic alternatives, reuse plastic, and, of course, recycle it.
Who knows, if such action is taken by us all, maybe one day in the not too distant future, the only objects found in among the seaweed on the strandline at Broughty Ferry will be crab shells, gull feathers and other natural debris. Now, there's a wonderful thought.
INFO
A sperm whale washed ashore in Harris a few weeks ago had a 100kg 'litter ball' in its stomach that included fishing nets, rope, packing straps, bags, gloves, tubing, and plastic cups.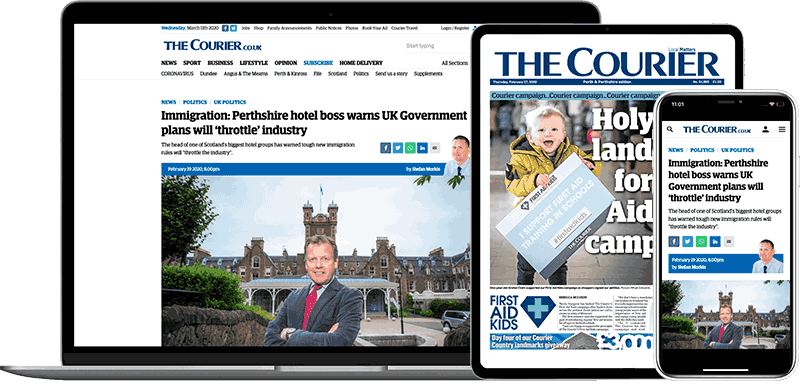 Help support quality local journalism … become a digital subscriber to The Courier
For as little as £5.99 a month you can access all of our content, including Premium articles.
Subscribe