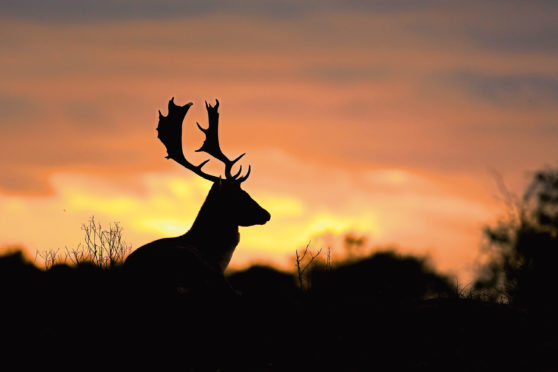 Buck fallow deer have distinctive palmate antlers, flattened towards the tip with several sharp points. They are shed in April and fully grown again by August.
A singing robin, the gushing water of the nearby Falls of Bruar and the persistent high-pitched calls of a coal tit drifting through the air. They were the sounds of nature, and in these uncertain times, they brought great comfort, a soothing balm across the soul.
This part of Perthshire, several miles north of Pitlochry, boasts the most wonderful scenery; a landscape of majestic hills and towering trees: the kind of place where your mind becomes lost within its powerful embrace.
Up in the sky, a pair of buzzards wheeled and tumbled on moth-like wings, mewing to each other as they engaged in their spectacular aerial courtship. Spring, and all seemed well. Except it wasn't, for while nature sang and danced, humankind was engaged in immense turmoil and hiatus. But at that serene moment by the Falls of Bruar, such anguish seemed like a million miles away.
When Robert Burns visited in 1786, he found these falls incredibly beautiful but lamented that their "effect was much impaired by the want of shrubs and trees". This inspired him to write The Humble Petition of Bruar Water, which resulted in the 4th Duke of Atholl planting larch and Scots pines on the land, thus transforming the surrounding environment.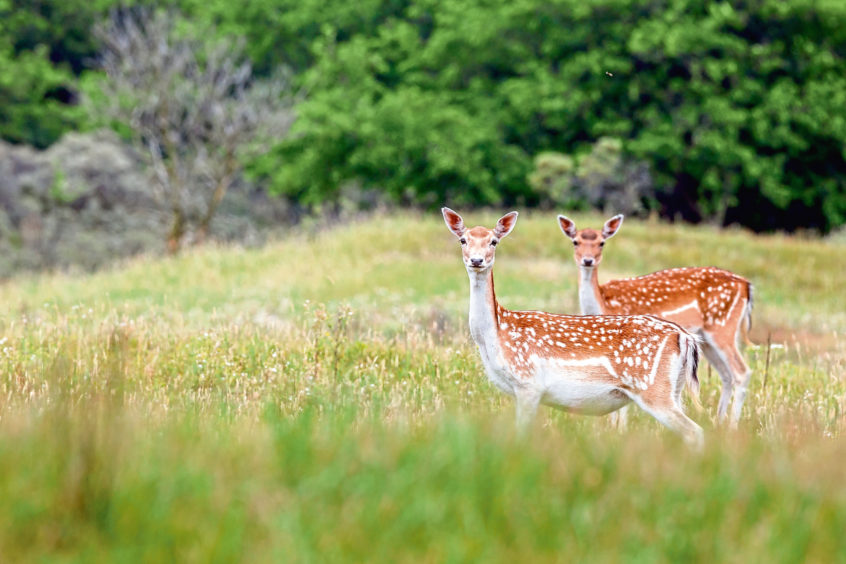 The previous day, my wife and I visited Dunkeld and had come upon a large herd of fallow deer browsing in a field by the outskirts. Most of the deer had dark fur, but a handful had tawny coats, dappled with white.
These are the two typical colour forms of fallow, with the vast majority in Perthshire being the darker variety. White fallows also occasionally occur, and over the years I've seen several such individuals when wandering the moors and forests north of Dunkeld.
It is thought that fallows were introduced by the Romans, having become extinct in the last ice age. They are patchily distributed in Scotland, with one of their main strongholds being highland Perthshire between Dunkeld and Kirkmichael. They seem very sedentary, and as far as I'm aware, these Perthshire fallows haven't spread to adjacent parts and are seemingly content to roam their core area.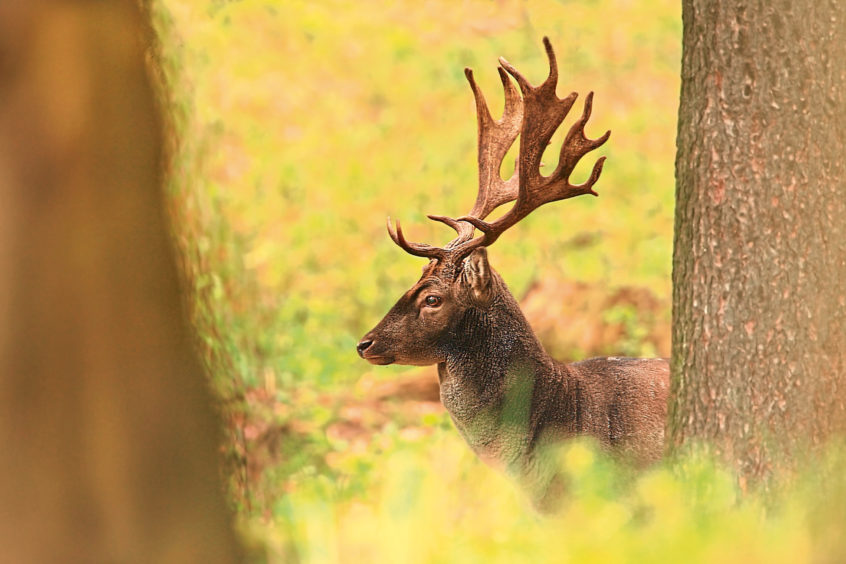 We wandered over to Dunkeld Cathedral, and here in its grounds were several magnificent yew trees. Yews are incredibly long-lived, and the famous Fortingall Yew, for example, is thought to be over 2,000 years old. Yews are steeped in our folklore and have close association with churchyards. There are all kinds of theories why this should be so, possibly because their evergreen foliage represented immortality and resurrection. Yews are considered sacred, and they may have been planted in places of pagan worship, before early Christians then built their churches on the same sites.
As I rubbed the palm of my hand along the gnarled trunk of one of the Dunkeld yews, its sense of history was compelling: a living monument of our past and a shining beacon of reassurance for the future.