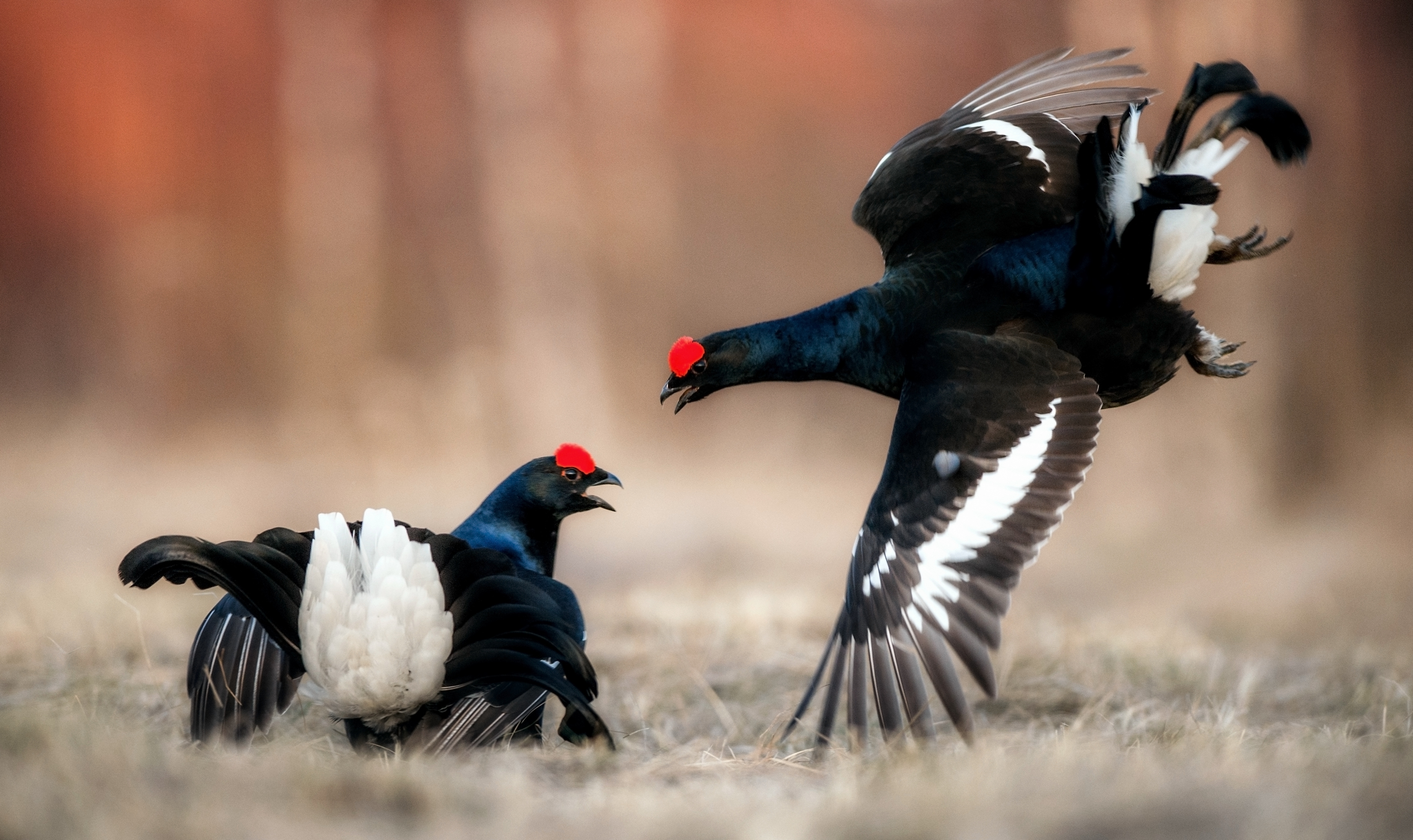 It was the noise we heard first; so very soft, a gentle warble somewhere out in the dark void of Glen Finglas in the Trossachs. If rivers could sing then this would be their song, a consistent burble with a surety of flow which gradually grew in intensity as the emerging dawn crept over the dips and folds of the glen.
Then, just below a line of alders and birches, flashes of white caught our eyes that moved and danced. They were the white tail feathers of displaying blackcock, and as the filling morning light took hold, several more male black grouse materialised among the tufts of grass and wilted hill bracken. The grey forms of hen birds also lurked furtively in the background, watching and waiting.
Two blackcocks suddenly squared up to each other and once again the air filled with this hypnotic warbling croon that resonated from deep within their vibrating throats.  Interspersed between the softer notes were frequent sharp hisses; a signal of the seriousness of intent, which is to drive off rival males and to mate with as many hens as possible.
This was a lek, a traditional courting ground where black grouse gather and males dance, croon and fight with each other as they seek to impress the ladies. I was here in Glen Finglas courtesy of Woodland Trust Scotland (WTS), who had invited me along for their first ever black grouse safari. Under the expert guidance of estate ranger Gwen Raes, we watched from a safe distance as this incredible scene unfolded before our eyes.
The males warbled and hissed with heads bowed and wings drooped, their red eye wattles inflamed with sexual fervour. Often they would sidle up to each other and turned to reveal their glossy black lyre-shaped tails which exhibited wonderfully contrasting white flushes of feathers. Sometimes a short fight occurred but it was really more about posture and threat rather than any physical violence.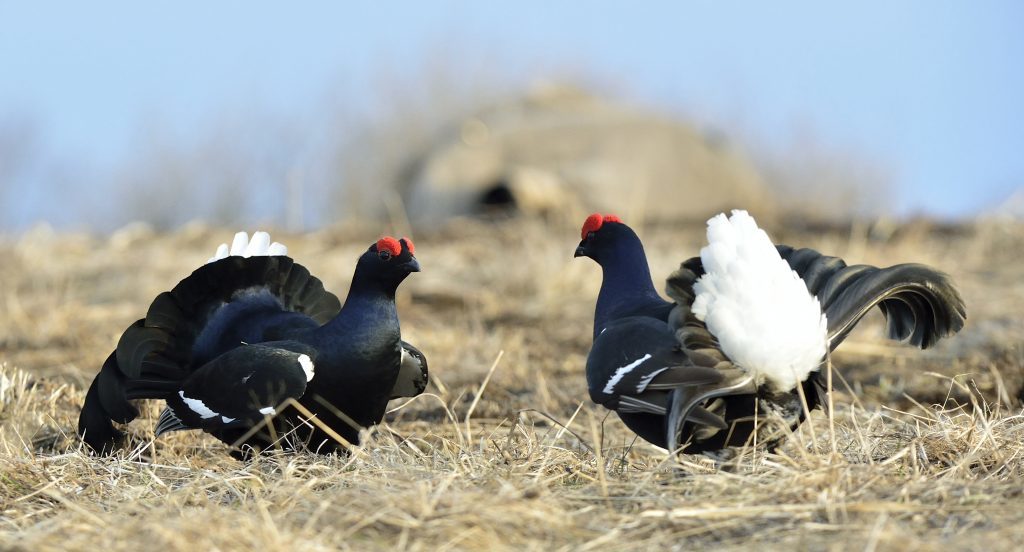 Gwen explained that black grouse are doing well in Glen Finglas because the mix of trees, hill and open ground suits their needs perfectly.  Such patchwork hill habitats have dwindled dramatically in Scotland in modern times, and with it so too has the populations of our black grouse.
In particular, the glen features the nationally scarce upland habitat known as 'wood pasture' – land that has been managed with grazing animals for many centuries and characterised by clearings, widely spaced trees and patches of forest.  WTS, who own Glen Finglas, is working to restore the ancient woodland through tree planting and careful management, including controlled grazing. It is good news for the black grouse and the wide range of other wildlife found here.
It is also about bringing people closer to nature, which is why WTS decided to embark upon this first black grouse lek safari. And judging by the excited reaction of the other people in our group, this aim has well and truly been achieved.
Info
The Woodland Trust has sites across Scotland and offers events throughout the year. For more information check woodlandtrust.org.uk/get-involved/events/