I was gliding over Scotland's forgotten forest; a tangled mass of gently waving kelp and a place as rich and diverse in wildlife as any environment imaginable.
My breathing through the snorkel tube was true and easy, helped by the calm water of this little sea inlet near Lochinver in the north-west Highlands. A kick of the flippers and I came up to a steep rock shelf, where a flash of brightness flickered among the kelp fronds below.
It was a goldsinny wrasse, a real beauty of a fish with its glowing orange flanks and tame demeanour. This is a fish that wouldn't look out of place on a tropical coral reef, but the same could be said for much of the other marine life here, including pink-hued starfish and bright yellow periwinkles.
Ahead of me darted a bronze-burnished young pollack, and little ruddy-coloured two-spotted gobies hovered in among the seaweed fronds.
A jellyfish floated past my facemask, its smoky-blue dome pulsing like a beating heart and trailing in its wake sinuous threads of stinging tentacles. I hung by this blue jellyfish for a while longer, engrossed by its every movement. If I approached too close, it would invert its body and float upside down, almost as if pretending to be dead.
I snorkelled for as long as I could, but despite the protective wet suit, the cold eventually shivered me to the core and I hauled myself out onto a pebbly beach, exuberated by the marine life I had just seen.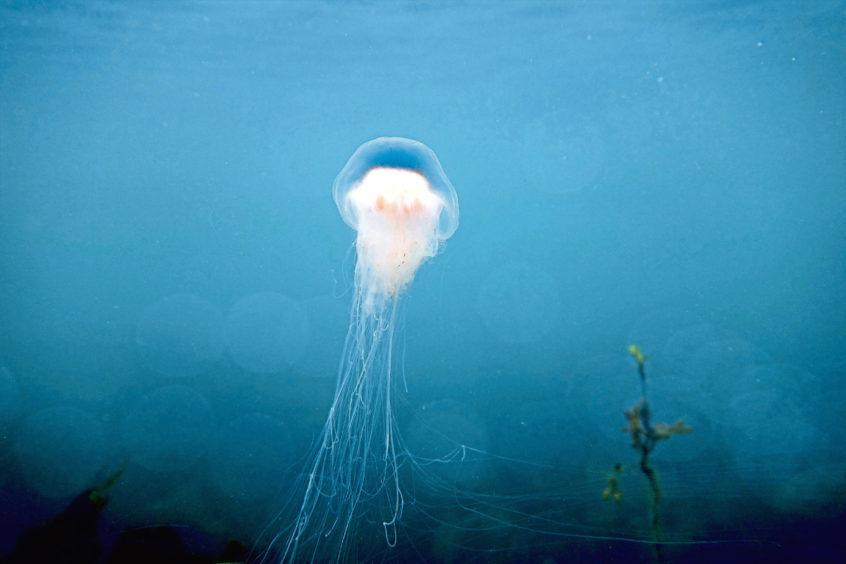 This part of Sutherland is a haven for wildlife and a place I return to year after year because there is just so much nature around – both under and above the sea.
A man in a neighbouring holiday cottage tipped me-off that he had seen a sea eagle the day before gorging on a sheep carcass by a rocky headland. Well, I wasn't going to let that one pass, so I set off the same afternoon, trekking across rough boggy ground and following sheep and deer tracks towards the head of the sea loch.
As I rounded a hill spur, my eyes were drawn to a large object atop a grassy knoll. Perhaps it was a rock, but then it started to move before launching into the air on massive lumbering wings – a sea eagle! Below the hillock, I could see the scattered remains of a sheep, the ground covered in wispy wool.
Sea eagles are, by nature, curious birds and this one swept low over me before maintaining station in the sky above, watching my every move.
Then, it was joined by another eagle, a male I suspect, for it was slightly smaller than its partner, and the two of them swung about in the sea breeze above me. But I didn't want to deprive them of their bounty, so I hurried back down towards the shore, leaving them to enjoy their woolly feast in peace.
Info
Scotland's west coast sea lochs are home to many different types of colourful and interesting fish, including rock cook and corkwing wrasse, as well as tompot blennies.