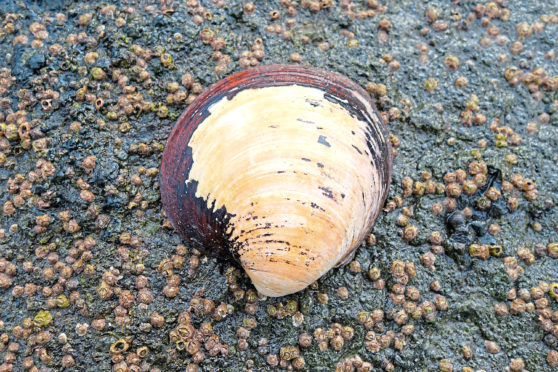 The ocean quahog is also sometimes known as the Icelandic cyprine. They live buried in sand, with just a small siphon tube extending up to the surface of the seabed.
A creature that can live for a few hundred years? Surely not. But, yes, there is such an animal, and what's more, it lives in the shallow seas just off the coast of Courier Country.
The beast in question is the ocean quahog – a type of clam – and I found a few of their washed-up half-shells when beachcombing at Largo Bay in Fife recently. The shell is quite large, about the size of the palm of a hand, and is purply-brown in coloration with paler patches in the centre. These lighter hues are where the true shell pigment has been eroded away over the course of time.
Ocean quahogs live below the low tide mark buried in the sand. In 2006, a specimen trawled up by Icelandic researchers was estimated to be 507 years old. In other words, it was born in 1499, only a few years after Columbus first discovered America, and making these clams one of our longest living creatures.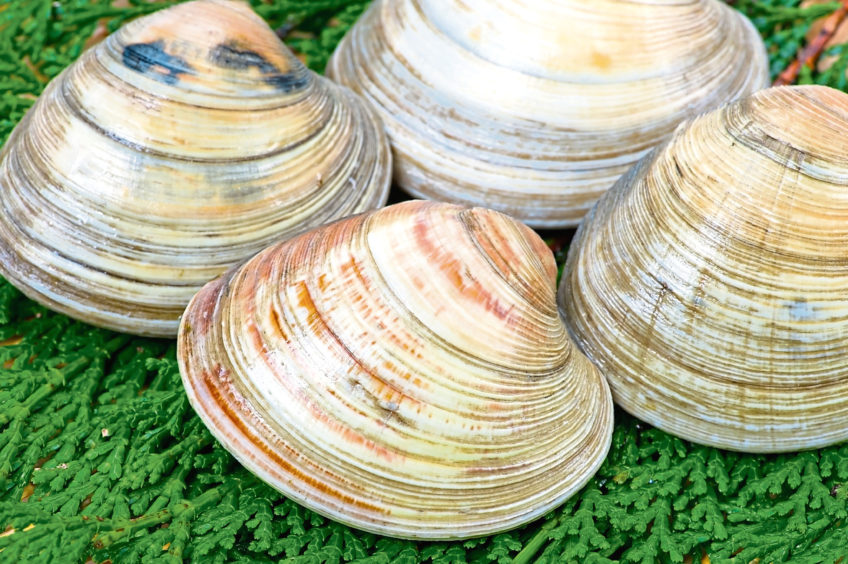 As I held a quahog half-shell in my hand on a blustery day at Lower Largo, I couldn't help but wonder how old this one was and what historical events had passed over its lifetime. Nature never ceases to amaze, and with a degree of reverence I gently laid the empty shell back down onto the sand once more.
The beach here at Largo Bay is an Aladdin's cave for shell collectors with an abundance that few other parts of the coast can match. At my feet were the half-shells of surf clams, otter shells, horse mussels and prickly cockles, each and every one intricate in shape and vibrant in colour.
A strange object caught my eye by the stand-line, which turned out to be the carapace of a masked crab, an animal that is rarely seen alive because they spend most of their time hiding in burrows in the sand below the waves. In a clever adaptation, the crab uses its two long antennae to form a breathing tube to deliver oxygenated water to its lair.
There were a good number of wading birds about, too, including a lone pearly-white sanderling, and small groups of curlews, redshanks and oystercatchers. In a little rocky channel congregated several wigeon ducks, the lovely pinkish blush on the breasts of the drakes shining out across the dappled rock pools.
A swirling flock of ringed plovers wheeled above the water before alighting on the sand. They are such charming little waders, with their distinctive black markings on head and face, and a most prominent white forehead.
Ringed plovers like to nest on sandy beaches, which unfortunately are the very places that act as magnets for people and their dogs in spring and summer. The inevitable disturbance means that many nests fail, which has resulted in their numbers being much diminished in recent times; another example of how our precious wildlife struggles to survive in an increasingly busy world.