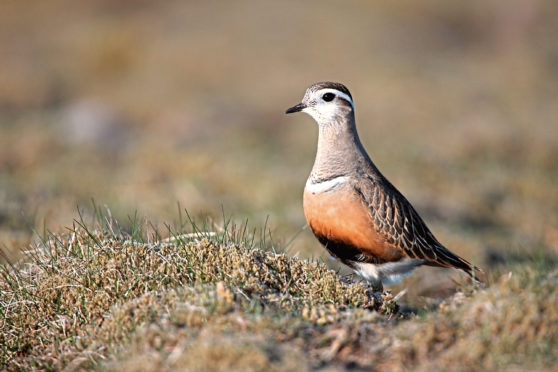 A summer visitor, the dotterel is a specialist of the arctic-alpine zone of high mountain plateaux above 2,800ft, its strongholds lying in the Cairngorms and adjacent mountains.
A broad stony mountain plateau high above Glen Isla, a harsh and unforgiving place, but there is life here, and I spot a bird's head popping up from behind a rock.
It is a dotterel, a scarce plover and a real specialist of these high tops. It stays ever so still, watching me carefully, confident I will not detect it. But I've also got a trick or two up my sleeve, learning over the years that the best way to get close to any bird is not to make direct eye contact. So, I amble in a casual manner towards the dotterel, looking this way and that, and with just the occasional glance in its direction to make sure it is still there.
I saunter to within only a few feet of its frozen form and now bring my eyes to bear upon it. My approach pays-off, for up close this is a most stunning bird, with its russet breast and distinctive white streak above the eye. The dotterel quickly realises it has been rumbled and nonchalantly trots away across the rock-strewn ground in an almost comical gait.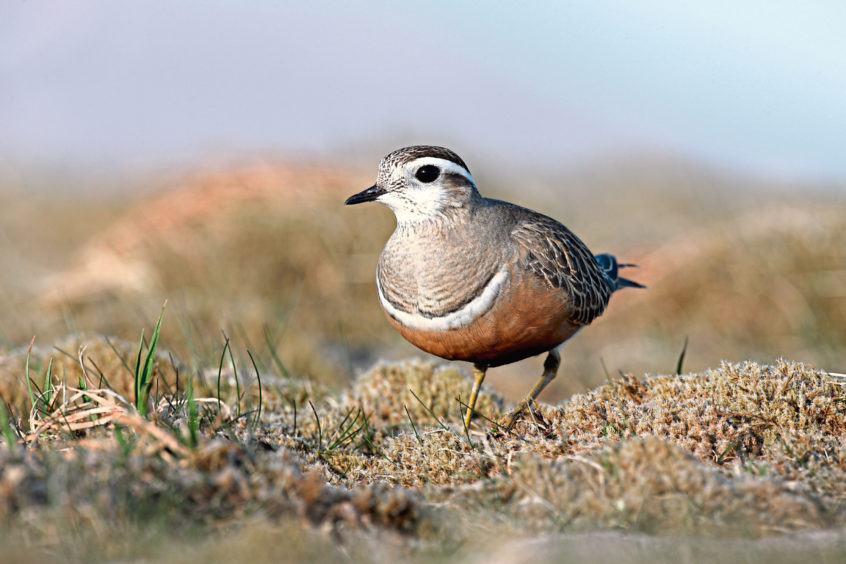 It is often assumed that such 'dotty' tameness lies behind the origin of the name 'dotterel', coming from the old word 'dotard' meaning 'a fool'. However, according to Stefan Buczacki in 'Fauna Britannica' the name actually originates from the word 'dot', which still survives in the Norfolk name 'dot plover' and is simply an imitation of part of its plaintive call.
I leave the dotterel in peace, content with my brief sighting. Dotterels exhibit unusual sexual role reversal where the male is largely responsible for parental care. The slightly larger and brighter plumaged female takes the lead in courtship and display. She may also have more than one mate and once she has laid her eggs will for the most part leave the male to get on with the chores of incubating and looking after the young.
Indeed, such is the adulterous nature of the female that she may lay her first clutch of eggs in Scotland, before nipping off across the North Sea to the mountains of Norway in search of another mate.
As I make my down from the plateau, a patch of pinky-purple shines out from the ground and I hunker down for closer look. It is a trailing azalea, another mountain specialist with truly exquisite little flowers that forms a creeping mat across the ground. The leaves are waxy and are presumably so designed to prevent desiccation in the searing winds that whip across these high tops.
Slightly further down the slope, more wildflowers appear, and by the edge of a burn, the stunning golden orbs of marsh marigolds dance and dazzle. These marsh marigolds are smaller than those found in lowland areas and have evolved this way to cope with life in the cold and windy highlands; a perfect example of nature's ability to adapt and prosper in the unlikeliest of places.