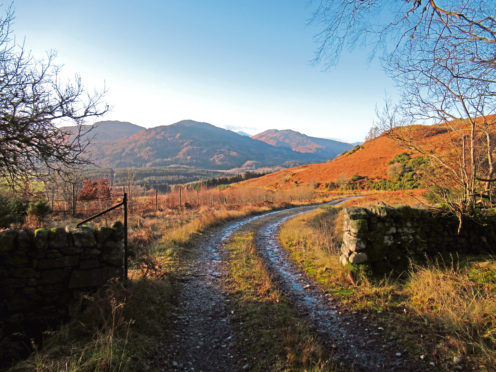 The Maam Road is an ancient trail weaving through the hills above Comrie.
Details of its history are scant, but early maps suggest it was an offshoot of the drove road linking Ardtalnaig, on Loch Tay, with the Perthshire village, an important staging post en route to the lowland cattle markets.
Branching west from Kingarth, in Glen Lednock, it guided early travellers through the valley of the River Earn and on towards St Fillans and Loch Earn.
Whatever its heritage, it forms the backbone of a fine walk full of well-earned treats, some of them natural wonders, like the Deil's Caldron, others, the tiny power station at Dalchonzie among them, the result of human endeavour.
The waterfalls of the Deil's (Devil's) Caldron were my first port of call and, heading north out of Comrie, at a pair of sturdy stone gateposts, I joined a path rising through oak, beech and birch to the first of the falls, the Wee Caldron.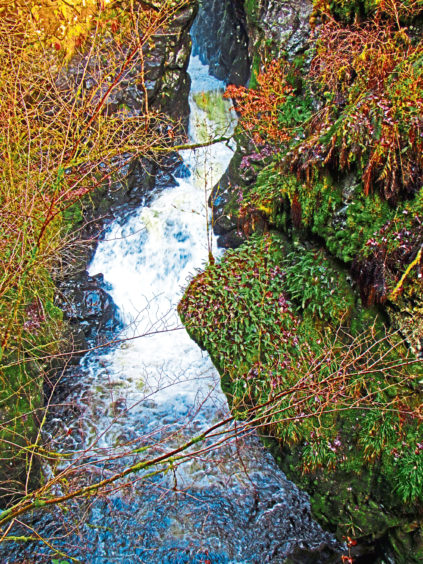 Just off the main trail, there is a viewpoint perched above the tumbling white water and deep, inky pool and it is a similar scenario up the River Lednock, at the main caldron, where bridges and boardwalks lead to the best vantage point.
Steps climb to the road above from where a short but strenuous climb to the summit of Dun More reveals Lord Melville's Monument, a 20-metre high obelisk erected in 1812 to commemorate the life of politician Henry Dundas, 1st Viscount Melville.
His country retreat was Dunira Estate and, cantering down through the trees, I found both my route there – Maam Road – and some breath-taking vistas across the glen to the rock-studded peaks of Mor Beinn and Ben Halton and, further west, snow-capped Ben Vorlich.
Stay on the main track, ignoring occasional trails branching right and left, until the way passes above a pond and enters woodland, crossing the Allt Sgairnich Mhoir. At the next junction, fork left to Whitehouse of Dunira, hub of the estate, and beyond, cloaked from view by native trees, rhododendron and some mighty firs, the site of Old Dunira House.
Melville's home was replaced in 1852 by a grand Baronial mansion that stood here flanked by terraced gardens. Most of the property was destroyed by fire in 1948 and what remained was demolished in 2005.
The estate road leads to cottages and steadings clustered around The Square and, from an intersection of tracks beyond, the Maam Road climbs into forestry, branching left at a T-junction, a brief stint of ascent followed by a steady descent past an old burial ground lost beneath bushy yews to Kindrochet.
Crossing the River Earn and grazing land beyond, I met up with the line of the former Lochearnhead, St Fillans and Comrie Railway which, tracks lifted after it closed in 1951, conveyed me east to Dalchonzie.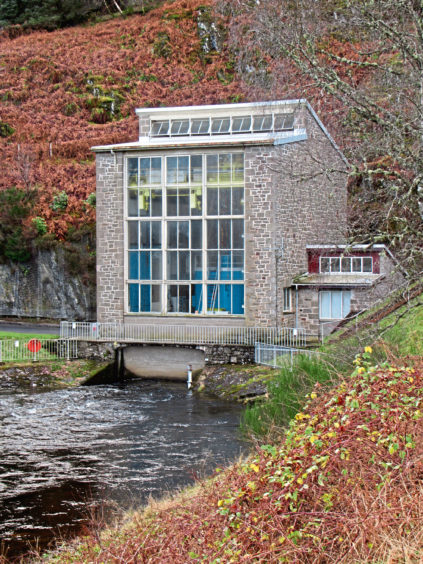 From here, the quiet back road to Comrie passes Dalchonzie House and then Dalchonzie Power Station, the turbine driven by water piped through the hillside from Loch Earn.
Branching off the road at the end of a long beech hedgerow, I passed through the policies of Aberuchill House to reach the hamlet of Ross where tiny Earthquake House has been recording seismic activity since 1874
Thankfully the terra remained firma as I strode over the hump of 18th century Bridge of Ross into the (occasionally) 'shaky toun' of Comrie.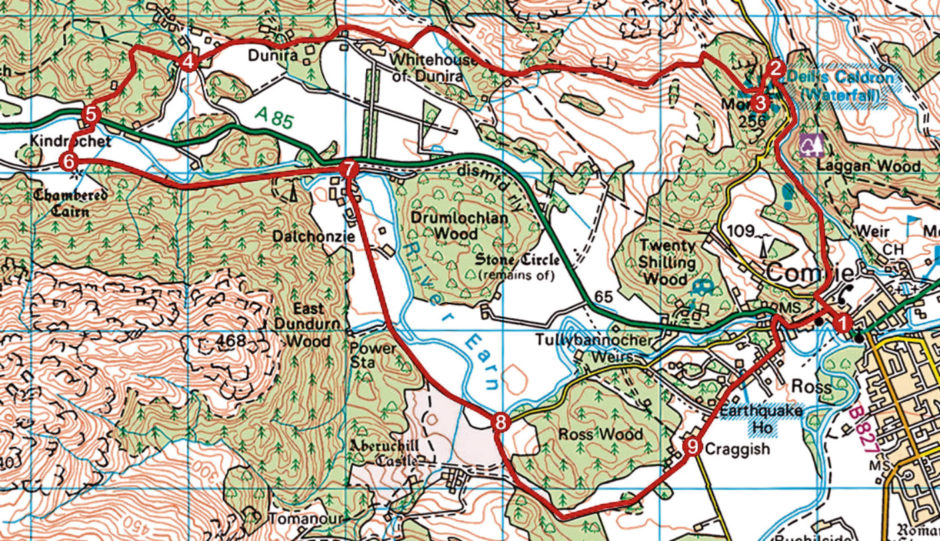 ROUTE
1. Exit car park on to A85 and go right. Where A85 swings left, continue ahead on Monument Road. Branch right (signed Deil's Caldron) at gateposts and follow path to Deil's Caldron.
2. Ascend to road, go right (signed Laggan Wood) then left (signed Lord Melville's Monument), ascending path. Bear left at Monument sign to summit.
3. Descend to Monument sign and go straight ahead on path to meet track. Go left (signed Kindrochet) and follow Maam Road 3.5km west to junction at The Square, Dunira.
4. Bear right along unsurfaced track, passing postbox, and follow waymarked forest track to Kindrochet.
5. Cross A85 then bridge (signed Dalchonzie) and keep left to enter field. Cross to gate in far righthand corner.
6. Turn left (signed Dalchonzie) and walk 1.8km east along former railway.
7. Turn right (signed Comrie) and walk 2km south along road.
8. Branch right (signed Craggish House). Keep left at next junction, continue past wooden bridge then go left up to track leading east to Craggish.
9. Continue ahead along minor road to meet A85 at Bridge of Ross. Turn right and follow A85 into Comrie.
INFO
Distance: 15km/9½ miles
Ascent: 460m/1500ft
Time: 4 hours
Grading: Moderate route following good, well-signed paths, tracks and minor roads with some bursts of strenuous ascent along the way. Keep dogs under close control where signs request and where livestock is encountered
Start/finish: Public car park, School Road, Comrie (Grid ref: NN 772220)
Map: Ordnance Survey 1:50,000 Landranger sheet 61; Ordnance Survey 1:25,000 Explorer sheet OL47
Tourist Information: Perth iCentre, 45 High Street, Perth PH1 5TJ (Tel 01738 450600)
Public transport: Stagecoach bus service 15 runs from Perth to Comrie via Crieff