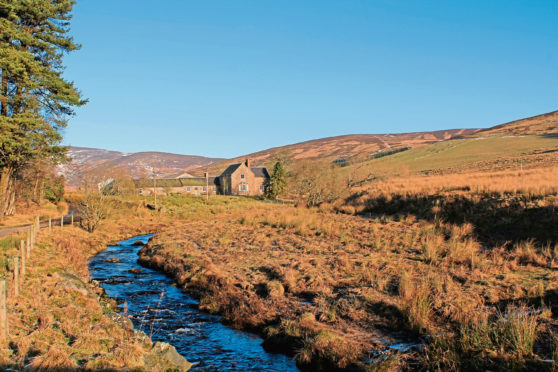 Hill of Glansie lies in the heart of grouse shooting country and both it and the surrounding moors are criss-crossed by tracks laid to serve the lines of butts, birdfeeders and other trappings of this traditional upland industry.
While not always so visually appealing, the sturdy gravel roads do aid both hillwalkers and mountain-bikers in exploration of this less-frequented corner of the Angus countryside and, when the weather is bad or visibility poor, can be a real boon, if you know where they are and where they lead.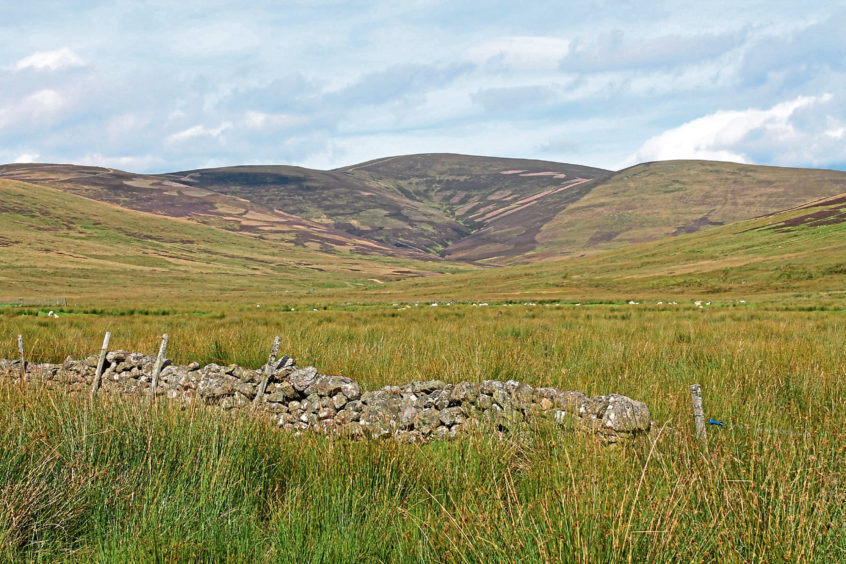 Not all the tracks hereabouts are marked on the map and route planning for my ascent relied heavily on memories of past visits to the area and a perusal of online aerial images. These showed tracks climbing all the way to the summit and suggested an alternative line of descent touching on neighbouring Glen Ogil.
The northern terminus of the single-track road through Glen Moy, where there is space for a handful of cars by the old bridge over Burn of Glenmoye, served as my starting point and, from here, I hiked past Glenmoy Farmhouse and, to the rear, a cluster of outbuildings, pens and sheds.
With Hill of Glansie in clear view ahead, the track crosses grazing land, passing a derelict cottage that would make a fine wee bothy, before rising to the ruins of Shank, a 19th century shooting lodge built on the site of an earlier farmstead.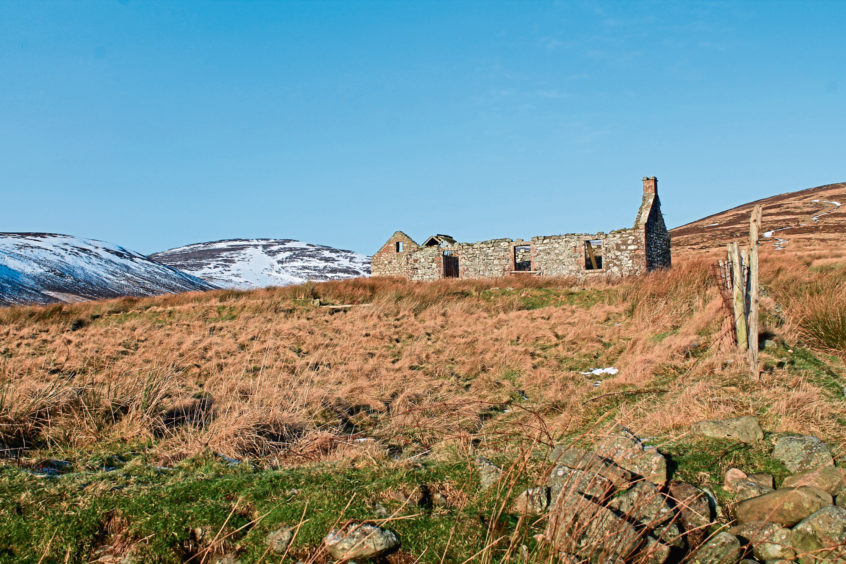 The weather forecast was none too promising, but the sun was at least attempting to poke a hole through the ominous grey cloud above and, ever hopeful, I pressed on up the slope behind the rundown cottage.
A grassy trail cuts up through reeds and heather to meet a more substantial estate road that rises without mercy on to Rough Craig, dipping briefly ahead of a less taxing clambr over Balbui.
Shooting season over (it runs from August 12 to December 10), the grouse were pottering about in the heather and I also spotted a hare, its white winter coat somewhat at odds with the brown, snowless hillside.
That, however, was all about to change for those ominous grey clouds were closing in on me and, as visibility dipped sharply, an initial dusting of light flakes developed into more substantial and sustained snowfall.
The hare, it seemed, was dressed for the weather and I was glad of my downy feather wrapping as I made the final spirited pull up through the gloom, past a now barely discernible line of grouse butts, to the top of the track.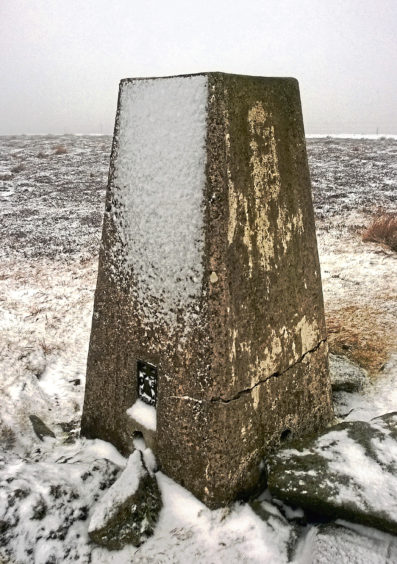 Here, below a mast, the way splits and, in white out conditions, I took a moment to check my bearings before branching left, the way striking north initially before dog-legging east at Dog Hillock.
Unable to see the lie of the land around me, a tinge of doubt about whether I was on the right road festered within, but the twin fence lines to my left looked familiar and, beyond a cairn caught between them, the ghostly outline of the snow-encrusted trig point finally loomed out of the mist.
Safely delivered on to the summit by the trusty track, I let it guide me back over Dog Hillock and down towards Glen Ogil where my aerial reconnaissance revealed a route through the hills to Glen Moy.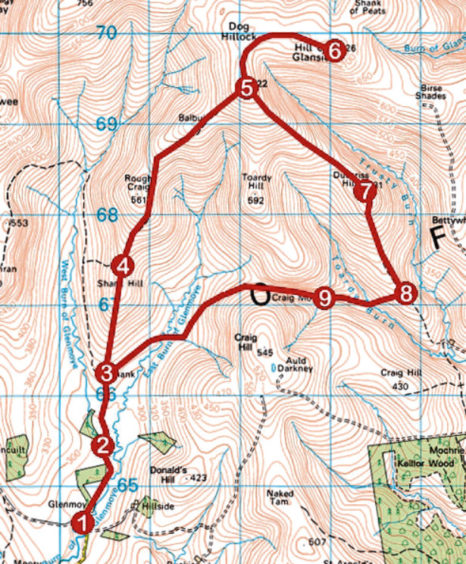 ROUTE
1. Head north on track, initially surfaced, towards Glenmoy Farmhouse, bearing left past sheds to junction. Fork right to exit farmyard at gate and continue north on track.
2. Cross wooden bridge by derelict cottage and continue north on track to Shank.
3. Passing to right of ruined lodge, continue ahead up grassy track to meet gravel track.
4. Ascend track north over Rough Craig then Balbui to reach metal gate and aerial mast on 722m top.
5. Go through gate, turn left and follow track north then east to Hill of Glansie summit.
6. Return by track to point 5, pass to left of mast and descend track south-east before rising on to Duthriss Hill.
7. Descend track south for 1km to junction.
8. Turn right, descending track west to cross Toardy Burn by bridge then ascend track to junction.
9. Ignore track branching left and, at next junction, fork left and follow track west then south-west to Shank. Retrace steps from there to start.
INFO
Distance: 16km/10 miles
Ascent: 660m/2180ft
Time: 5 hours
Grading: Challenging upland hike for fit and experienced hillwalkers following good tracks throughout with plenty of prolonged and strenuous ascent. Go equipped for all weather conditions. Keep dogs on lead at request of estate to protect grazing livestock and game birds
Start/finish: Small road-end parking area by bridge over Burn of Glenmoye, 6km north of Cortachy on minor road signed 'Glen Moy' (Grid ref: NO 402646)
Map: Ordnance Survey 1:50,000 Landranger sheet 44; Ordnance Survey 1:25,000 Explorer sheet 389
Tourist Information: Dundee iCentre, 16 City Square, Dundee DD1 3BG (Tel 01382 527527)
Public transport: None