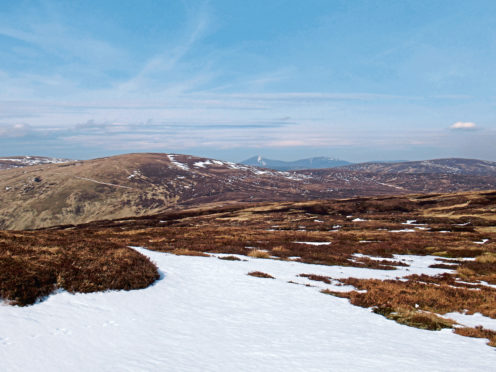 ***CORONAVIRUS: Please adhere to government guidelines in all outdoor activities***
All too often, Scotland's changeable weather can curtail outdoor plans, wind, rain, snow and sleet sending walkers scurrying for cover.
Sometimes, however, the opposite is true, an unexpected snap of good weather adding a spring in our step, a reluctance to call it a day while the going is good prompting extended outings.
Heading up Glen Clova, my initial plan was to climb Manywee and Finbracks but, once out on the hill, blue skies and some unseasonable warm sunshine tempted me to add neighbouring White Hill to my tally.
The trio lie between the valleys of Clova and Lethnot, in managed uplands where deer stalking (August 1 to October 20) and grouse shooting (August 12 to December 10) prevail, so Spring is a good time to explore this corner of the Angus glens.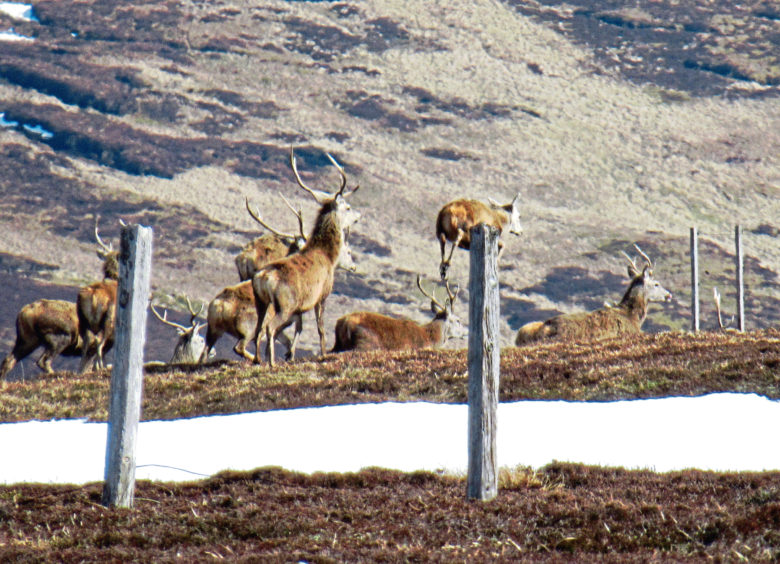 Rottal Estates, a traditional, hunting, shooting and fishing business that has diversified into holiday lets and wedding and events hosting, provides a walkers' car park west of Rottal Lodge and, from here, I hiked back along the asphalt towards the lodge.
A track branches left, weaving by neatly kept estate buildings. Before it reaches the 'big house', opposite Rottal Bothy, a gravel road forks left, rising past kennels, where I was greeted by an excited chorus of barking as I headed for open moorland.
To my right, the trail to the top of Manywee is obvious enough, a distinct track etched into the hill's western flank. To reach this, however, there is a less direct but equally distinct route into the base of the valley separating Manywee from its neighbour, Finbracks, an ideal warm up for the legs.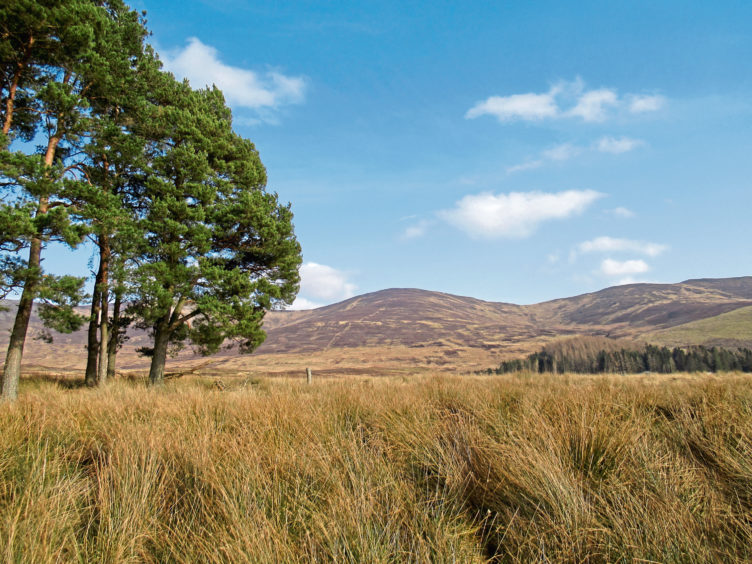 There are a couple of wee streams to ford before the way rises to a junction where there is the option of striking straight up a heathery all-terrain vehicle track or contouring around the slope on a more robust gravel road to the foot of a line of sturdy stone grouse butts.
I opted for the latter, the extended warm up most welcome, for the ascent proper soon begins, a strenuous, unrelenting climb past the butts leading directly to the summit.
Pausing periodically to catch breath and relish the view west over Glen Clova towards the distant peaks of Glen Doll, mountain hare, grouse and a pair of raptors circling in the sky above helped take my mind off aching muscles and bursting lungs.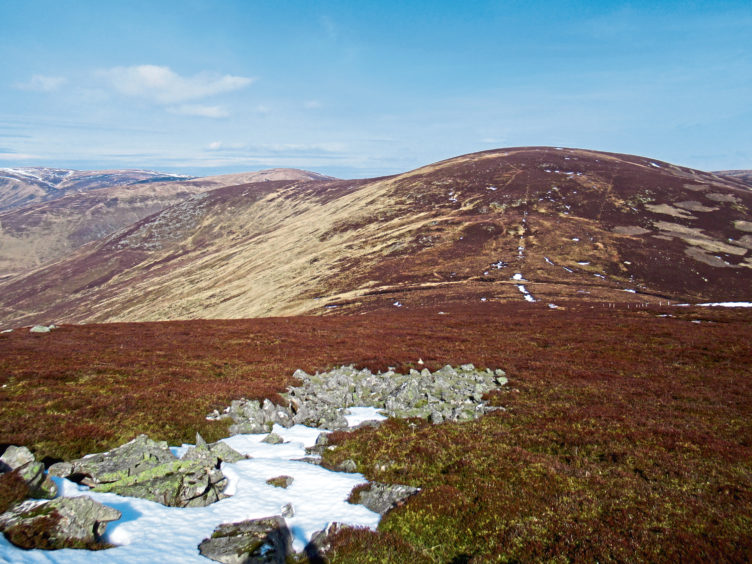 A cairn marks the top of Manywee and, hunkering down in the lea of a rocky outcrop nearby for a well-earned break, I spotted a large herd of red deer roaming across the slopes of Finbracks, my next hill.
A rough but distinct track, following the remains of an old fence, dips north-east into the col before weaving up on to the summit plateau where a brief detour off track towards the fence line is required to bag the unmarked summit.
Hare in abundance, the deer spotted earlier rounded on me, crossing the plateau en mass as I wandered past an off-summit cairn on to Meg Swerie where I turned north towards White Hill.
Initially, an ATV track descends by the fence and, at the bottom of a line of wooden grouse butts, the way climbs out of the col to meet a gravel track scaling the southern flank of White Hill, the top a short detour north ahead of the descent to Rottal.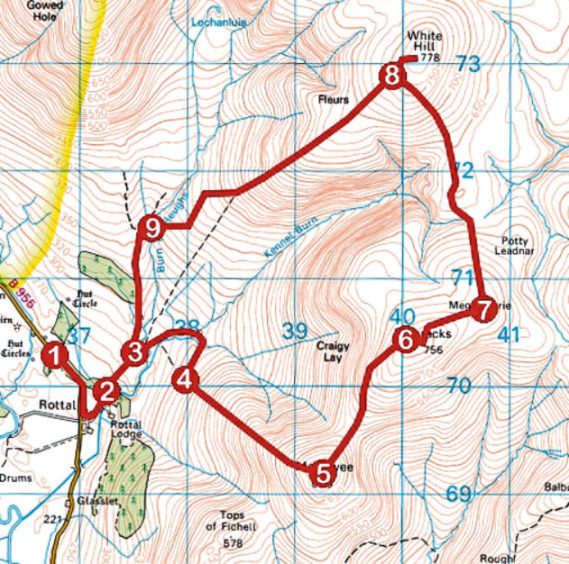 ROUTE
1. Exit car park on to B955, turn left and follow road to Rottal. Go left along track towards Rottal Lodge, forking left by steading.
2. Ascend track past kennels and shed, pass through high metal gate and, ignoring grassy tracks branching right, continue to fork.
3. Branch right, descend to ford stream and ascend track. Bear right at next junction, continue up to cross stream then go right at junction above, following gravel track to its end.
4. Turn left and ascend ATV track by grouse butts to summit of Manywee.
5. Descend ATV track north-east into col then ascend track to Finbracks summit.
6. Continue east on ATV track to high gate on Meg Swerie.
7. Turn left and descend north by fence then grouse butts into col. Ascend heathery ATV track then gravel road up to junction on White Hill.
8. Turn right, ascend track to its highest point then strike right to summit. Return to junction and descend track south-west to hut and footbridge.
9. Cross bridge and go left at next junction to return to Rottal.
INFO
Distance: 15km/9½ miles
Ascent: 760m/2500ft
Time: 5 hours
Grading: A challenging upland hike with strenuous and prolonged ascent, the route follows tracks and paths. Suitable for fit, experienced, well-equipped hillwalkers. Keep dogs under close control to protect ground nesting birds and wildlife
Start/finish: Car park 700m north-west of Rottal Lodge on B955, Glen Clova (Grid ref: NO 368703)
Map: Ordnance Survey 1:50,000 Landranger sheet 44; Ordnance Survey 1:25,000 Explorer sheets OL53 and 389
Tourist Information: Dundee iCentre, 16 City Square, Dundee DD1 3BG (Tel 01382 527527)
Public transport: None
GOVERNMENT REGULATIONS
Please adhere to government guidelines in all outdoor activities.