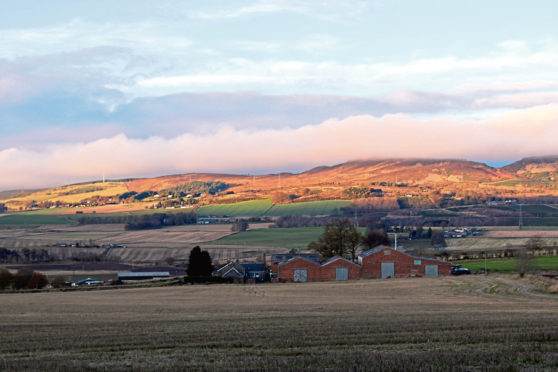 When it was planted out in the early years of the 19th century, Templeton Woods, on the northern edge of Dundee, formed part of the landscaped policies of the 1st Earl of Camperdown's estate, grounds which boasted over 1000 acres of woodland.
Now considerably smaller in size and separated from his former mansion home – Camperdown House – and the country park that surrounds it by the busy Coupar Angus Road, this walk reunites the pair.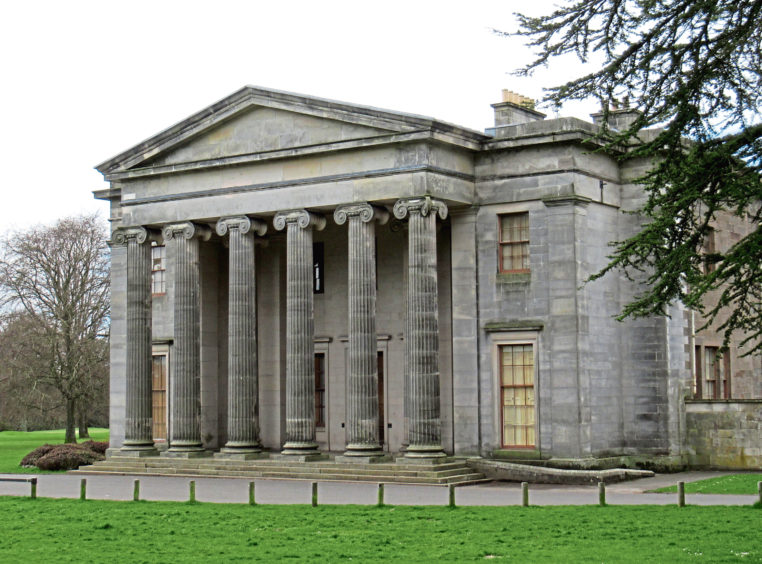 The route begins at Camperdown House, a well-known local landmark built in 1824, strikes north to Birkhill and Templeton Woods, where views of the Sidlaw Hills await, before returning to explore the country park.
There are various car parks on the main drive, the tree-lined approach to the house from the park's eastern gateway, and any of them will suffice, the house just a short walk away.
Looping right, around the building, with its impressive Greek-style pillared façade, the roadway leads west past houses, a forestry office and steading, to a wee duck pond bounded by another car park from where a path rises through woodland on the western edge of the country park.
Climbing steadily towards Birkhill, the way flattens off and forks left before emerging from the trees at a stone gateway, a short stroll into the village the link to Templeton Woods, an initial strip of mature woodland bordering farmland pre-empting the main body of the forest.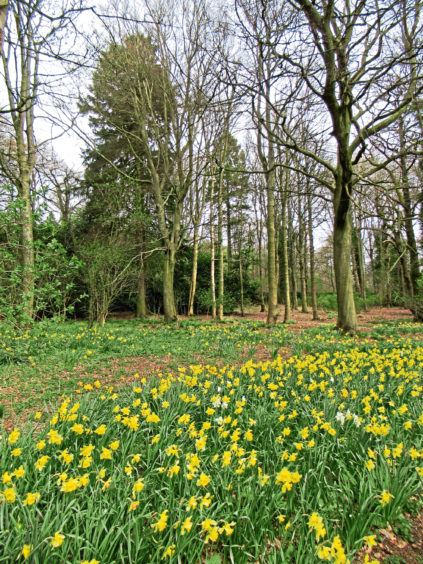 Planted in 1815 by David Taylor, head forester to the Earl of Camperdown, Templeton Woods once extended east over land now occupied by Ardler, St Mary's and the Dryburgh Industrial Estate.
Cut back as Dundee grew, they now cover just 150 acres and, while still a working forest, trails through the trees are enjoyed by walkers, cyclists and horse-riders.
There is a small visitor centre adjacent to the main car park and, from here, a path – part of the Green Circular route which rings the city – rises gently, breaking right at a signed junction for a leisurely descent to a pair of ponds.
Colourful jays and scampering red squirrels are frequently spotted in the forest and it is also home to an array of birdlife, including nesting buzzards, and wildlife, such as foxes and roe deer. The weedy ponds provide a fertile breeding ground for frogs and other amphibious creatures.
Tall beeches flank the trail as it rises past the fairways of Downfield Golf Course, on the left, to the Coupar Angus Road, across which a gateway in the wall affords access back into Camperdown Country Park where the trail immediately swings left.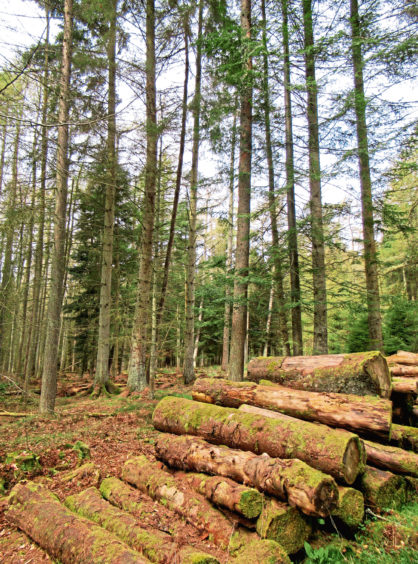 Mixed woodland and rhododendron bushes line the way as it weaves along the northern edge of the park, crossing the north entrance access road before meeting up with the main drive.
Open parkland beckoning, a wide gravel path crosses the roadway and descends by broad swathes of grass where, in the Spring, banks of daffodils bloom.
At the foot of the slope, the trail curves right, forking at a metal cabin where the track on the left leads to a children's play park, a path on the right running parallel along the edge of a band of trees.
Both meet up by Camperdown Wildlife Centre, home to creatures more exotic than those found in the Scottish countryside, from where the roadway rises back to Camperdown House.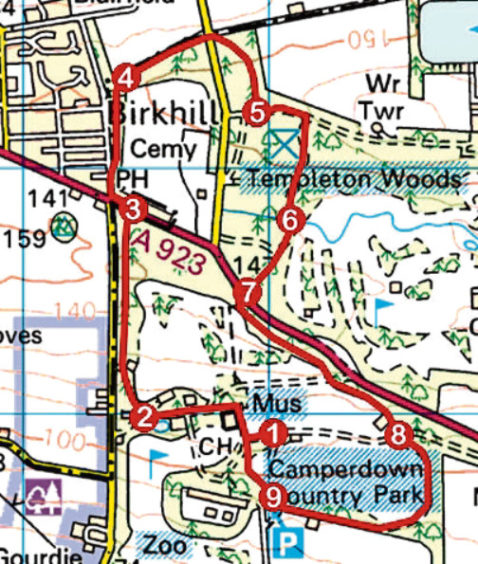 ROUTE
1. Follow roadway anti-clockwise around Camperdown house then west to duck pond and car park.
2. Approaching no entry signs, branch right up gravel path, passing barrier gate. Continue ahead at next set of barrier gates then fork left at waymarked junction to A923.
3. Cross A923, go left to Birkhill Inn then right along Blairfield Road. Opposite Blairfield Terrace, branch right through gap in hedge and head north through woodland to junction.
4. Bear right, pass to left of waymarker, then go right along northern edge of woodland to road. Cross (signed visitor centre and car park) and follow path to car park and information board.
5. Go left for 200m then right (signed Camperdown Park), descending to ponds.
6. Ascend path, forking right on approach to A923.
7. Cross A923, go through gateway in wall and turn left.
8. Cross Main Drive and continue ahead, down gravel path, curving right to junction by metal cabin. Fork right to meet roadway by wildlife centre.
9. Turn right and ascend roadway to Camperdown House.
INFORMATION
Distance: 6.4km/4 miles
Ascent: 130m/430ft
Time: 2 hours
Grading: Easy, low-level route following good paths and tracks through parkland and woodland. The route bisects the busy A923 twice and great care should be taken when crossing. Stout footwear recommended
Start/finish: Camperdown House, Camperdown Country Park, Dundee (Grid ref: NO 358329). Car parks on main drive approach to house
Map: Ordnance Survey 1:50,000 Landranger sheet 54; Ordnance Survey 1:25,000 Explorer sheet 380
Tourist Information: Dundee iCentre, 16 City Square, Dundee DD1 3BG (Tel 01382 527527)
Public transport: Stagecoach bus services 57 and 59 from city centre to Camperdown Leisure Park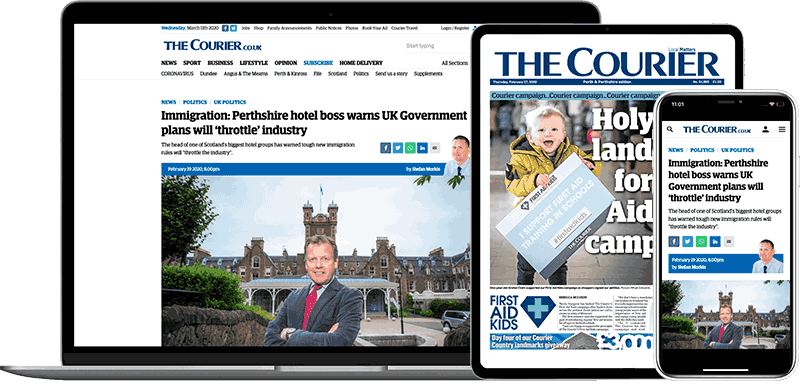 Help support quality local journalism … become a digital subscriber to The Courier
For as little as £5.99 a month you can access all of our content, including Premium articles.
Subscribe