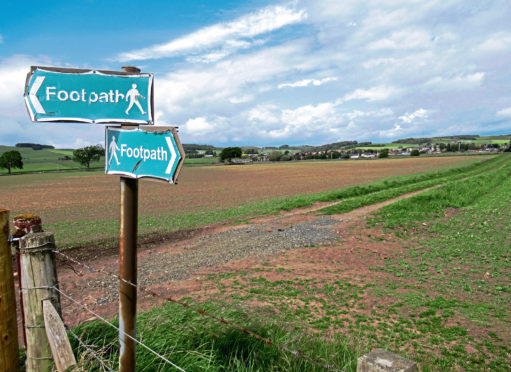 Strathmiglo is one of the gateways to the Lomond Hills, a track striking south from the village across fields and through woodland to the craggy, tree-clad escarpment of West Lomond.
It is also an entry point to the Ochil Hills, or at least the eastern tail of the range, its low, forested peaks rising through luxuriantly grassy slopes of farmland to the north.
Starting point for hikers heading in either direction is Strathmiglo Village Hall in the curiously named street of California, perhaps a light-hearted nod to its location in the 'wild west' end of the community.
From here, I pottered down over the youthful River Eden, spotting a heron as I passed through a peaceful wee picnic area and then cul-de-sac to reach the village primary school, where High Street leads up and over the line of a former railway to the busy A91.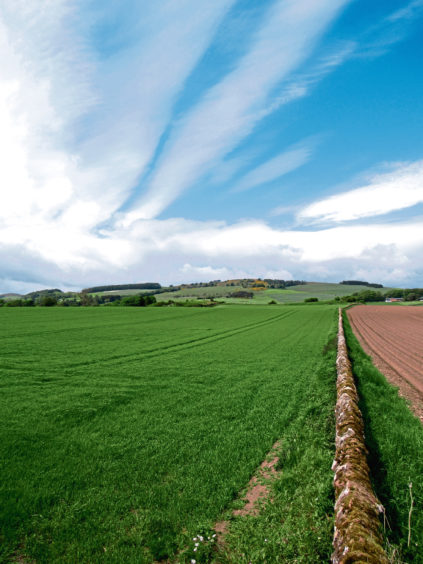 Safely across, Frears' Mill Road – a field-edge track – heads north, passing through a couple of wooden kissing gates before descending to cross Barroway Burn by a wooden bridge from where a path continues along the edge of the next field.
It meets Glentarkie Road by Gardener's Cottage, part of the estate of Pitlour House – the grand mansion visible from Frears' Mill Road – from where the road rises through Willandale Plantation.
Higher up, beyond the entrance to Kincraigie Farm, at a well-placed bench, a track breaks right, dipping through the trees. It is worth packing a pair of sturdy over-trousers or gaiters for this section as the trail is not well walked and can become overgrown with nettles in the summer.
Crossing a stream, the way curves right to a signpost and gate leading into open fields where the route rises towards a pair of gates, bearing left just ahead of them, before continuing its ascent north along the edges of a succession of fields where cattle graze and views open out south to the Lomond Hills.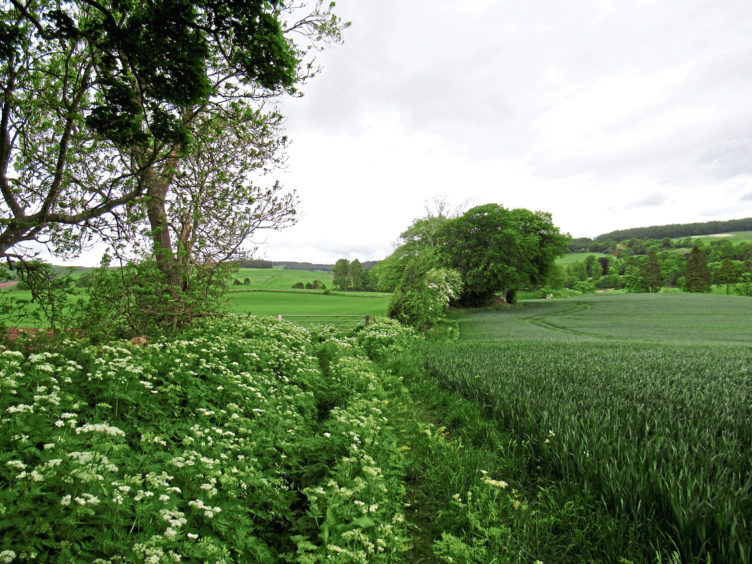 Joining a firmer track beyond a gate just west of Dumbarrow Farm, bear left initially then right at the next junction and the gravel road weaves up to meet Glentarkie Road below the quarried flank of Glentarkie Hill.
Access to Pitmedden Forest, which cloaks the Ochil summits here, is to be found a short walk down the road, a track rising from one parking area to another. It follows the line of Muchty Road, an old drovers' route used by Fife farmers driving cattle and sheep to the markets of Perth and Crieff.
This leads east, passing a third parking area before descending below Broom Hill and New Hill (ignore gated tracks branching left and right) to emerge from Pitmedden Forest at Newhill Farm.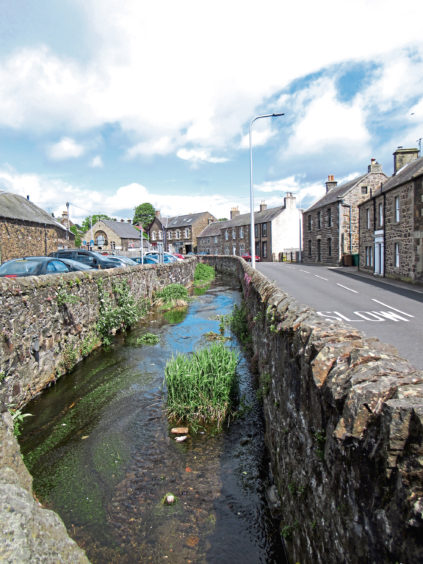 After a brief uphill stint, the road makes a leisurely descent, initially by the Forestry Commission woodlands of The Clink, through farmland to Auchtermuchty, passing a memorial to celebrated accordion player and band leader Jimmy Shand, who lived in the town.
Auchtermuchty Burn accompanied me south through the centre of the community, across the A91 and, after a pleasant stroll over parkland, on towards Dunshalt where I turned west, a quiet rural byway and then track cutting through the arable lands of the Howe of Fife, in the shadow of the Lomond Hills, to Reedieleys Farm.
Here the way curves anti-clockwise around the sheds, track and then path leading straight back to Strathmiglo.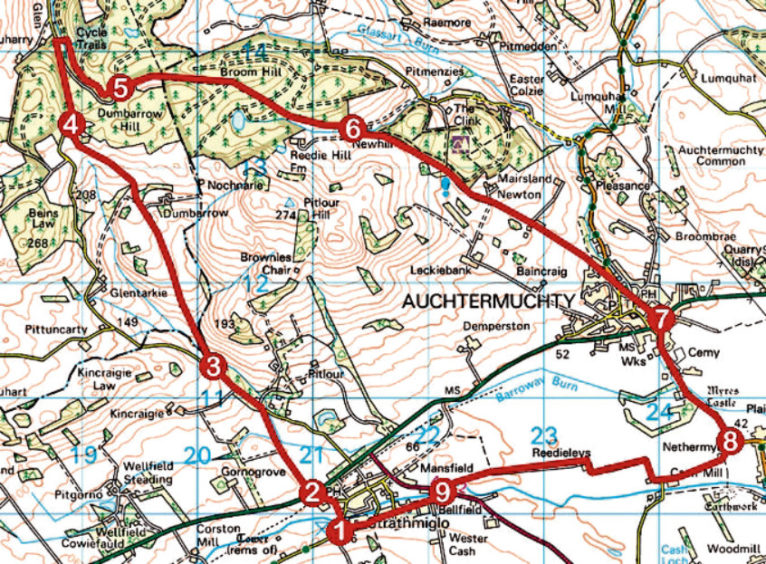 ROUTE
1. Descend through picnic area, crossing River Eden, then go left on gravel path through arch between houses, proceed along Millfield Court and bear left up High Street to A91.
2. Cross and follow signed Frears' Mill Road path to Glentarkie Road. Go left up road for 600m.
3. Branch right off road, along woodland track to gate. Ascend grassy trail (signed Abernethy) over farmland to re-join Glentarkie Road at Glen Cottage.
4. Descend road north for 800m, turn right into Pitmedden Forest and ascend track to signed junction by parking area.
5. Continue ahead (sign missing) along track to another parking area in 500m then descend track east then south-east to exit forest at Newhill Farm.
6. Follow minor road to Auchtermuchty, proceeding along Mournipea, Distillery Street and Burnside to A91.
7. Cross and continue south along Burnside and B936 towards Dunshalt.
8. Where B936 swings left, go right along minor road to Nethermyres Farm then Cash Mill. Branch right along track to Reedieleys Farm and continue west on track (signed Footpath) then path to Strathmiglo.
9. Bear left across River Eden and A912 and follow Cash Feus then Skene Street to village hall.
INFORMATION
Distance: 16km/10 miles
Ascent: 325m/1080ft
Time: 4-5 hours
Grading: Moderate route following tracks, paths and minor roads through farmland and forestry with a lengthy but well graded ascent on the outward leg. Keep dogs on the lead between points 3 and 4 where cattle graze
Start/finish: Strathmiglo Village Hall, California, Strathmiglo (Grid ref: NO 211098)
Map: Ordnance Survey 1:50,000 Landranger sheets 58 and 59; Ordnance Survey 1:25,000 Explorer sheet 370
Tourist Information: St Andrews iCentre, 70 Market Street, St Andrews KY16 9NU (Tel 01334 472021)
Public transport: Moffat & Williamson bus service 64 and Stagecoach service 23 (no Sunday service) serve both Auchtermuchty and Strathmiglo
---
Please observe government guidelines on exercise outdoors.