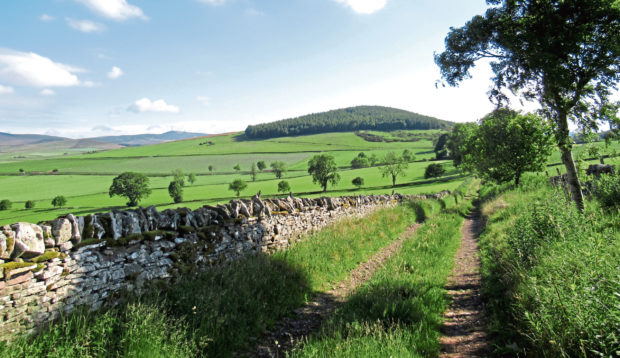 Bisecting the Sidlaw Hills, the track through Denoon Glen is popular with walkers, but it follows the line of a much older road, one that linked Glamis with Dundee and was, according to legend, frequented by illicit whisky distillers and smugglers.
The route crosses some surprisingly remote and lonely terrain and it is not hard to imagine squat stone bothies and clandestine stills secreted amongst the heathery folds here.
While the prospect of a dram is always tempting, I planned to follow the old road into the glen as far as Ark Hill before returning over neighbouring Carlunie Hill and Berry Hillock, a trio of less frequented tops.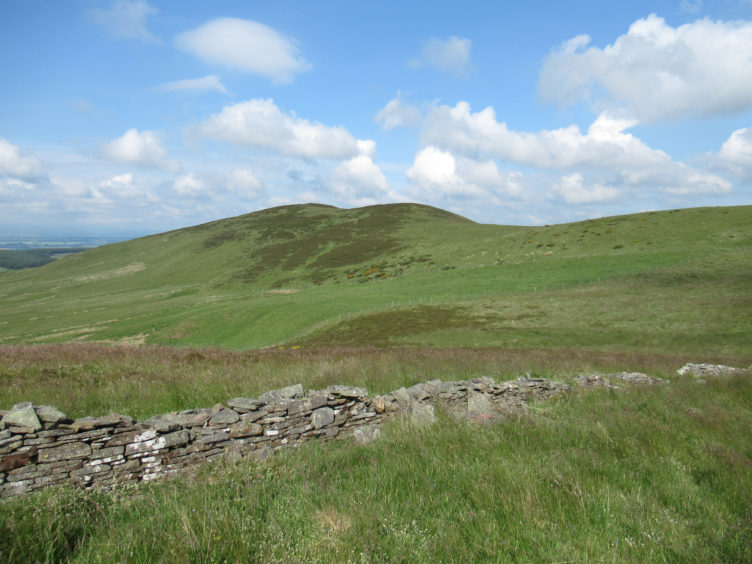 From Glamis, it is a short hike up to the village of Charleston where the old road survives as a track, contouring around Crams Hill, rhododendron and foxgloves adding a dash of colour to the forest, before meeting a minor road above Ewnie Den.
The slim ribbon of asphalt passes houses at Holemill and Muircroft and then Denoon Law – a steep-sided volcanic plug and site of a prehistoric hill fort – before pressing on through Easter Denoon to Wester Denoon.
The road ends here but, skirting round the edge of the farmyard and dipping past a derelict doocot, a good track progresses up the valley, swapping fields for moorland, Ark Hill rising to my left.
It is a peak dominated by a wind farm and, branching off the old road and descending to cross Denoon Burn, I found a reasonably distinct grassy track ascending into a shallow gully between the towering turbines.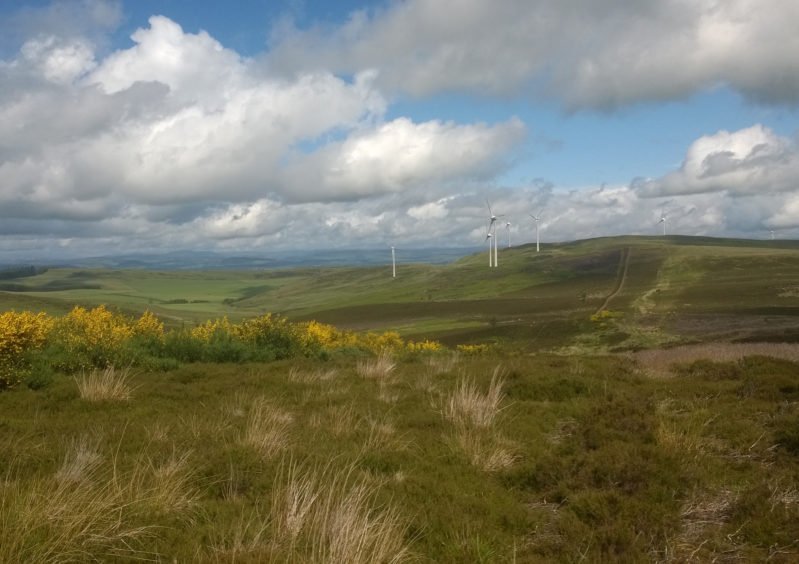 Above a metal gate I joined the more robust wind farm track and, rather than make a direct bid for the summit through thick bracken and heather, I followed the gravel road around the slope, making my final approach from the track accessing the highest of the turbines. The top is marked by a small clump of stones embedded in the grass.
My next target, Carlunie Hill, lay to the north-east and, while the Ordnance Survey Landranger map indicates it is the same height as Ark Hill – 340 metres – the more detailed OS Explorer map puts it a metre higher. Older cartography suggests Ark Hill is the taller of the pair, albeit by just a foot.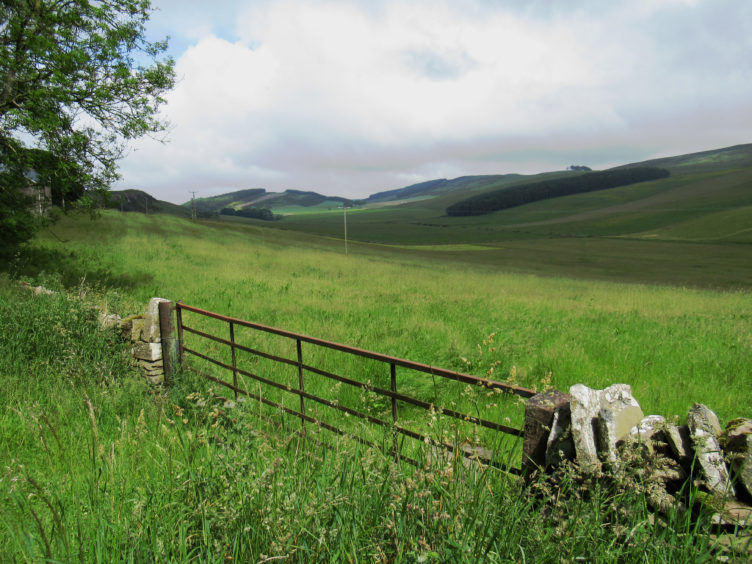 Either way there was more climbing to come and, after a pleasant pathless descent across a grassy slope bristling with wild flowers to the col, where the remains of an old wall led me to a junction of fences, I ducked through a gap in the wire and, after negotiating a second fence, found a slim trail up Carlunie Hill.
This passes close to but does not visit the summit, but it is easier underfoot than the heather on the ridge and, after making a brief detour to the top, I converged upon the fence line as it ran down the northern shoulder, following it to Berry Hillock.
There is a wooden gate in the fence just short of the day's final top and, after walking out to the trig point where a grand view across Strathmore awaits, I returned to this and skirted down the edge of forestry below.
At the foot of the slope, a brief road walk took me to Mains of Rochelhill and, after passing through the farmyard, a lovely tree-lined track rises past a covered reservoir and masts before descending to Charleston.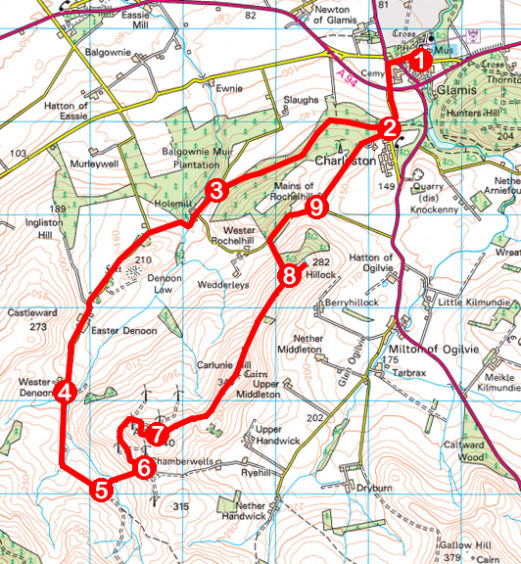 ROUTE
1. Follow Charleston Road south, cross A94 and ascend road to Charleston.
2. Turn right (signed Denoon Glen) and walk 2km along forest track to road.
3. Turn left and follow road 3km south to Wester Denoon.
4. Pass to left of farm buildings and bear left down track (signed Auchterhouse). Pass derelict house and, in 200m, bear left through gate (signed Auchterhouse) and ascend track to junction in 500m.
5. Fork left and descend track. Go through left-hand gate, ford Denoon Burn then ascend grassy track to wind farm.
6. Pass through metal gate to meet wind farm track and turn left. Take second track on right, passing through gate, then go right, up to gate, and branch left up slim path running alongside fence initially before curving left up to Ark Hill summit.
7. Descend east to col, ascend Carlunie Hill and continue along ridge to Berry Hillock.
8. From wooden gate south-west of summit, descend by edge of forest then field to road. Go right to Mains of Rochelhill.
9. Go left (signed Charleston) through farmyard and along track to Charleston. Retrace steps to Glamis.
INFO
Distance: 16km/10miles
Ascent: 460m/1500ft
Time: 4-5 hours
Grading: A moderately challenging upland hike, the route follows minor roads, tracks and paths, rough and indistinct in places. Suitable for fit, experienced, well-equipped hillwalkers. Keep dogs under close control to protect livestock and ground nesting birds
Start/finish: War memorial at junction of Dundee Road and Charleston Road, Glamis (Grid ref: NO 382466). Free public car park in centre of Glamis
Map: Ordnance Survey 1:50,000 Landranger sheet 54; Ordnance Survey 1:25,000 Explorer sheet 380
Tourist Information: Dundee iCentre, 16 City Square, Dundee DD1 3BG (Tel 01382 527527)
Public transport: JP Minicoaches bus service 125 (Mon-Sat) and Stagecoach bus service 20C (Sun)
---
Please observe guidelines on exercising outdoors.