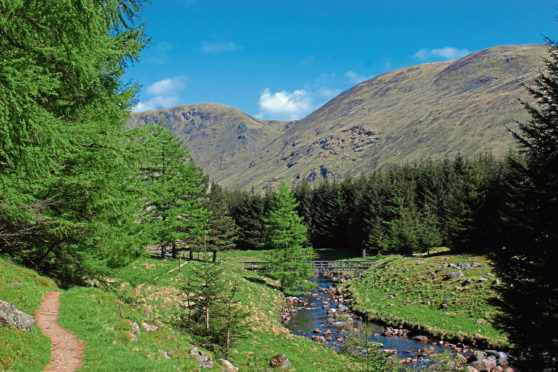 Driesh and Mayar, Broad Cairn and Cairn Bannoch, Tolmount and Tom Buidhe; all are popular Munros – Scottish hills over 3,000 feet in height – that draw walkers to Glen Clova, in Angus.
However, there are plenty of lower, less well frequented peaks too and these shrinking violets can prove to be every bit as challenging as their higher, more illustrious counterparts.
Rising above the River South Esk, bounded to the south by vertiginous cliffs and crags that, until now, I had only ever admired from below, Sandy Hillock, Broom Hill and Dog Hillock offer a real escape from the summer crowds.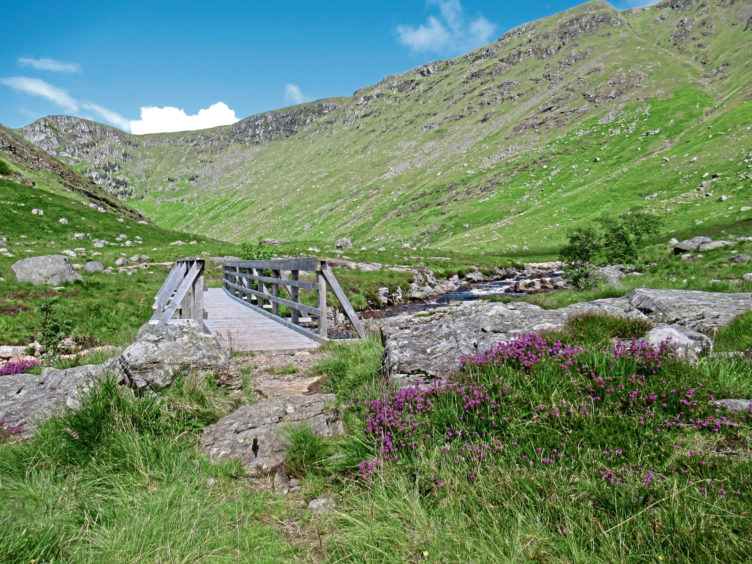 The approach is excellent, track and path taking care of the initial climb while the old Capel Mounth road offers a straight-forward route out, a welcome treat at the end of a long day. The terrain in between, however, is largely pathless.
Undeterred by this prospect, I set off from Glen Doll Ranger Base, heading out along a pleasant waymarked trail that follows the River South Esk upstream, crossing the water and progressing north by track to Moulzie.
With Dog Hillock and Broom Hill towering overhead, I swapped the track for a path beyond the steading, skirting the edge of forestry to reach a second bridge, where I hopped back over the river.
The way ventures into increasingly rugged country, pushing on below the cliffs of Moulnie Craig and Jaunjorge, the river now a livelier beast, cascades of white-water tumbling down the glen.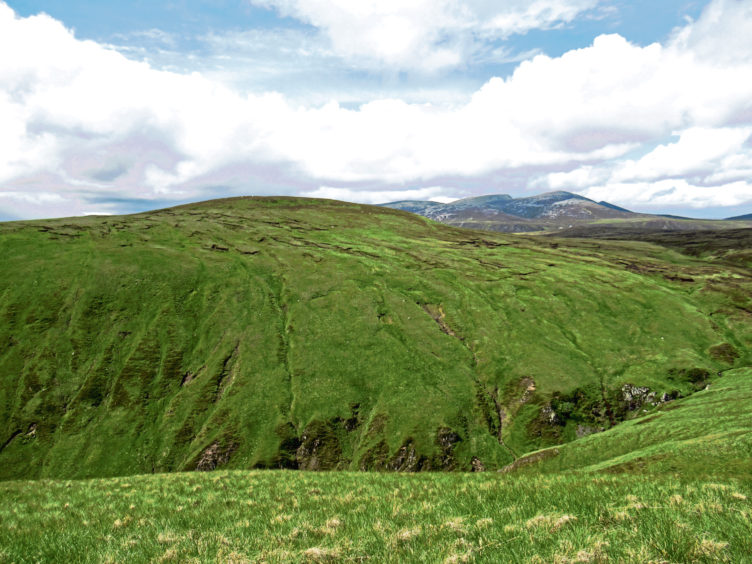 After a steady climb, the increasingly rocky road ends at a bridge spanning the equally energetic Burn of Altduthrie and, from here, a path weaves up through woodland, breaching the ruins of early 19th century Bachnagairn Shooting Lodge, to the Roy Tait Memorial Bridge.
Crossing a deep rocky gorge, a well-constructed path climbs from the bridge, a series of hairpin bends weaving up the steep slope, the trail eventually flattening off as it approaches Allan's Hut, a corrugated iron stable nestling in the col.
Broad Cairn to the west and mighty Lochnagar to the north, I turned east, the last vestiges of the established trail petering out on top of Sandy Hillock where tall poles, once mounting posts for radio antenna, flank a small stone windbreak.
Descending south-east, I stumbled upon a line of grouse butts and followed this out towards the grassy crest running above Moulnie Craig, avoiding peat hags to the north and, thanks to clear skies, enjoying spectacular bird's eye views over the valley below.
Occasional lines in the grass probably owe more to the passage of deer than humans, but they aided my progress over Broom Hill, the descent curving left to round the top of a steep, almost hidden, wee gully known as The Gourock.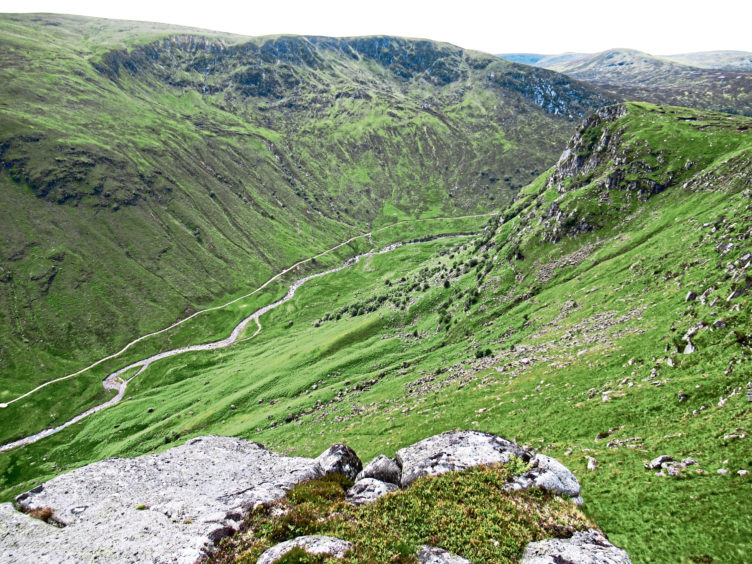 Another slim trail guided me up the western flank of Dog Hillock, over grass then heather to a small cairn surrounded by scattered stone.
Temptingly, the line of the Capel Mounth can be seen across the steep-sided valley of the Moulzie Burn, to the east, but, to join it, I first had to round the top of the stream, dropping down the heathery northern flank of Dog Hillock before curving east below peat hags to pick up all-terrain vehicle tracks rising to the old road.
This once busy high-level highway climbs south to its summit before descending steeply into Glen Clova.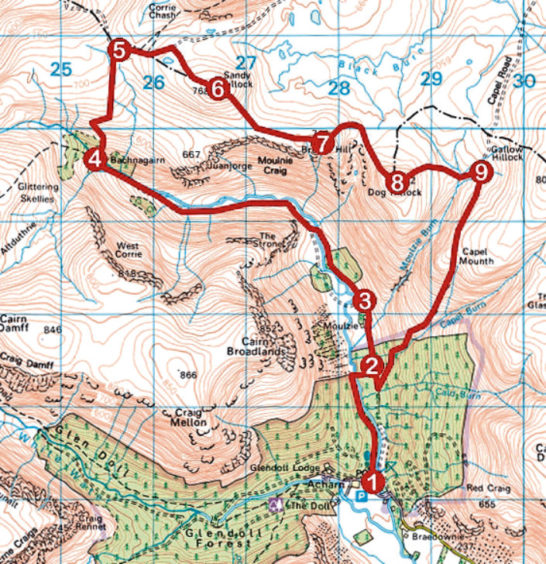 ROUTE
1. From yellow marker post, descend towards river, bear left across picnic area and follow riverside path north. Cross footbridge and walk east to meet track.
2. Turn left and follow track north to Moulzie. Fork right by steading entrance and continue north along track.
3. Where track swings left, continue north on path towards then along edge of forest to footbridge. Cross and follow track up glen to Roy Tait Memorial Bridge at Bachnagairn.
4. Cross bridge and ascend path to Allan's Hut.
5. Turn right and follow track 500m east. Branch right and, passing lochan on right, ascend rough track to summit of Sandy Hillock.
6. Descend south-east and follow grassy ridge east to summit of Broom Hill.
7. Descend north-east, curving round top of The Gourock gully, then ascend Dog Hillock.
8. Descend north-east then east to top of Moulzie Burn and ascend to Capel Mounth track.
9. Turn right and follow Capel Mounth road south, descending to track in base of valley. Go right to point 2 then retrace steps to car park.
INFO
Distance: 17km/10½ miles
Ascent: 770m/2500ft
Time: 5-6 hours
Grading: A challenging and strenuous upland circuit, suitable for fit, well equipped hillwalkers, the route follows good tracks and paths for much of the way but also crosses rough, pathless terrain on the high ground. Keep dogs under close control due to protect wildlife
Start/finish: Glen Doll Ranger Base car park, four miles north-west of Clova (Grid ref: NO 283761). £2 pay and display charge
Map: Ordnance Survey 1:50,000 Landranger sheet 44; Ordnance Survey 1:25,000 Explorer sheet OL53
Tourist Information: Glen Doll Ranger Base, Glen Clova, Kirriemuir DD8 4RD (Tel 01575 550233)
Public transport: None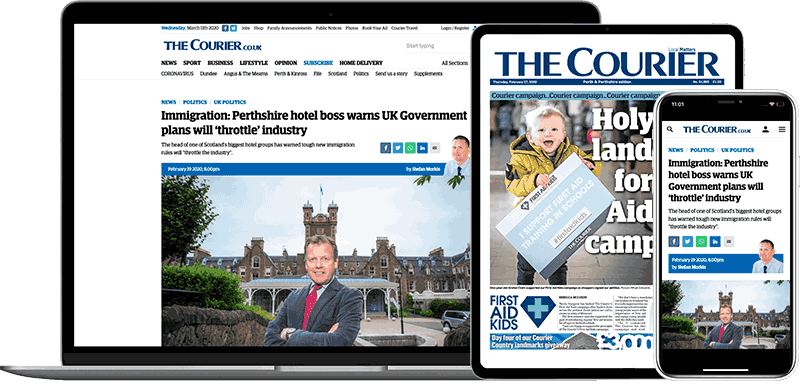 Help support quality local journalism … become a digital subscriber to The Courier
For as little as £5.99 a month you can access all of our content, including Premium articles.
Subscribe