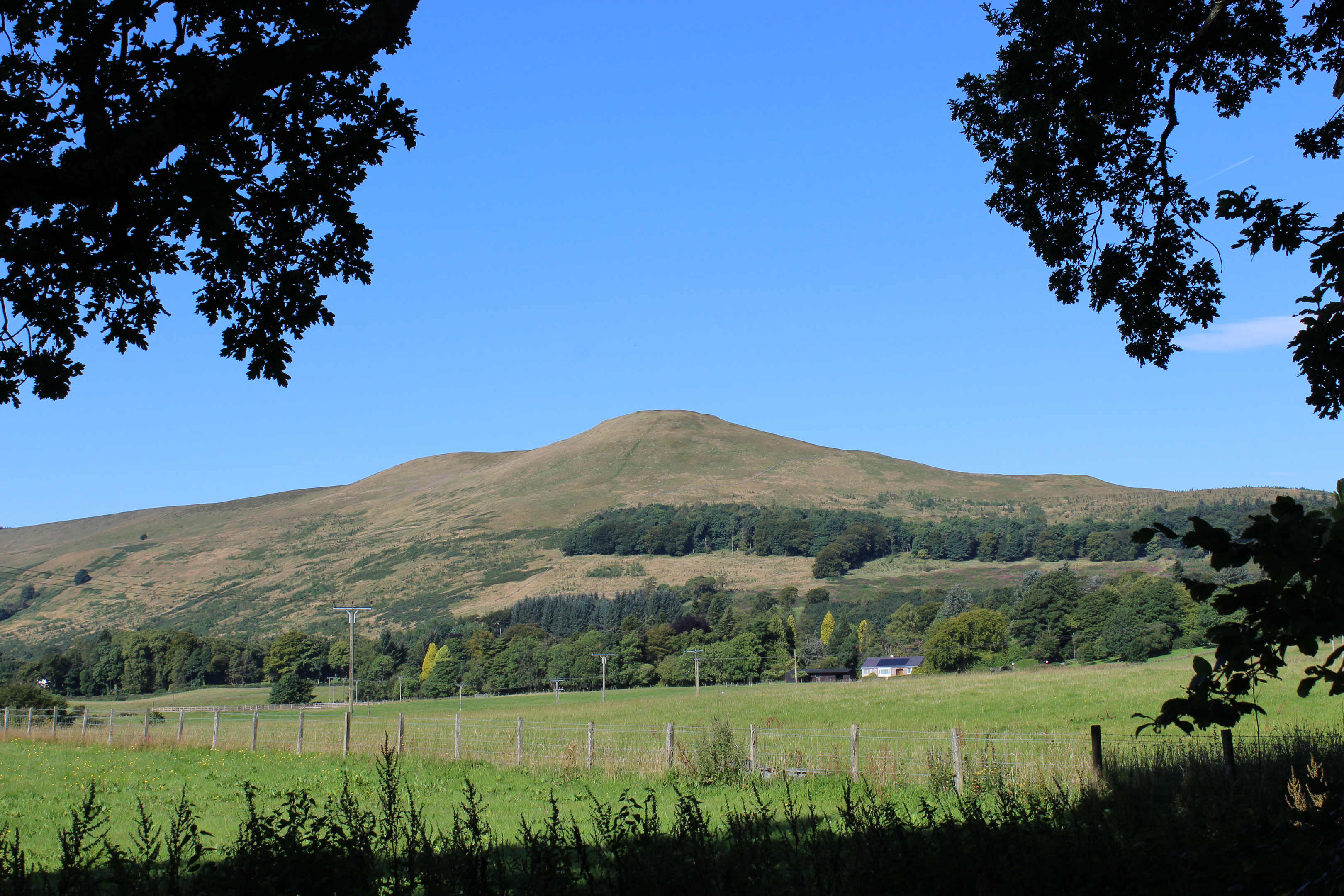 Seamab Hill may not have the stature of some of its neighbours but it is one of the more prominent peaks in the Ochil Hills. Standing guard over the entrance to Glen Devon, this local landmark grabbed my attention on an earlier visit to the area.
Vowing to climb it, a little research equipped me with a promising route to the top and I returned without delay, setting off from Castlehill Reservoir in Glen Devon.
Approaching from the north, a large layby half way down the side of the reservoir provides plenty of space to leave the car and, across the road, a surfaced track destined for Glenquey Reservoir leads the way.
The route climbs steadily around the fringes of Geordie's Wood, one of three plantations in the valley owned by the Woodland Trust. All have been planted with native trees, including oak, ash, birch, hazel, rowan and Scots pine, breaking up the once dominant spruce and pine.
Beyond a bungalow at Glenquey, I branched off the reservoir road, through a gate into Geordie's Wood, a place where the new saplings encourage wildlife, such as kestrel and short-eared owls. The latter are known to nest and breed in the trees here.
The track loops up quite steeply, passing through a second gate, to enter a more established commercial timber plantation cloaking Auchlinsky Hill.
A steady incline ensues before the track emerges from the shelter of the conifers and ends on the exposed and oft windswept grassland of the Ochil Hills high ground.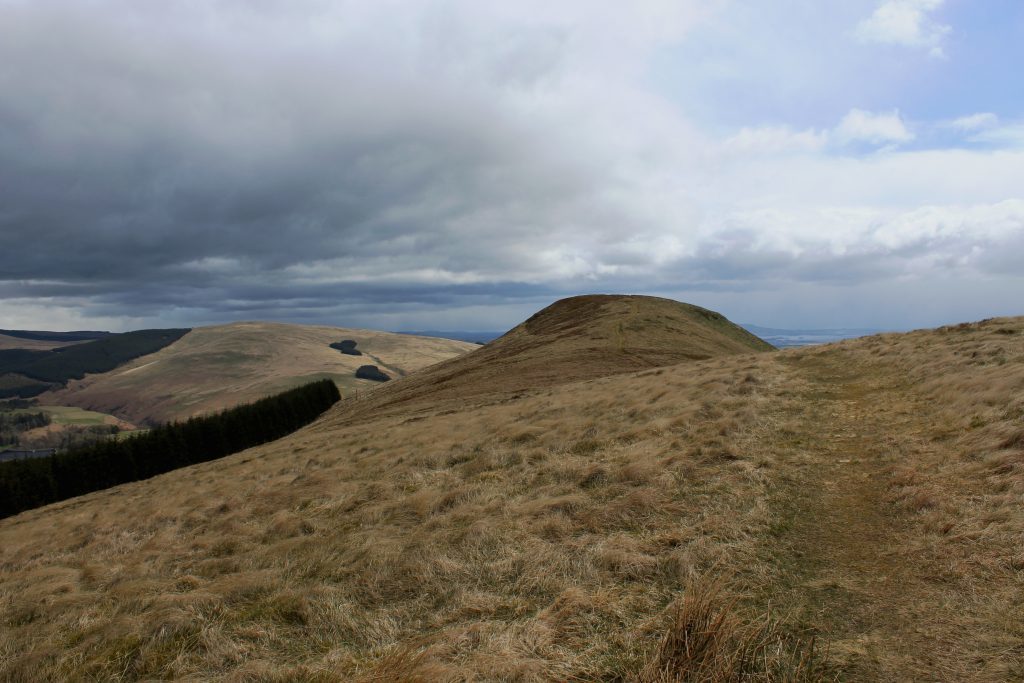 Turning my back on taller summits to the west, I hiked east over Commonedge Hill, an indistinct top, before crossing a stile and following the path down the broad ridge towards the unmistakeable form of Seamab Hill.
Beyond the protruding dome, I could see rain clouds congregating over distant Loch Leven and the Lomond Hills while the valley of the River Forth basked in sunshine down to my right.
The path leads straight to the summit, pausing briefly to negotiate a wooden stile ahead of the final hearty pull to the top, marked by a small cairn.
Seamab Hill is without doubt an excellent viewpoint and, in the face of a blustery breeze, I absorbed what I could of the surrounding landscape before beating a retreat down the north-eastern flank.
A clear path drops steeply to a gateway in a wall, close to the corner of the Auchlinsky Hill plantation, and here I re-entered Geordie's Wood, young trees covering the once bare lower slopes of Seamab Hill.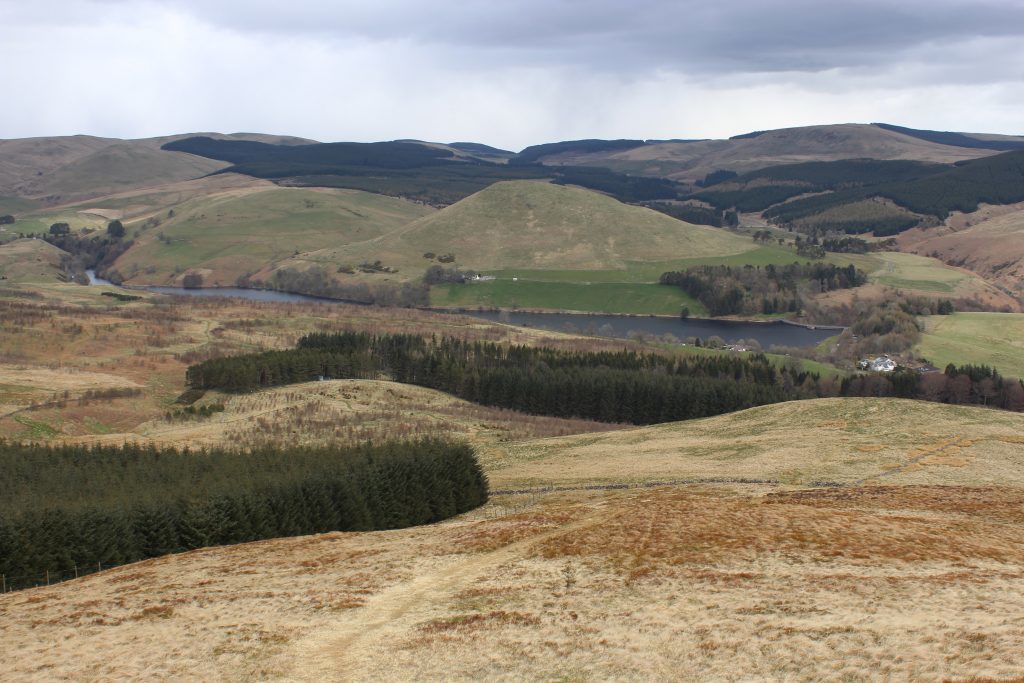 The woodland is bisected by a network of grassy footpaths and the one I selected ran close to the wall for a way before making a beeline for a small compound, a green tank surrounded by a green fence on the edge of an older patch of forestry.
Just short of this point, a gravel track branches right, descending through a gate to Glendevon Water Treatment Works below which I joined the Reservoirs Trail.
As the name suggests, this 14km linear route weaves through the valley, linking four reservoirs, although for today I would only be following it as far as Castlehill Reservoir.
Dipping to cross a stream, the well waymarked path rises over grazing land bordering the edge of Geordie's Wood before re-entering the plantation at a gate for the final leg of the hike.
ROUTE
Cross A823 and ascend surfaced track (signed Glenquey Reservoir).
Pass white bungalow at Glenquey and turn left on track, entering Geordie's Wood at gate. Ascend track to its end, ignoring path and then two tracks branching left.
Turn left and follow grassy path east over Commonedge Hill to summit of Seamab Hill.
Descend steep path north-east to gateway in wall by corner of plantation.
Bear left on grassy path, running parallel to wall on left initially, heading towards fenced enclosure and green tank.
Turn right and descend track through gate to waterworks. Turn left, passing between houses and works and follow surfaced track down towards metal gate.
Turn left and follow waymarked path over stream and along edge of plantation.
Enter woodland at gate and continue ahead to picnic bench.
Turn right and descend path (green waymarker) to meet surfaced track. Turn right.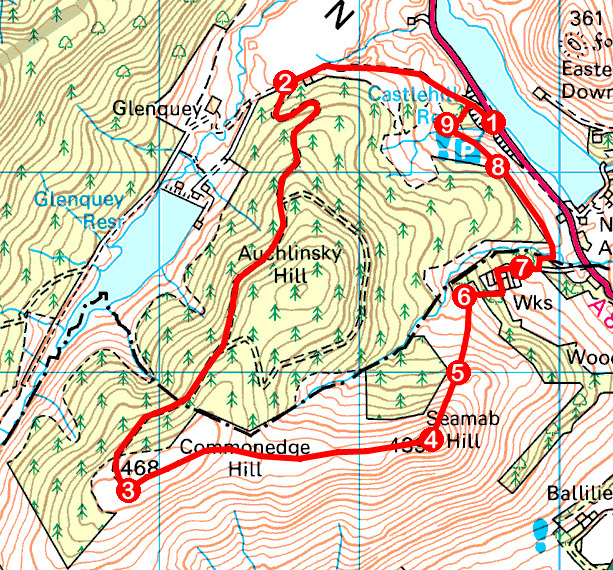 INFORMATION
Distance: 8km/5 miles
Ascent: 310m/1020ft
Time: 3 hours
Grading: Moderate route with some strenuous ascent, following paths and tracks through woodland and over open hillside. Keep dogs on lead where requested to by signs and go equipped for all weather conditions
Start/finish: Large layby on A823, 2km north of Yetts o'Muckhart, half way along side of Castlehill Reservoir (Grid ref: NN 996032)
Map: Ordnance Survey 1:50,000 Landranger sheet 58; Ordnance Survey 1:25,000 Explorer sheet 366
Tourist Information: Old Town Jail, St John Street, Stirling FK8 1EA (Tel 01786 475019)
Public transport: Nearest bus stop is Yetts o'Muckhart (Stagecoach service 23)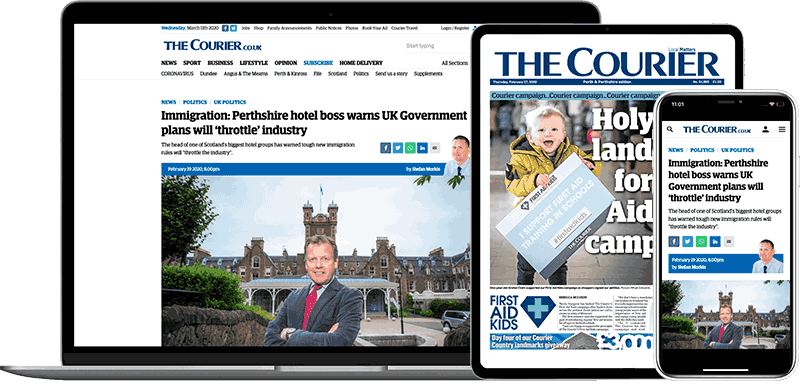 Help support quality local journalism … become a digital subscriber to The Courier
For as little as £5.99 a month you can access all of our content, including Premium articles.
Subscribe