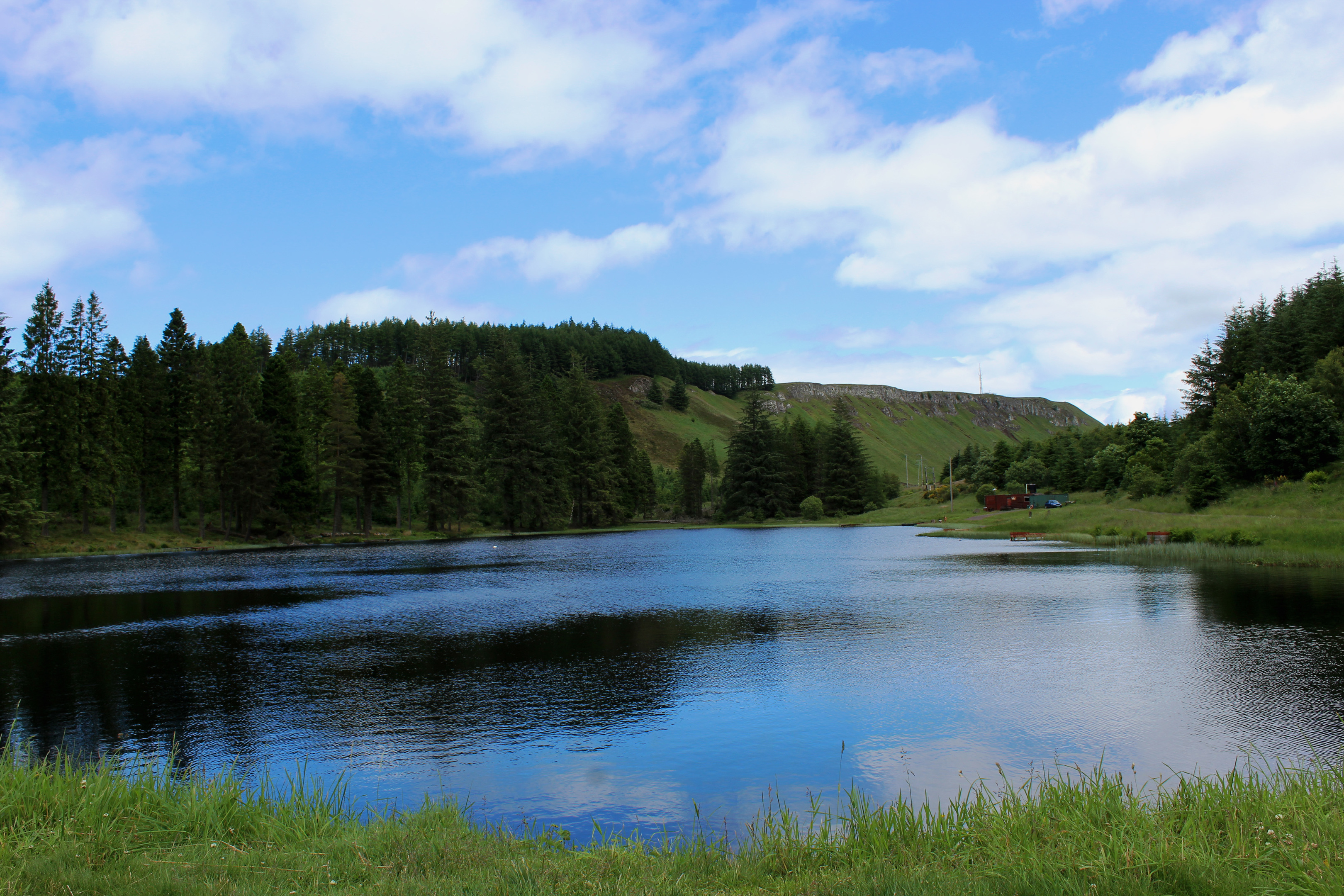 Stocked with trout, Ledcrieff Loch is popular with anglers. Walkers, however, will find themselves drawn to this peaceful corner of the Angus countryside by Lundie Craigs, a dramatic escarpment of volcanic rock that overshadows the tree-lined pool.
Carefully crossing the main road, I headed up the track to Tullybaccart Farm where the route to the loch and crags runs past agricultural sheds and outbuildings, curving up behind the steading to an old quarry where a sign for Ledcrieff confirmed I was on the right road.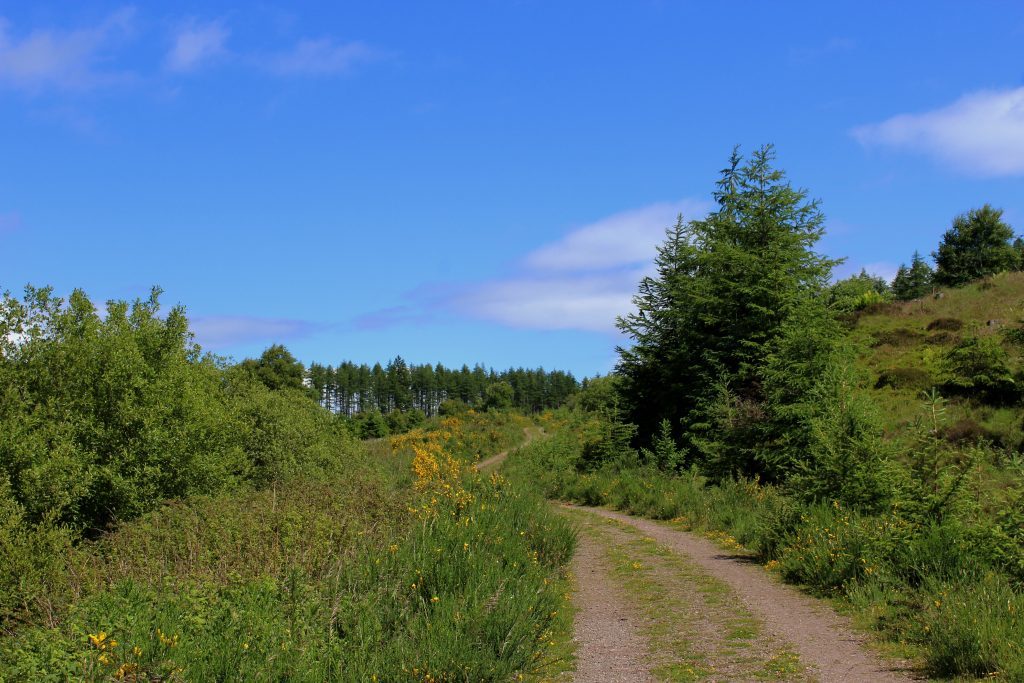 Enjoying the briefest glimpses of Strathmore through trackside vegetation, I descended into Pitcur Wood where the track swings right and begins a steady but well graded ascent through the trees, weaving above sloping farmland to the loch.
Lundie Craigs soon loomed in to view but as tempting as the crags were, I branched left below Ledcrieff's grassy embankment dam, turning my back on them for now as I retreated back into the trees, a healthy mix of conifer, beech, oak and sycamore with some colourful foxgloves thrown in for good measure.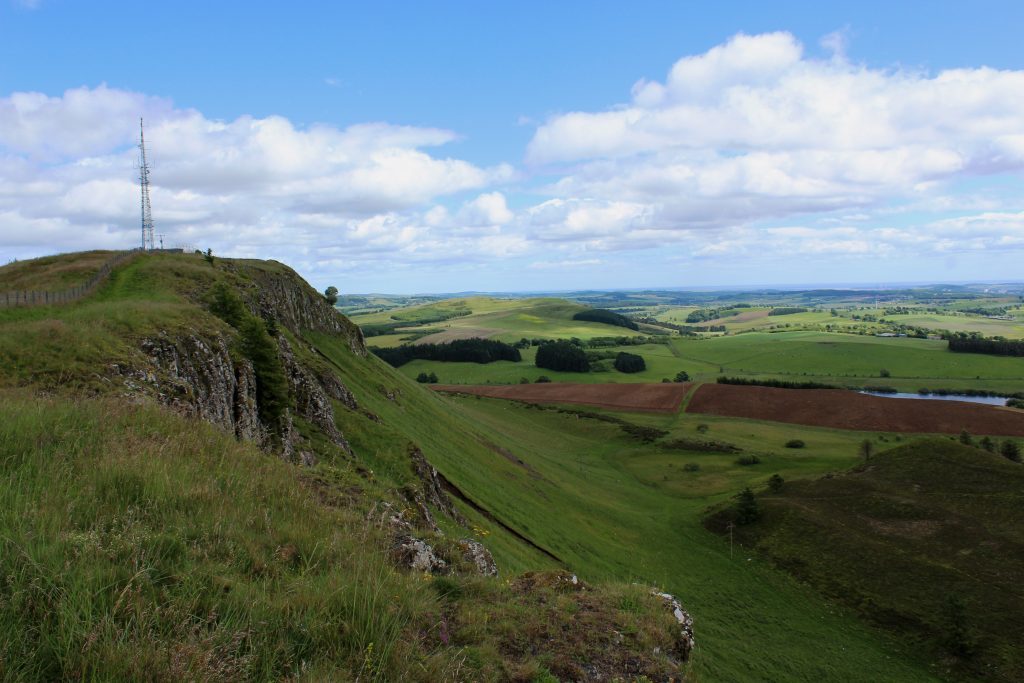 Emerging briefly at a viewpoint offering a more generous account of Strathmore, the track climbs through Ledcrieff Wood and then Lundiecraigs Wood where the outlook is delightfully open thanks to the felling and replanting of recent years.
Higher up the valley, the main forest road curves left while the track to Lundie Craigs branches right, rising to a gate and stile where the route bids the plantation farewell.
With the mast atop the crags visible above, I resisted their lure a second time, joining instead an initially grassy trail leading north to Keillor Hill and a local landmark with star quality.
The terrain was wet underfoot for a way, mossy marsh testing the waterproofing of my boots, but happily the ground grew firmer, a fine old track cutting across the heather. It rises through a gate in the boundary fence on Keillor Hill before dropping to the Mackenzie Meridian Tower.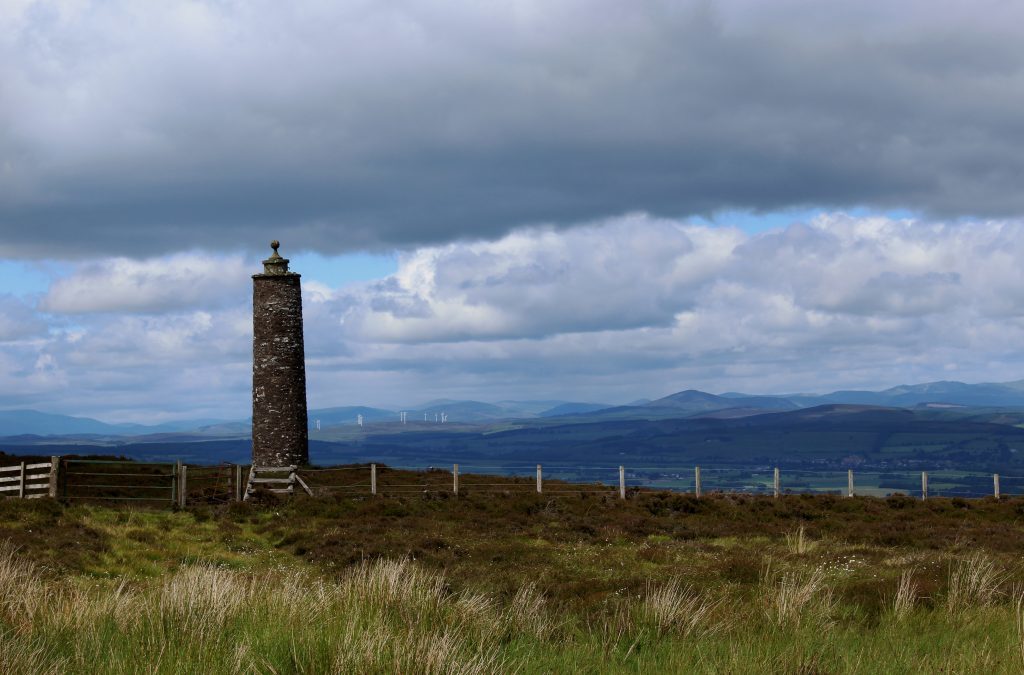 This simple yet striking cylindrical stone landmark was erected in the 1770s by landowner James Mackenzie, a keen astronomer, to serve as a point of reference for his observatories at Belmont Castle, to the north, and on Kinpurney Hill, to the east.
Negotiating the fence once again, this time at a metal gate in the tower's shadow, a rough track led me over the nearby shoulder, swinging right to contour the slope above Long Loch, a beautiful stretch of tree-fringed water shimmering in the valley below.
Crossing the hillside, and a couple of small muddy stream gullies along the way, I soon began to climb, the path mounting Wester Keith with a degree of zeal.
Passing under a power line, the gradient finally eased and a very pleasant high level stroll led me to the hill's trig point – an excellent viewpoint – and. a little further on, the mast above Lundie Craigs.
Shunned twice earlier in the day, the time had now come to step out along the escarpment, a rickety wooden gate in a stretch of fence that disappeared abruptly over the edge tempting me on to an elevated path beyond.
With Ledcrieff visible ahead, I concluded my day living on the edge, the broad grassy trail soon tapering, the route dipping sharply and climbing steeply, rolling like a rollercoaster, as I weaved below trees and scrambled over rocky outcrops towards the loch.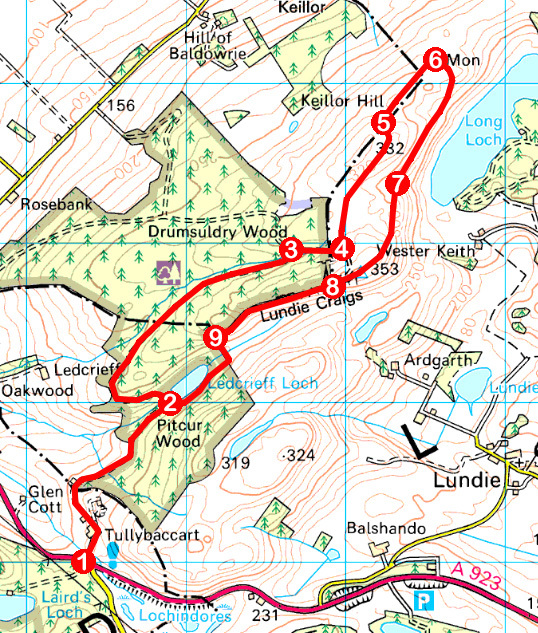 ROUTE
Cross A923 and follow track to Tullybaccart Farm. Go right of sheds and continue on track to Ledcrieff Loch.
Turn left, descend past gate and follow track through Ledcrieff and Lundiecraigs woods.
Turn right (signed Lundie Craigs) and ascend track to gate/stile.
Twenty metres beyond gate, go left on grassy then heathery track. Where track forks, branch left up to gate.
Go through gate and follow track north-east to monument.
Go through metal gate and follow rough track south-east over shoulder, descending right and continuing south-west to cross stream. Ascend to crossroads and continue ahead.
Cross stream and ascend path to trig point. Continue west to mast.
Progress from wooden gate along top of Lundie Craigs.
Turn left and descend, steeply at first, by fence then go right on valley floor path to Ledcrieff Loch. Continue on lochside track to point 2 and retrace steps to Tullybaccart.
INFORMATION
Distance: 10km/6¼ miles
Ascent: 300m/990ft
Time: 3 hours
Grading: Moderate route following tracks and paths. Some sections can be wet and muddy underfoot. Take great care on Lundie Craigs where there are steep, unguarded drops
Start/finish: Car park at Tullybaccart, on A923 Dundee to Coupar Angus road (Grid ref: NO 263360)
Map: Ordnance Survey 1:50,000 Landranger sheet 53; Ordnance Survey 1:25,000 Explorer sheet 380
Tourist Information: Dundee Information Centre, 16 City Square, Dundee DD1 3BG (Tel 01382 527527)
Public transport: Stagecoach bus service 59, linking Dundee and Coupar Angus, stops at Tullybaccart on request