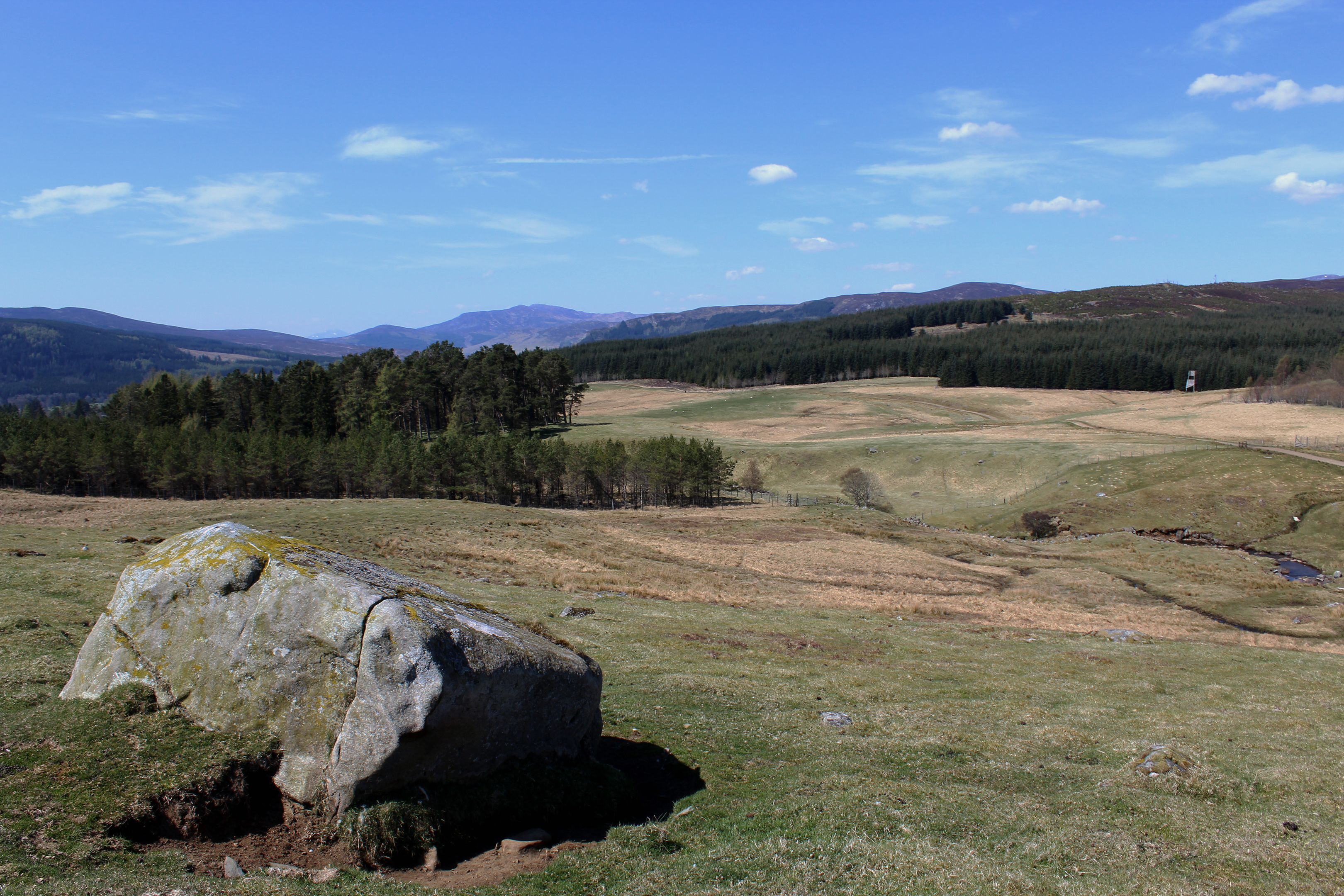 These days we are all about preserving the past. Back in the 19th century, however, they took a rather more pragmatic view on abandoned rural castles and mansions. If slate and stone could be better used elsewhere, it was duly removed and recycled.
Such a fate befell Whitefield Castle, a 16th century ruin and benevolent donor of building materials to farm cottages, steadings and boundary walls in the locality. 
 
The former stronghold lies off the beaten track, at least a mile from the nearest road, so a visit offered the perfect excuse to don my boots and head into the hills.
Setting out from Enochdhu on the right of way to Spittal of Glenshee (now part of the Cateran Trail), I hiked up past Dirnanean House, where the gardens are open to the public during the summer, and on by Dirnanean Farm.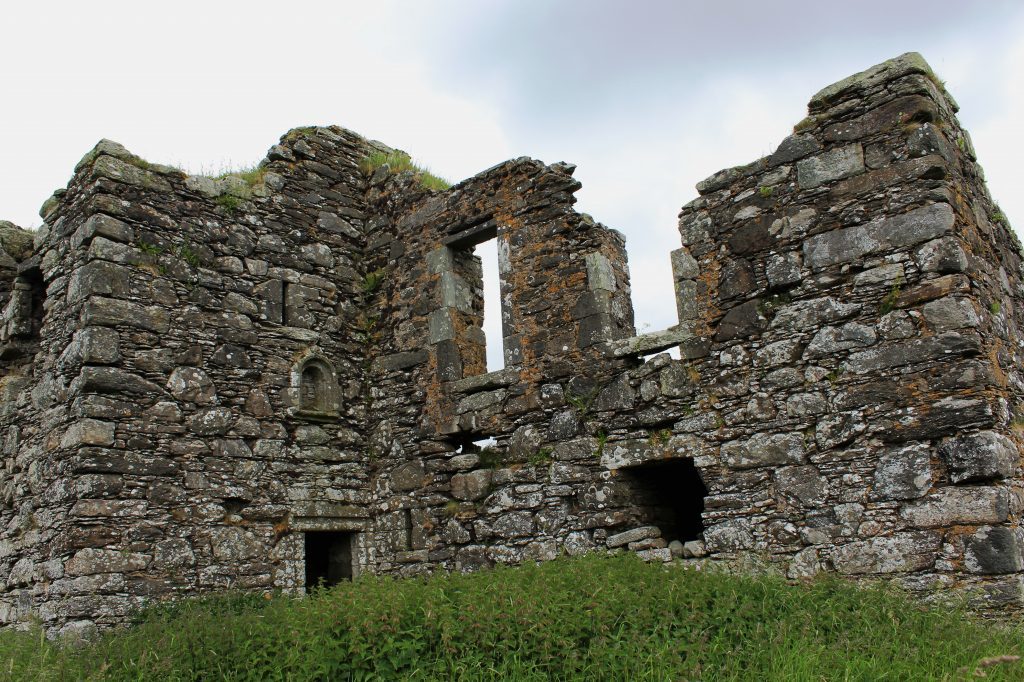 Passing through a steading further on, I was joined briefly by a very biddable collie. With frequent backward glances, he guided me up the track towards a cluster of stone pens and sheds.
Here, sheep caught his eye and I continued alone, skirting below Calamanach Wood where I left the Cateran Trail and branched east below a timber observation tower.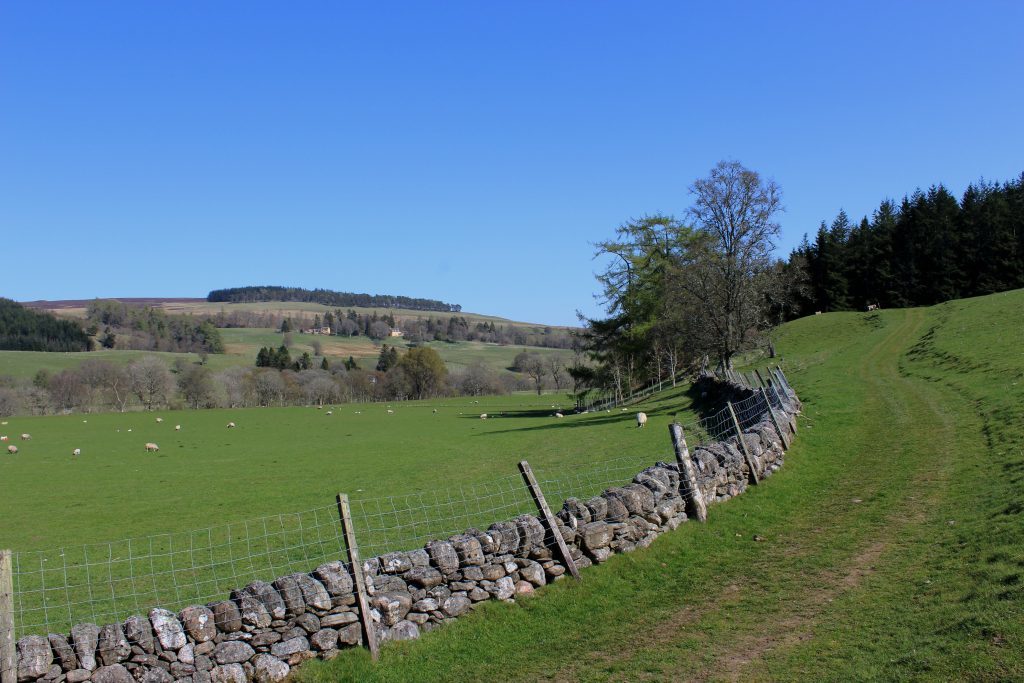 Ahead, I could see my first summit of the day, the petite pyramid of Menachban. A bridge conveyed me over the steam at the base of the hill and, some boggy ground safely negotiated, I made a beeline for the top, a natural line of grass dotted with occasional boulders cutting through the heather, easing my progress.
Pausing briefly to watch a herd of red deer traverse the slope above me, I passed over Menachban and descended through heather and grass to an estate track in the dip below.

With Whitefield Hill dead ahead, I dismissed the track and ascended a slim grassy trail by a wall, this stony spinal cord leading up to the summit – which lies just off the wall – and then down the southern flank to Whitefield Castle.
Built in 1577, the keep was architecturally similar to Ashintully Castle, less than a mile away, but while Ashintully is still inhabited, Whitefield was abandoned in the early 19th century and cannibalised.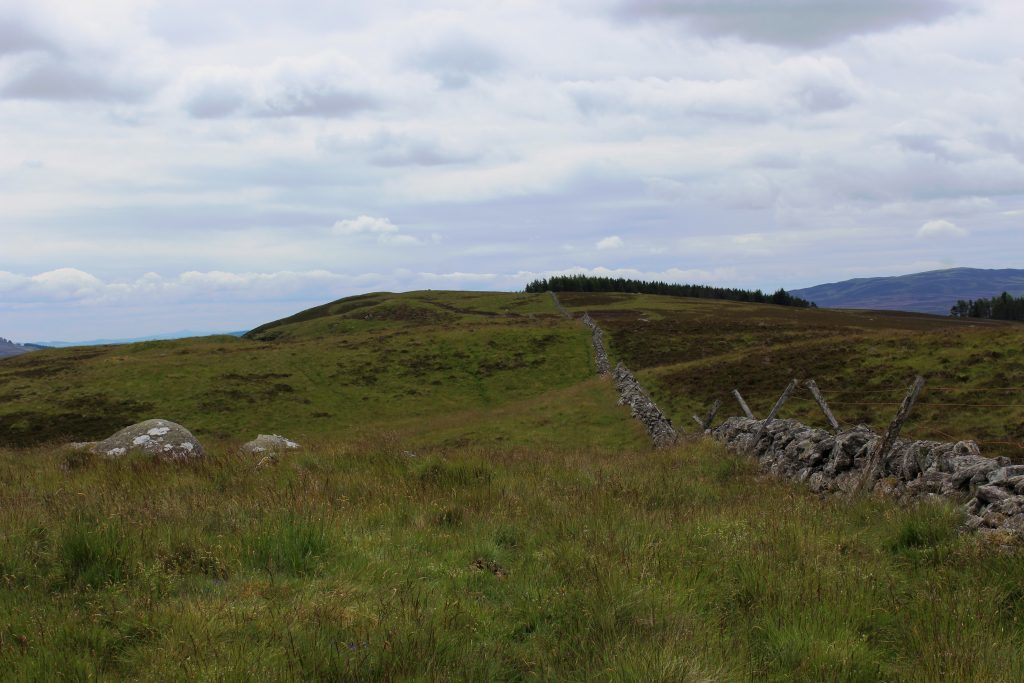 A makeshift metal gate in the wall to the rear offers access and, negotiating armies of stinging nettles, I ventured in. On the ground floor there are two well preserved barrel-vaulted chambers while, with care, I mounted remnants of the main staircase to the now rather airy first floor hall.
Greater feasts than my humble sandwiches were doubtless consumed here in the past, but ham was the best I could muster and it was sustenance enough for my onward march to Ashintully.
These castle grounds are private, a signed right of way skirting the policies en route to Kirkmichael. The path is initially easy to navigate, marker posts and ladder stiles guiding walkers over the valley of the Allt Menach and up to a copse of Scots pine and larch bordering a fenced plantation.
Here the right of way becomes less distinct but, aiming directly for Kirkmichael, I descended the rough grassy slope to a gate and stile, crossed farmland beyond and, at a little metal gate, picked up a short and rather overgrown path down into the village where I joined the Cateran Trail for the return to Enochdhu.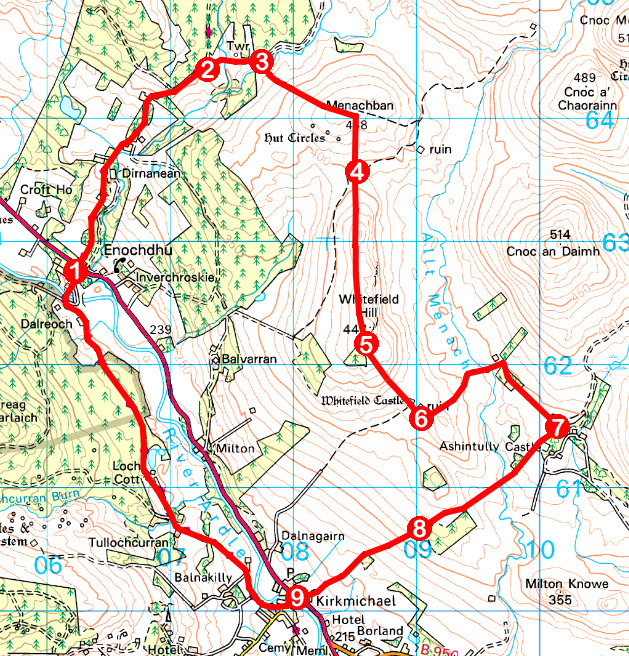 ROUTE
1. Cross A924 and ascend Cateran Trail.
2. Where Cateran Trail branches left into plantation, continue ahead on track, dipping to cross stream.
3. Pass through metal gate and bear right crossing stream by bridge. Ascend Menachban then descend south to metal gate.
4. Cross track and ascend Whitefield Hill on path parallel to wall.
5. Bear right through gap in wall then go left by wall and descend by woodland on right to gate on left. Go through and descend track to Whitefield Castle.
6. Pass below castle to pair of gates. Go through left gate, continue up through another gate and cross field to join track to Ashintully.
7. Cross ladder stile and follow right of way, signed Kirkmichael.
8. Descend south-west to gate/stile and continue to gate on right. Go through and bear left down field edge then path.
9. Cross bridge, bear right past school and go right on Cateran Trail (signed Spittal of Glenshee).
INFORMATION
Distance: 14km/8¾ miles
Ascent: 390m/1290ft
Time: 4-5 hours
Grading: Moderately challenging route over varied terrain, some of it pathless, suitable for fit, experienced walkers. Keep dogs under close control to protect livestock and ground nesting birds
Start/finish: Parking area adjacent to recycling bins in Enochdhu, 14km north of Bridge of Cally on A924 (Grid ref: NO 062628)
Map: Ordnance Survey 1:50,000 Landranger sheet 43; Ordnance Survey 1:25,000 Explorer sheet OL52
Tourist Information: Blairgowrie Information Centre, 26 Wellmeadow, Blairgowrie PH10 6AS (Tel 01250 872960)
Public transport: Limited Stagecoach bus service (71) from Blairgowrie to Enochdhu