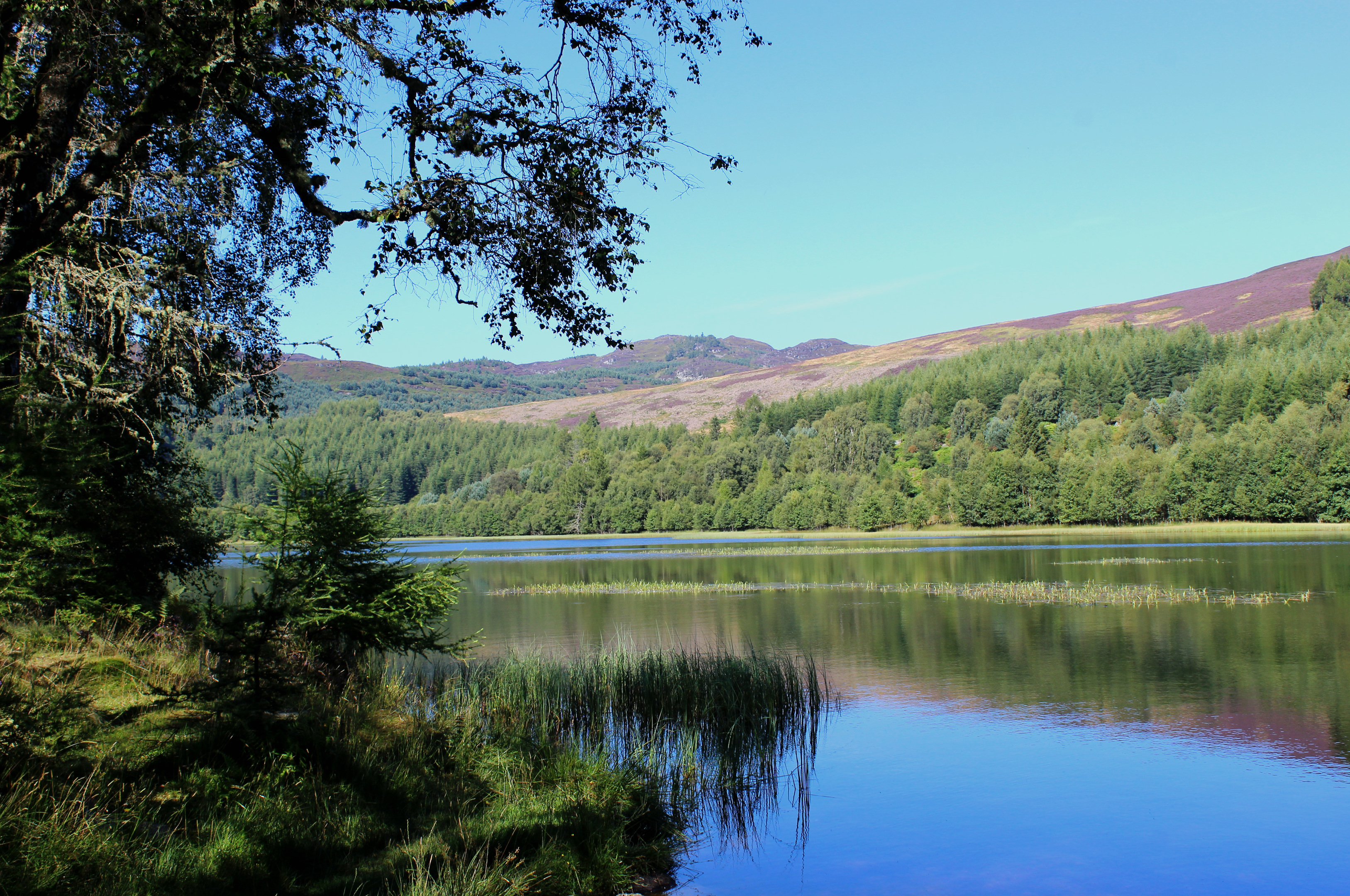 A mini heatwave on the horizon, I could not think of a better place to stretch my legs – and possibly indulge in a spot of wild swimming – than in the countryside north of Dunkeld, a landscape of low hills, heather moor and woodland speckled with lovely little lochans.
Arriving at Cally car park, to the north of the historic town, the sky was cloudy but I had every confidence in the forecast as I pulled on my rucksack and tramped north, the track rising through pine, larch, silver birch and rhododendron, passing above reedy Cally Loch, down to my right.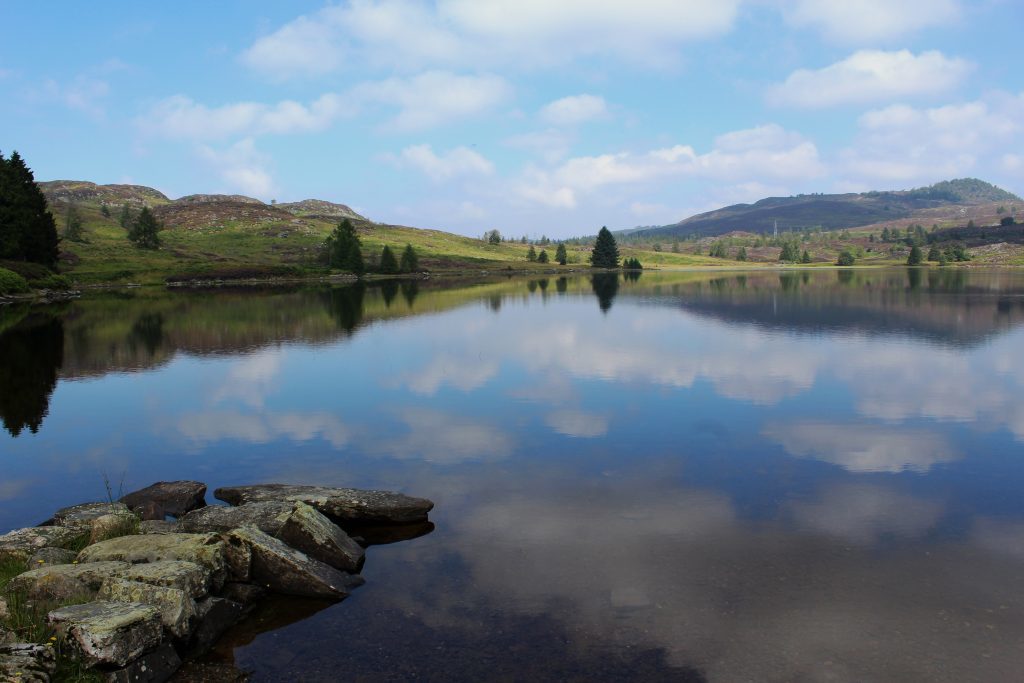 Following signs for The Glack and occasional yellow marker arrows, I progressed past rural retreats at Upper Hatton and Birkenburn before finally reaching The Glack where, beyond a high metal gate, the way curves up to Mill Dam.
Across flat calm water I could see the high point of my day – the summit of Deuchary Hill – rising above the trees.
Occasional patches of blue sky kept my hopes of a heatwave alive as I wandered along the western side of the water, gnawed alder and birch tree stumps evidence of beaver activity.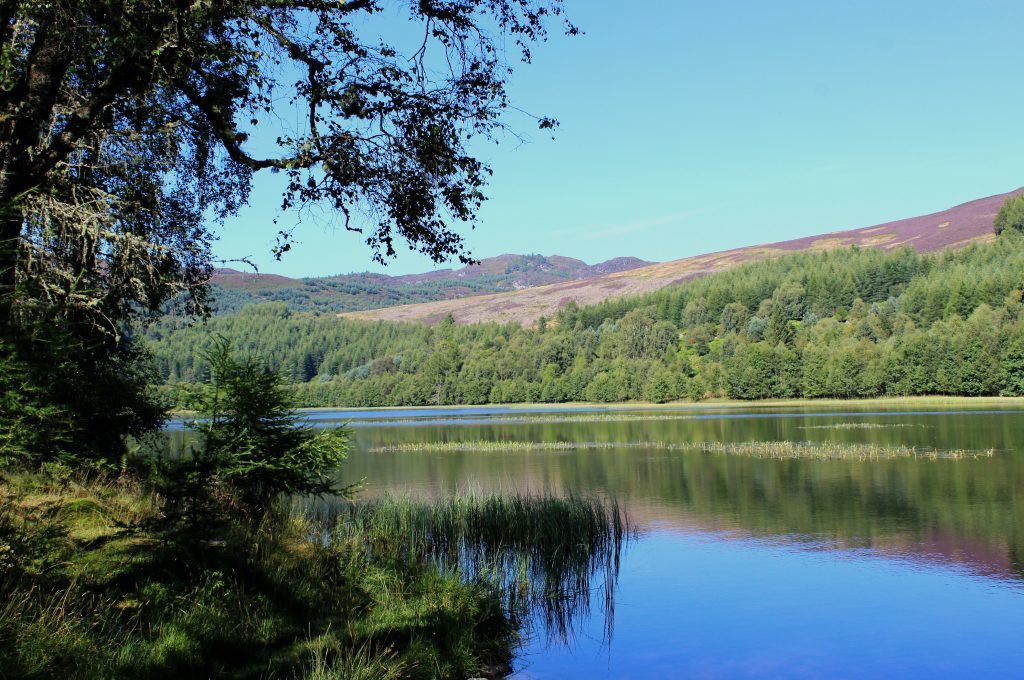 The aquatic rodents have been resident on Mill Dam since the autumn of 2013. It is believed they travelled up Lunan Burn from Loch of the Lowes where there is an established group.
The track led on past two equally inviting stretches of water which the beavers have yet to colonise, Rotmell Loch and Dowally Loch, before skirting past a farm steading at Raor Lodge.
Swinging right, the way follows the Dowally Burn up, over grazing land and heather moor to the source of the stream, Loch Ordie where, with impeccable timing, the sun finally broke cover.
Loch Ordie is one of my favourite spots in Highland Perthshire, a perfect pool, its shoreline dotted with trees and flanked by craggy wee hills. An old fishing lodge overlooks the water, the ideal place for a picnic.
Sandwiches consumed in the sun, I picked up a track at the right-hand end of the lodge, the grassy trail rising through a gate before contouring heathery slopes of silver birch, pine and rowan.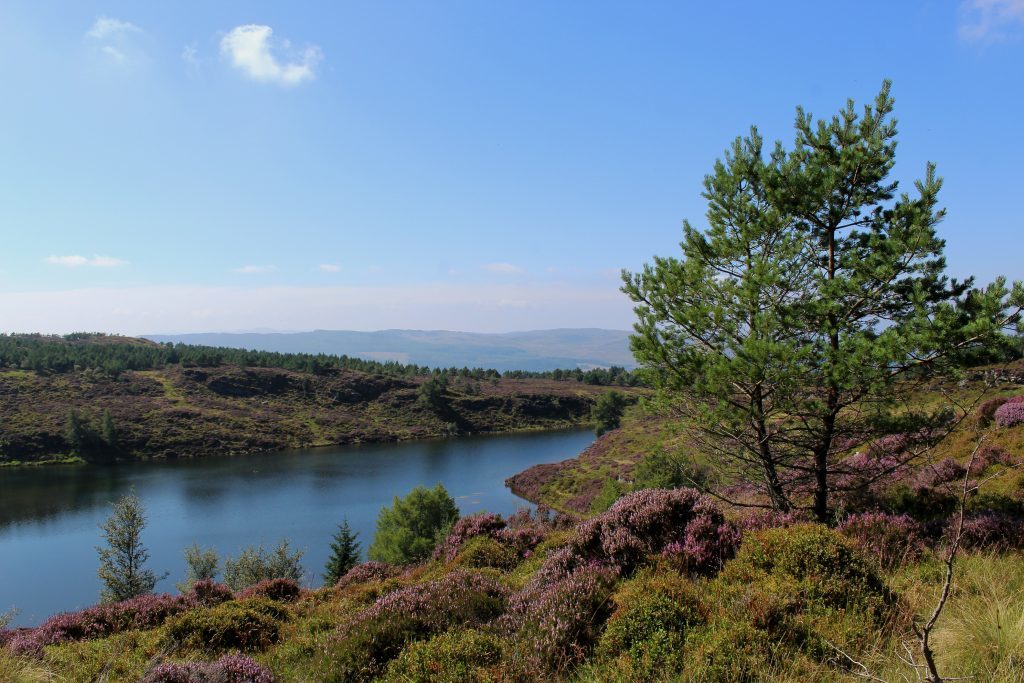 After crossing two old stone bridges, I branched left, a track weaving up through the trees to Lochan na Beinne, views opening out across Loch Ordie and, further afield, Glen Garry as I gained altitude.
Hot and sticky from the ascent, I could not resist the cool, calm water, a refreshing dip in this secluded upland pool the perfect pick-me-up ahead of the final pull to the top.
Where the track ends, a slim path takes over, mounting the north side of Deuchary Hill to the trig point where, close by, I spotted a small herd of deer lazily basking in the now beating sun.
Weaving between rocky protrusions on the summit, the path continues down the southern flank of the peak, dipping by young pine trees into a deep cleft where it curves right, passing through scattered patches of woodland, before dropping more steeply to meet a track at the foot of the slope.
This, in turn, leads on to a hillside highway that descends to the embankment at the southern end of Mill Dam where I sat awhile by the water savouring the afternoon's balmy rays ahead of the return home.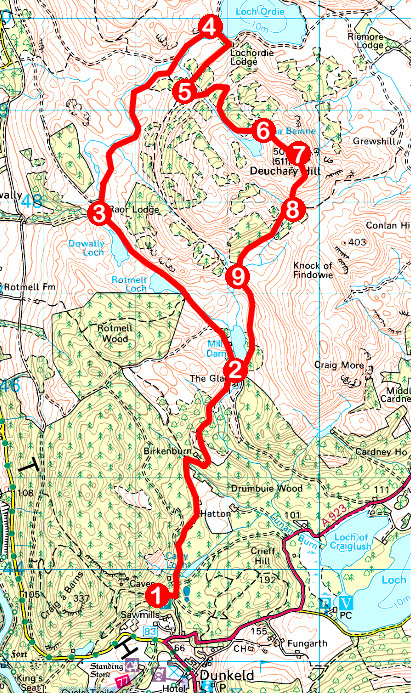 ROUTE
1. Leave car park by access track (signed Atholl Woods Path to Mill Dam). Go left at next junction (signed for Mill Dam and Loch Ordie), and follow track north to The Glack, passing Upper Hatton and Birkenburn.
2. Go through metal gate, ascend track to Mill Dam and follow track north-west (signed Main Path to Loch Ordie) to Raor Lodge.
3. Pass through gate and, at junction by steading, turn right (signed for Loch Ordie) and follow track north-east to Loch Ordie.
4. Turn right, crossing stone bridge, to Lochordie Lodge. Turn right at lodge, ascending track (signed for Mill Dam) south-west through gate and then woodland.
5. Turn left and ascend grassy track to Lochan na Beinne.
6. Ascend track then path to summit of Deuchary Hill.
7. Descend path south to meet track.
8. Turn right and follow track south-west.
9. Turn left on track to Mill Dam then retrace steps to car park.
INFORMATION
Distance: 16.5km/10¼ miles
Ascent: 540m/1782ft
Time: 4-5 hours
Grading: Moderate route following good tracks and paths with some steep ascent and descent. Keep dogs under close control between Raor Lodge and Loch Ordie
Start/finish: Cally Car Park, Dunkeld (Grid ref: NO 023437). To access car park, go north through Dunkeld, turn right on A923, signed for Blairgowrie, then take second track on left
Map: Ordnance Survey 1:50,000 Landranger sheet 52 or 53; Ordnance Survey 1:25,000 Explorer sheet 379
Tourist Information: Dunkeld Information Centre, The Cross, Dunkeld PH8 0AN (Tel 01350 727688)
Public transport: Stagecoach bus services 23, 24 and 27 link Perth and Dunkeld