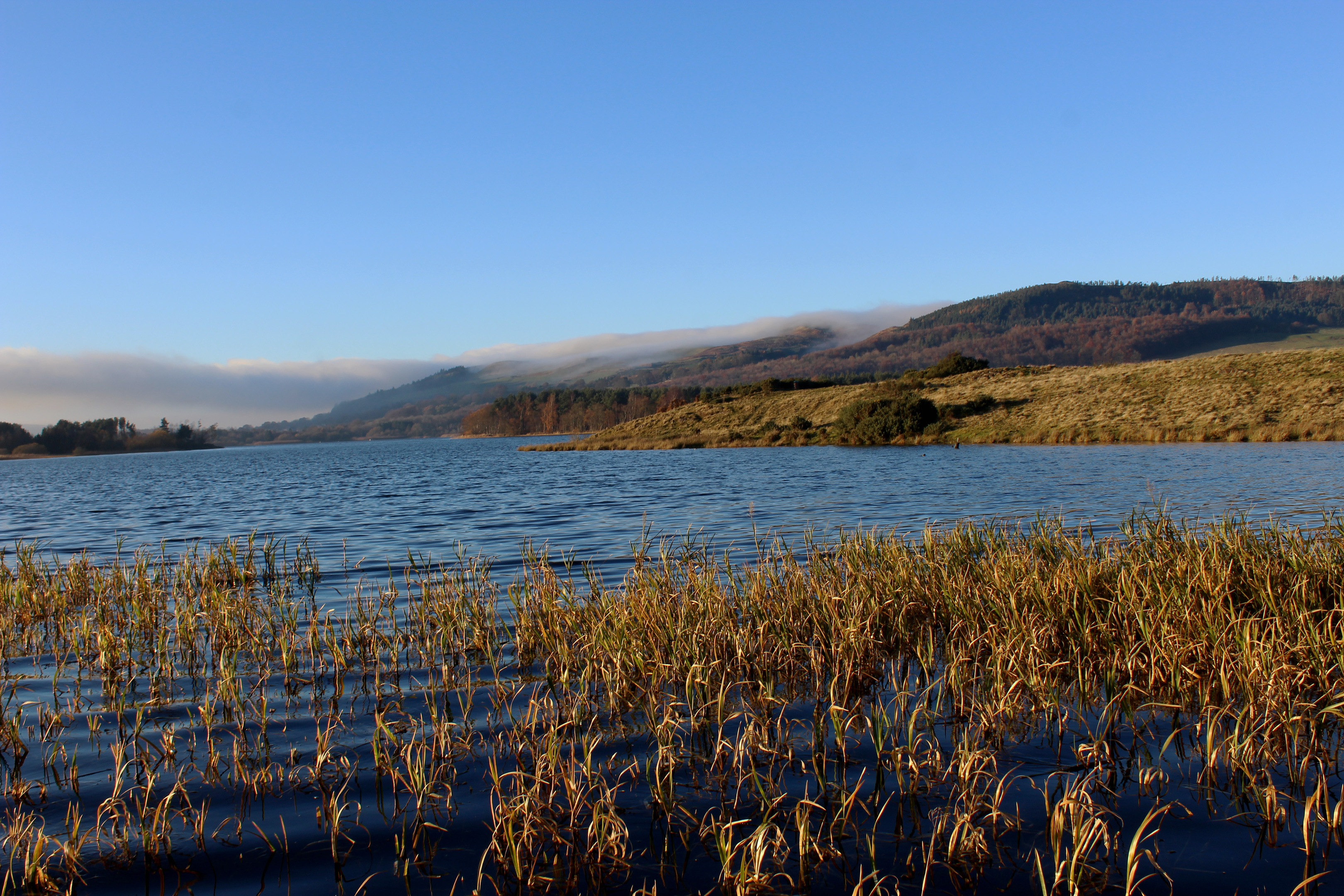 Fifty years ago, the landscape of Loch Ore in Fife was dramatically different to the scene that greets visitors today. There were seven coal mines in the area, including Mary Colliery. Opened in 1904 it was, for a time, the deepest pit in Scotland.
Heavy industry dominated this corner of the kingdom until 1966, when Mary Colliery, the last of the area's mines to close, was finally abandoned.
A year later, reclamation work began on a grand scale, an army of bulldozers and earth moving machinery deployed to level the bings.
What was a scarred, grimy landscape, dotted with shafts, spoil heaps and derelict buildings was, over time, transformed into an oasis of green space, at the heart of which lies Loch Ore.
The memory of the mines has not been completely erased. As I set off from the visitor centre car park on my way to Harran Hill, I wandered by the preserved winding gear head frame of the colliery's Number 2 shaft.
Below it there is an information board detailing the area's mining heritage and, parked on a plinth, a former National Coal Board steam locomotive dating from the 1940s enjoys a peaceful retirement.
Beyond the towering concrete monument, I briefly joined a surfaced track before hopping across a stile, a steady climb over rough pasture leading by the overgrown ruins of an abandoned walled garden to a higher-level track, an old road known as the Ladath Stripe.
Rising gently through an avenue of tall trees and skirting by patches of more recently planted woodland, the way led me west, offering views south across Loch Ore, to an information board and a gate where I entered Harran Hill Wood.
An off-shoot of higher Benarty Hill, to the north, Harran Hill is cloaked in trees. Mature beeches dominate and they are at their most impressive where the path loops below craggy outcrops to the south of the summit.
The wood is home to wildlife including roe deer, red squirrels and foxes and I made a mental note to return in the Spring when a profusion of blue bells carpets the forest floor.
For now, the colour pallet was autumnal brown and bronze and, kicking a path through a thick layer of fallen leaves, I descended, steeply at first, through the tapering plantation, Loch Ore beckoning below.
Joining the lochside track, the water is lost from view behind a thick curtain of trees and foliage. It is but a brief intermission for a surfaced path cutting south through woodland and wetland soon remedies this loss.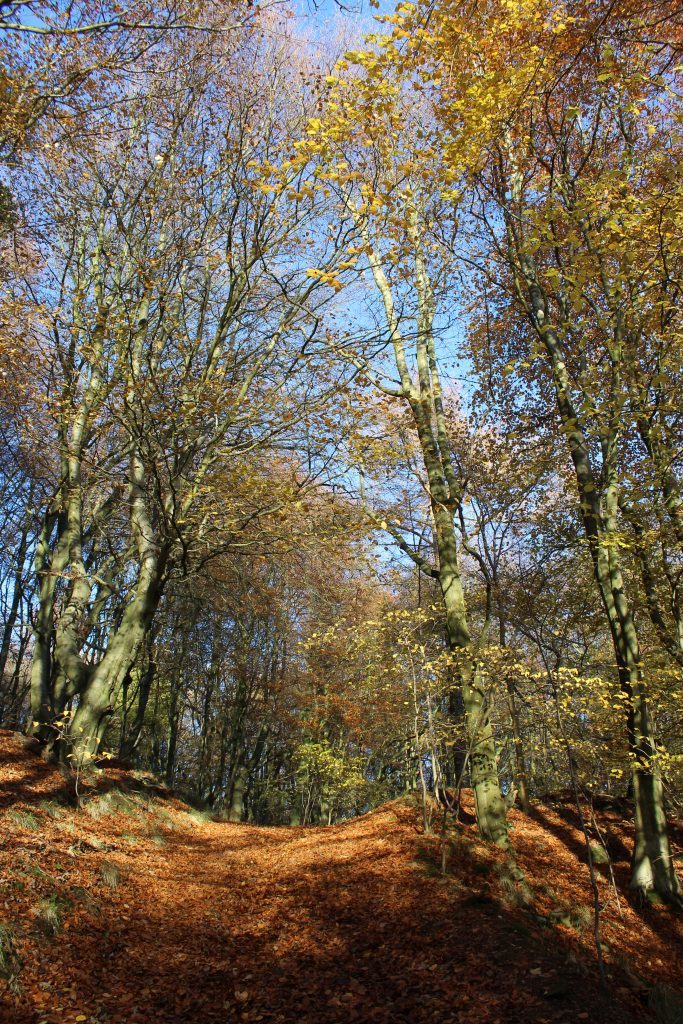 Crossing the River Ore by a footbridge, the loch reappeared in all its glory, the trail sticking close to the southern shoreline. Here, venturing down to the edge of the water, ducks, swans and migrating geese were all spotted sheltering in the rushes and reeds.
Hiking east, a well-walked path rises above grassy slopes, passing through patches of woodland and gorse-studded heath before descending towards the other end of the loch where promontories offer quiet spots to sit and gaze across the loch.
Over the water, Benarty Hill dominated my view, a light wisp of cloud gently brushing the shoulders of a peak known locally as the sleeping giant. Were he to stir from his slumber, he would certainly notice the changes that have taken place here over the last 50 years.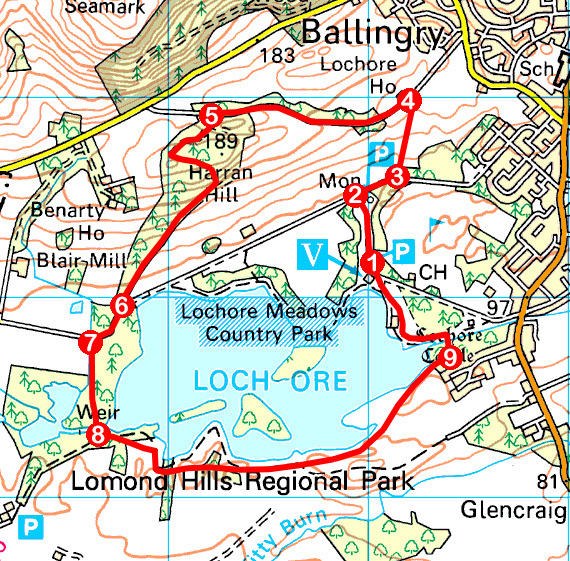 ROUTE
Follow surfaced path north, past former colliery winding tower and steam loco, to junction beyond gate.
Turn right and walk 200m east along surfaced track.
Cross stile on left and ascend field, bearing right of ruined walled garden, to gate.
Go through gate, turn left and follow Ladath Stripe track west.
Turn left through gate by information board into Harran Hill Wood. Ascend path to junction with waymarker post. Turn left and follow path below crags then down through woodland.
Exit woodland at gate, turn right and walk 250m along surfaced track.
Turn left through gate and follow surfaced path south.
Cross bridge and turn left. Where path forks, go right and follow path east.
Enter woodland at gate, turn left over bridge spanning River Ore then go left again on path leading back to park centre.
INFORMATION
Distance: 7km/4¼ miles
Ascent: 125m/410ft
Time: 2 hours
Grading: Easy route over low hill and around loch, following good paths and tracks. Keep dogs under close control to protect wildlife and livestock
Start/finish: Lochore Meadows Country Park Centre, Crosshill, two miles north of Lochgelly on B920 (Grid ref: NT 170961)
Map: Ordnance Survey 1:50,000 Landranger sheet 58; Ordnance Survey 1:25,000 Explorer sheet 367
Tourist Information: Dunfermline iCentre, 1 High Street, Dunfermline KY12 7DL (Tel 01383 720999)
Public transport: Stagecoach bus service 34 runs from Kirkcaldy to Lochore while service 20A (Mon-Sat) links Lochgelly and Lochore