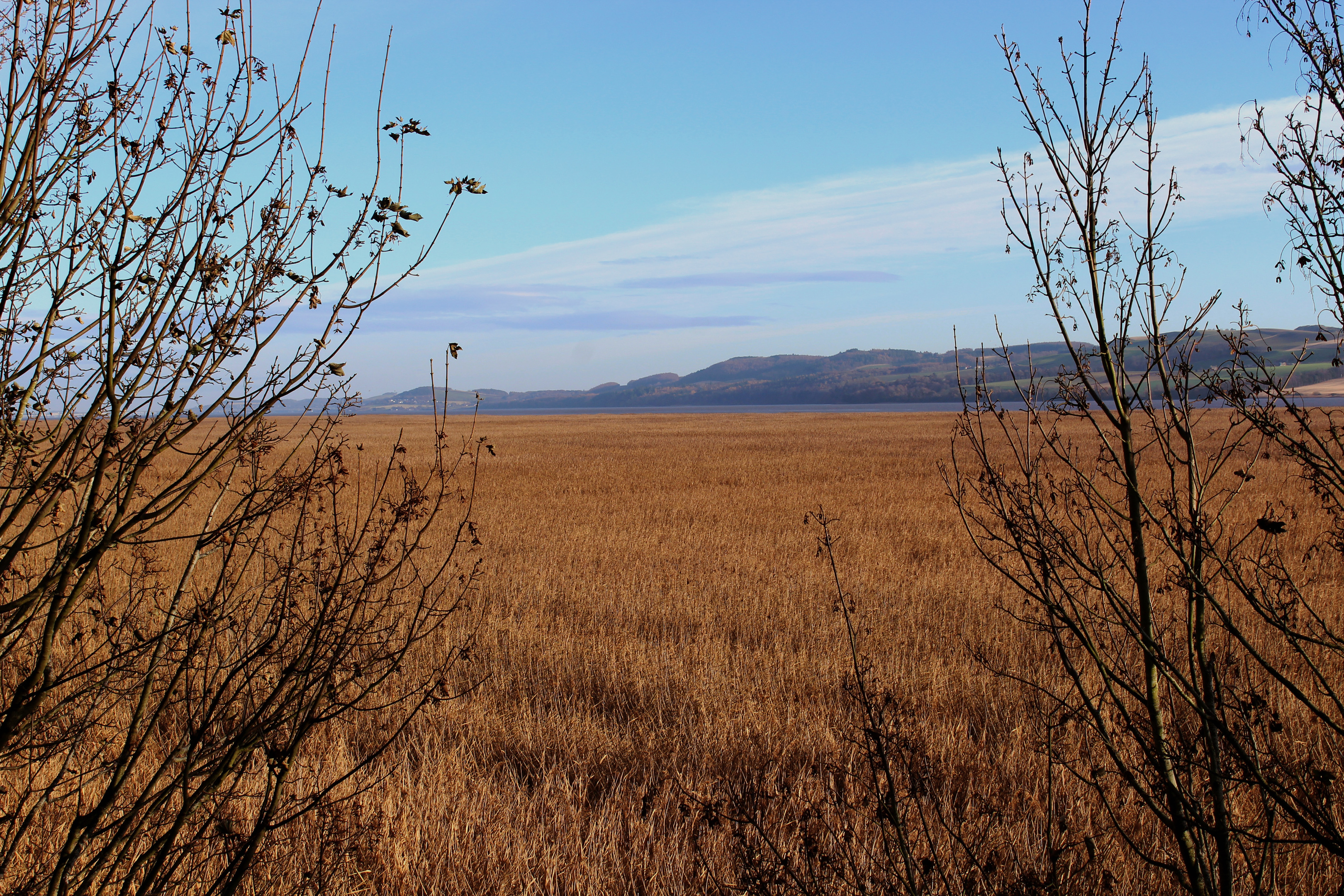 A walk along the north bank of the Tay Estuary at Errol offers a riverside stroll with a difference, for the river itself remains rather distant thanks to the shoreline's vast tidal reed beds.
Once commercially harvested for thatched roofing, the beds, some of the most extensive in Britain, are an important breeding and feeding ground for an array of birds and other wildlife and while, at first glance, they appear impenetrable it is possible to find ways to the water.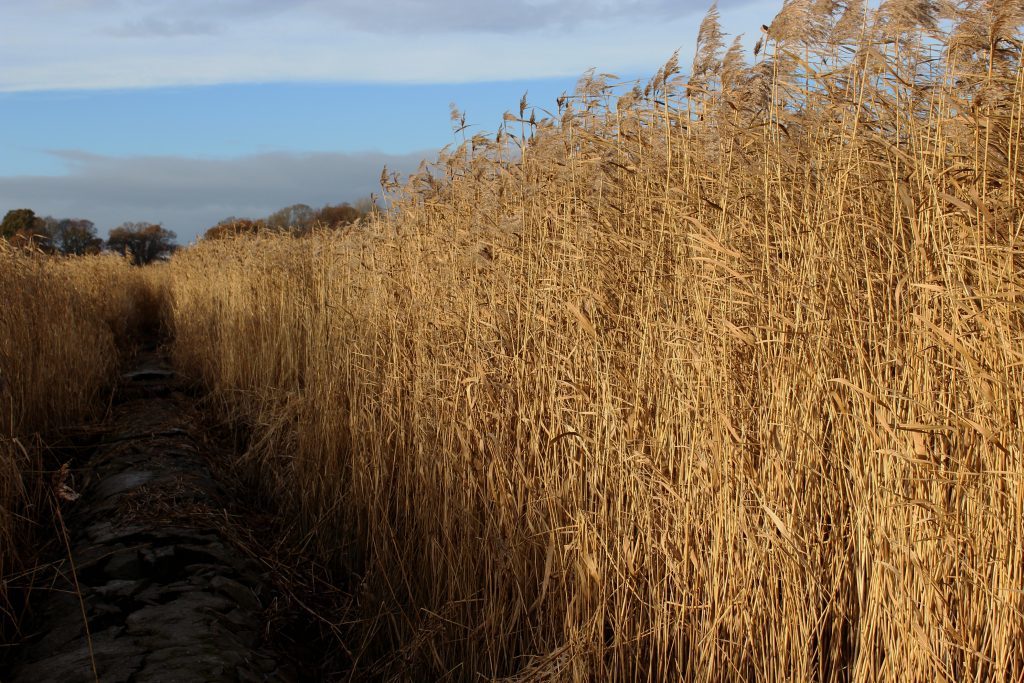 From the old mercat cross in the centre of Errol, I headed east along High Street, the slender thoroughfare weaving between cottages, houses and shops, passing 19th Century Errol Parish Church, to my left, and then the village primary school.
A little further on, beyond the school, a path on the right led me out of the village, down between fields to New Farm with its prominent grain silo and, from there, a track crossed the flat lands of the Carse of Gowrie to rendezvous with the river, or rather the river's reed beds.
Sprouting from the mudflats, the rustling reeds cover a 10-mile long stretch of the north bank of the estuary and here, below Errol, they are particularly extensive.
Turning upriver, a good path runs through a band of mature woodland and, as I walked beneath oak, sycamore, birch and beech, I spotted a red squirrel in the trees and a buzzard hunting over the reeds. In addition to raptors, the beds attract various species of wading birds, ducks, swans and oystercatchers while pink-footed and greylag geese are regular visitors.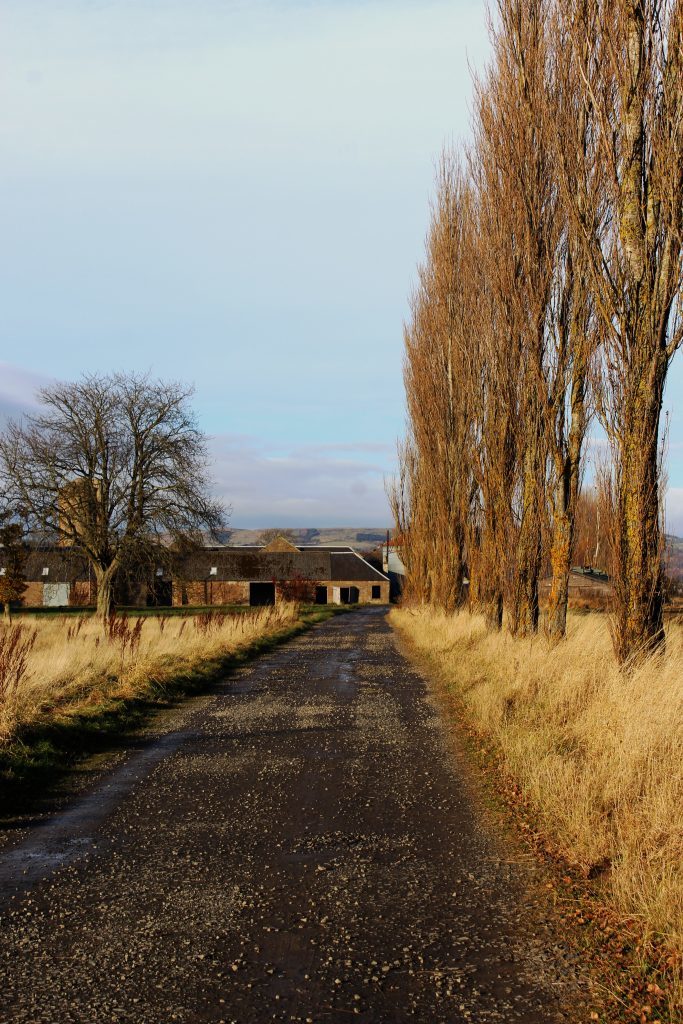 The path leads to Tay Lodge where, after skirting to the right of the property, it returns to the trees and continues south-west. However, pausing briefly here, I could not resist the opportunity to venture into the reed beds.
Descending by the cottage towards the river, a slender path maintained by wildfowlers leads out into the reeds. With tall, willowy stems rising either side of me, I felt as if I was being drawn into a maze.
The path, however, ran straight and relatively true, following the line of a breakwater pipe that appeared beneath my boots at intervals. It offered some solidity on an otherwise rather muddy adventure that ended, along with the pipe, just short of the water.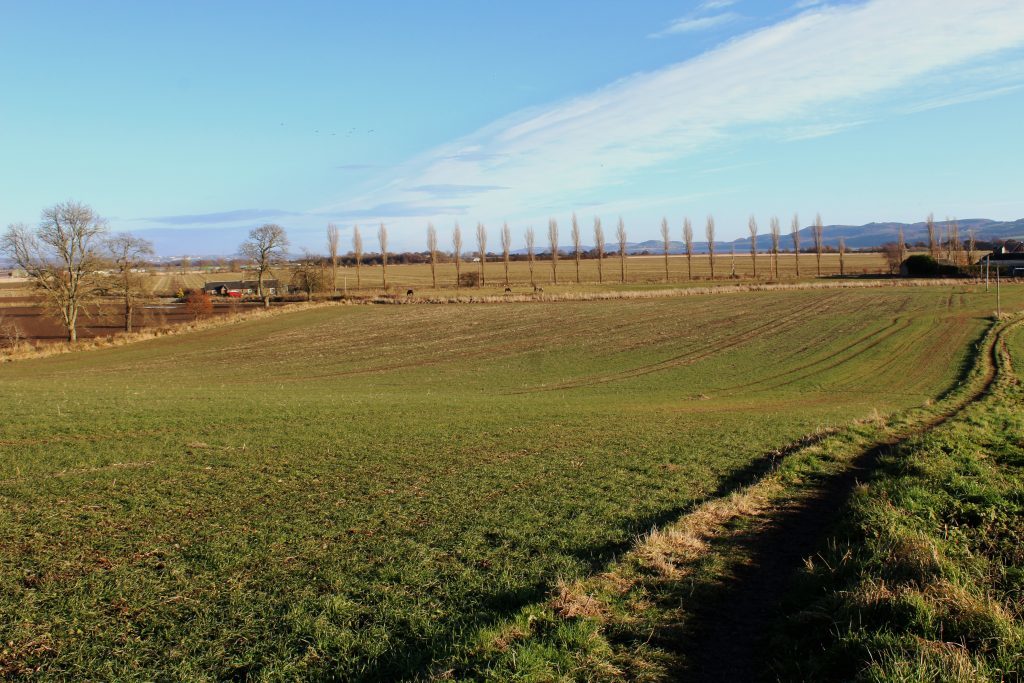 Reed beds explored, I headed back inland to Tay Lodge, where the reeds were harvested on a commercial basis during the winter months, a centuries-old tradition that ended on the Tay in 2005.
Back on the woodland trail, I found myself drawn closer to the river, reed replaced by wetlands and a lagoon where I spotted swans on the water.
Beyond Daleally Farm, the path meets up with and runs alongside the Pow of Errol, a stream that flows through the trees to Port Allen and its picturesque wee harbour.
There has been a quay here since the early 1600s when a ferry offered passage across the Tay to Pow of Lindores, near Newburgh, a crossing that was still in operation in the later years of the 18th century.
The path emerges at an old masonry bridge spanning the mouth of the burn and from here a track climbs through the tiny hamlet of Port Allen, minor roads and farm tracks beyond returning me to Errol.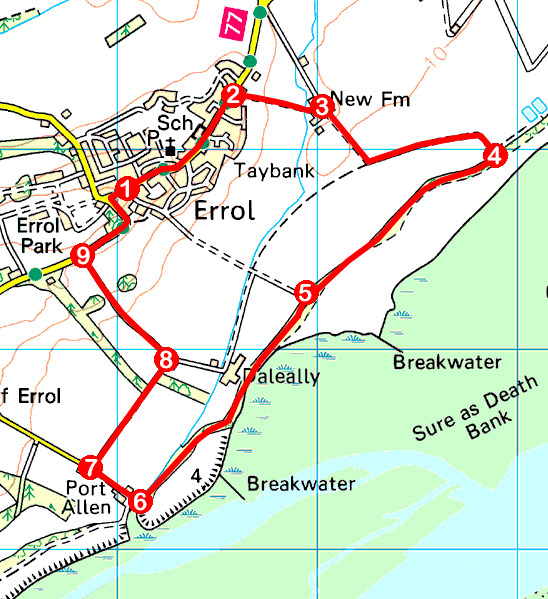 ROUTE
1. Walk east along High Street and then Station Road, passing Errol Primary School.
2. Branch right on path (signed Errol South Circular Paths), descending through metal gate and between fields to New Farm. Bear left by sheds to track junction.
3. Turn right and walk 300m south to junction. Turn left (signed Tay Bank Path) and follow track as it curves right towards river.
4. Turn right and follow path (signed Errol) south-west through woodland.
5. Bear right of Tay Lodge to junction. Branch left, continuing south-west on woodland path to Port Allen.
6. Turn right, crossing stone bridge, and follow track up between houses. Continue north-west on minor road (signed Errol).
7. At next cottage, turn right and follow field-edge track north-east.
8. Turn left and ascend surfaced track to road.
9. Turn right and follow pavement into Errol, turning right on High Street to return to The Cross.
INFORMATION
Distance: 7.2km/4½ miles
Ascent: 60m/200ft
Time: 2 hours
Grading: Easy low level walk following good tracks and paths through farmland and woodland. Stout, waterproof footwear recommended as some sections can be muddy underfoot. Keep dogs under close control to protect wildlife and livestock
Start/finish: The Cross, in the centre of Errol (Grid ref: NO 250228). On-street parking available
Map: Ordnance Survey 1:50,000 Landranger sheet 53 or 59; Ordnance Survey 1:25,000 Explorer sheet 380
Tourist Information: Perth iCentre, 45 High Street, Perth PH1 5TJ (Tel 01738 450600)
Public transport: Stagecoach bus service 16, linking Dundee and Perth, stops in Errol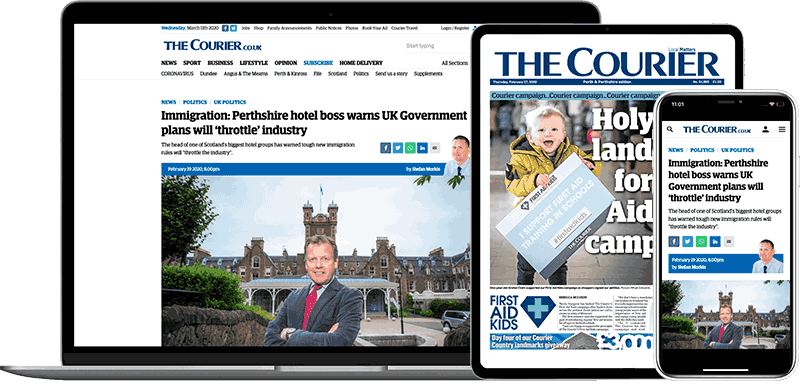 Help support quality local journalism … become a digital subscriber to The Courier
For as little as £5.99 a month you can access all of our content, including Premium articles.
Subscribe