Straddling the border between Angus and Perthshire, Mount Blair is one of my favourite wee hills. Well-defined slopes of grass and heather sweep up to the summit of what, for me, is a perfect mountain in miniature.
While the ascent is arduous enough to test both legs and lungs, it is not overly long, making this an exhilarating and rewarding hill walk for those shorter winter days. And, if the winter day in question is crisp and clear, panoramic views from the top will take away whatever breath you have left.
Approaching from the north, my route would take a challenging direct line to the 744m (2440ft) summit followed by a more leisurely descent over the southern shoulder, returning by quiet country lanes in Glen Shee.
Beginning on the county boundary, the short trek along the single-track road linking Glen Shee with Glen Isla was just long enough to loosen up leg muscles ahead of the climb proper beginning.
The warm up is worth it for the track rises steeply from a roadside gate, height gained quickly with little respite, other than occasional stops to savour views over the two glens and, between them, Mealna Letter which, like Mount Blair, sits squarely on the boundary line.
With patches of ice underfoot, I stepped carefully, ascending into a band of cloud and, with it, intermittent flurries of snow, all grist to the mill on a winter outing.
The track leaves rough pasture where sheep graze at a gate part way up the slope and continues over a wilder hillside of heather, the gradient eventually easing as the watchtower-style telecommunications mast that sits atop Mount Blair looms into view.
Below this lofty structure sits a trig point, a generously proportioned cairn and a circular stone windbreak, a handy place to hunker down from the elements on this most exposed of spots.
Around the top of the shelter, an inscribed metal viewpoint indicator highlights points of interest and, with such extensive panoramas on offer, it is a useful guide to distant landmarks. Closer to home, Mount Blair affords bird's eye views over both Glen Isla and Glen Shee.
Despite the cloud lifting to let some sunlight break through, a chilly breeze dissuaded me from lingering too long and, passing to the left of the mast, I picked up a slim path descending through the heather.
Running parallel with a wall marking the county boundary, the way weaves through outcrops of rock peppering steeper slopes below the summit before roaming down the southern shoulder.
Clambering across a couple of simple stiles straddling fences running at right angles to the wall, I made my way down into the narrow col below Over Craig, a short climb on a rather indistinct trail placing me atop this craggy little outlier.
Crossing from Angus into Perthshire at a meeting point of walls, a short hike through heather led me to a track that offered passage from the corrie below Mount Blair down through grazing land to Borland, a farm that specialises in native breeds including Highland and Belted Galloway cattle and Hebridean sheep, and the road beyond.
In the hamlet of Blacklunans, I turned north for home, tramping along a quiet country lane, past Mount Blair Lodge and an abandoned little kirk in Cray, Mount Blair, to the east, never far from my side.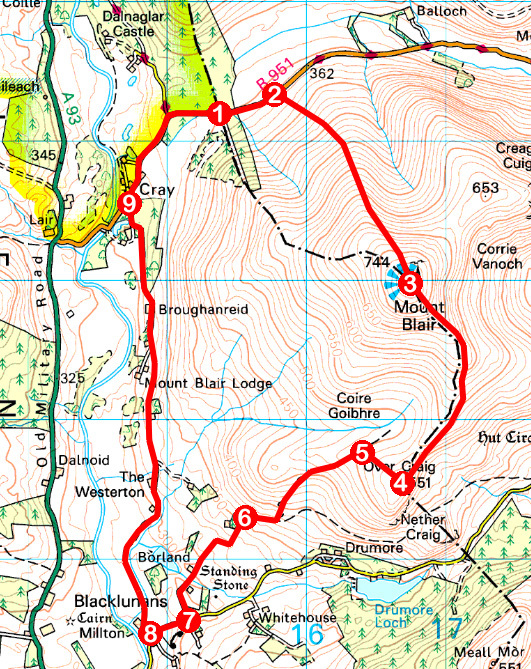 ROUTE
1. Walk 500m east along B951.
2. Turn right through metal gate and ascend track to summit.
3. Pass to left of mast compound and descend path running parallel to wall, crossing two fences by stiles, and continue down to col below Over Craig.
4. Cross to the right over wall at meeting point of three walls and descend north-west to meet track.
5. Turn left and descend track.
6. Go left through wooden gate and descend track, passing Borland, to meet minor road by old farm sheds.
7. Turn right and walk 300m west along minor road to junction by telephone exchange in Blacklunans.
8. Turn right and follow minor road north to Cray.
9. Turn right at road junction by Cray Kirk and follow B951 back to start.
INFORMATION
Distance: 11km/7 miles
Ascent: 520m/1716ft
Time: 4 hours
Grading: Challenging hill walk following tracks, paths and minor roads, with strenuous ascent to an exposed summit. Go equipped for all conditions and keep dogs under close control to protect livestock and wildlife
Start/finish: Layby on Angus/Perthshire boundary, 1km east of Cray on B951 (Grid ref: NO 153642)
Map: Ordnance Survey 1:50,000 Landranger sheet 43; Ordnance Survey 1:25,000 Explorer sheet 387
Tourist Information: Blairgowrie iCentre, 26 Wellmeadow, Blairgowrie PH10 6AS (Tel 01250 872960)
Public transport: Stagecoach bus service 71 from Blairgowrie stops in Lair, 2km from the start point