While Scotland's beloved bard Robert Burns traditionally enjoys the last word at Hogmanay with renditions of Auld Lang Syne celebrating friendship and the good old days, many of his other works were inspired by his travels.
In 1787, Burns set off on what he described as a 'slight pilgrimage to the classic scenes of this country', a journey that included time spent in Highland Perthshire.
Along the way, he stopped off at what have become popular beauty spots, among them the Birks of Aberfeldy, the Falls of Bruar and Kenmore, at the eastern end of Loch Tay.
Lodging at the local inn, he composed verses extolling the natural wonders of the area, lines scribbled in pencil on the chimney breast within what is now Kenmore Hotel's Poet's Bar.
He also visited Taymouth Castle, then home to John Campbell, Earl of Breadalbane, and, following in his footsteps, I set off through the pretty little village, past the hotel, to join a riverside path at the southern end of Kenmore Bridge that would take me to the castle.
It is said that Burns spent time sitting on this handsome three-span crossing, drawing inspiration from the view up Loch Tay, as spectacular an outlook today as it doubtless was back then.
Passing below the cottages of Kenmore, the path accompanies the River Tay on its journey east, leading through a ribbon of mature woodland peppered with rhododendron.
Downstream, I briefly joined the estate road before branching off on to an older track flanked by stone ramparts, the way never straying too far from the water while at the same time offering tempting glimpses of Breadalbane's former country seat.
Dating from the 1730s and built on the site of a 16th century tower house occupying a bend in the river, the castle was significantly altered and enlarged over the years.
Sold by the Campbells in 1922, it was later a hotel, wartime hospital and then boarding school. Now, flanked by an 18-hole golf course and undergoing extensive renovations, it hosts special events.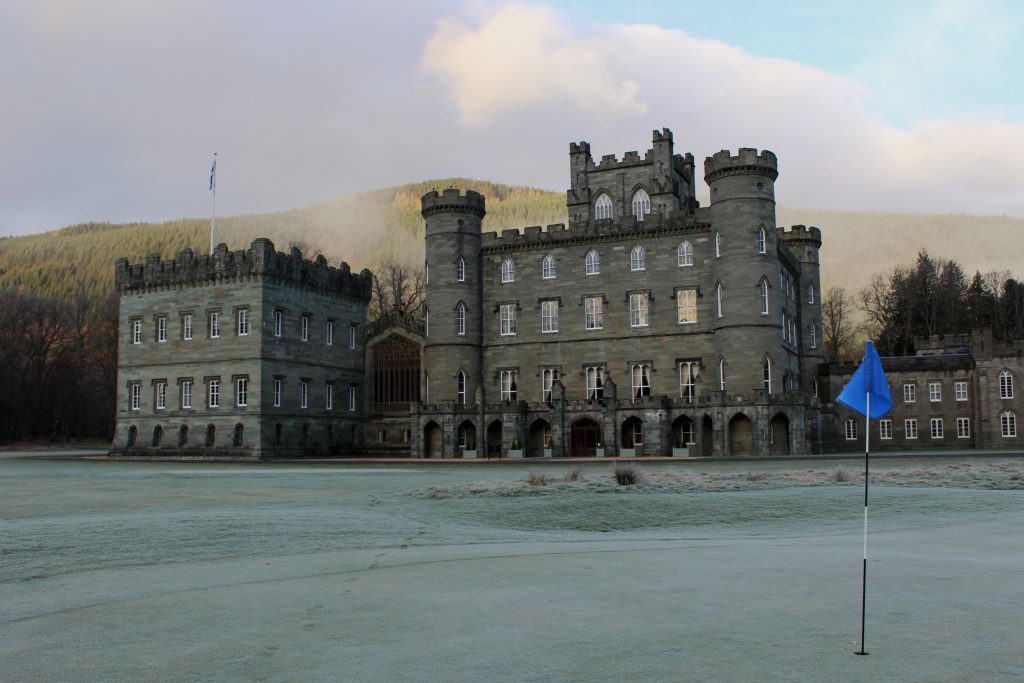 Following the curve of the river round behind the property, I was soon reunited with the estate road, where, across the greens, an impressive vista of the grand façade greeted me.
Crossing the driveway, I turned south-west, a track skirting the edge of the golf course and leading on through woodland towards the estate's former sawmill.
The policies of Taymouth are dotted with architectural curiosities and follies, many sadly neglected. Below the old sawmill, a blue wooden hut is all that remains of a curling pond while a dairy byre in woodland to the north lies derelict.
Above it, on a mound of rhododendron, Apollo's Temple is a small circular structure said to have once housed a statue. The Gods, however, clearly have little time for the shrine now for it has fallen victim to a windblown tree.
To avoid crossing the golf course ahead, I headed up past the sawmill, the track leading on to a grassy path running above the fairways where I enjoyed views across the valley to heavily forested Drummond Hill and, in due course, west down Loch Tay.
Stepping back into Kenmore below the castle's arched stone gateway, I sought refreshment at the hotel bar, raising a glass to Burns and his travels. As a man who enjoyed his whisky, he would certainly have approved.
ROUTE
1. Follow Aberfeldy Road (A827) through Kenmore towards bridge spanning River Tay.
2. Ahead of bridge, go right between stone gateposts then turn left immediately on arrowed path leading east along bank of River Tay.
3. Ascend path to join estate road and go left.
4. Fork left and descend track by castellated wall. Go left at next junction on riverside track to junction by bridge.
5. Continue straight ahead on track and riverside path to flat area of grass by bend in river. Go right to meet estate road.
6. Turn left towards bridge. Don't cross but go right on track running along edge of golf course then through woodland.
7. Where track forks by blue hut, go left. Ascend track then path, curving right, the way, marked by white posts, leading west.
8. Where path meets gravel track, turn right.
9. Turn left and follow estate road into Kenmore.
INFORMATION
Distance: 5.6km/3½ miles
Ascent: 70m/230ft
Time: 2 hours
Grading: Easy low level walk following good tracks and paths through estate. Keep dogs on lead at request of estate
Start/finish: Public car park (Pay and Display) on Pier Road, Kenmore (Grid ref: NN 773453)
Map: Ordnance Survey 1:50,000 Landranger sheet 52; Ordnance Survey 1:25,000 Explorer sheet 379
Tourist Information: Aberfeldy iCentre, The Square, Aberfeldy PH15 2DD (Tel 01887 820276)
Public transport: Limited bus service (Monday to Friday only) between Aberfeldy and Kenmore