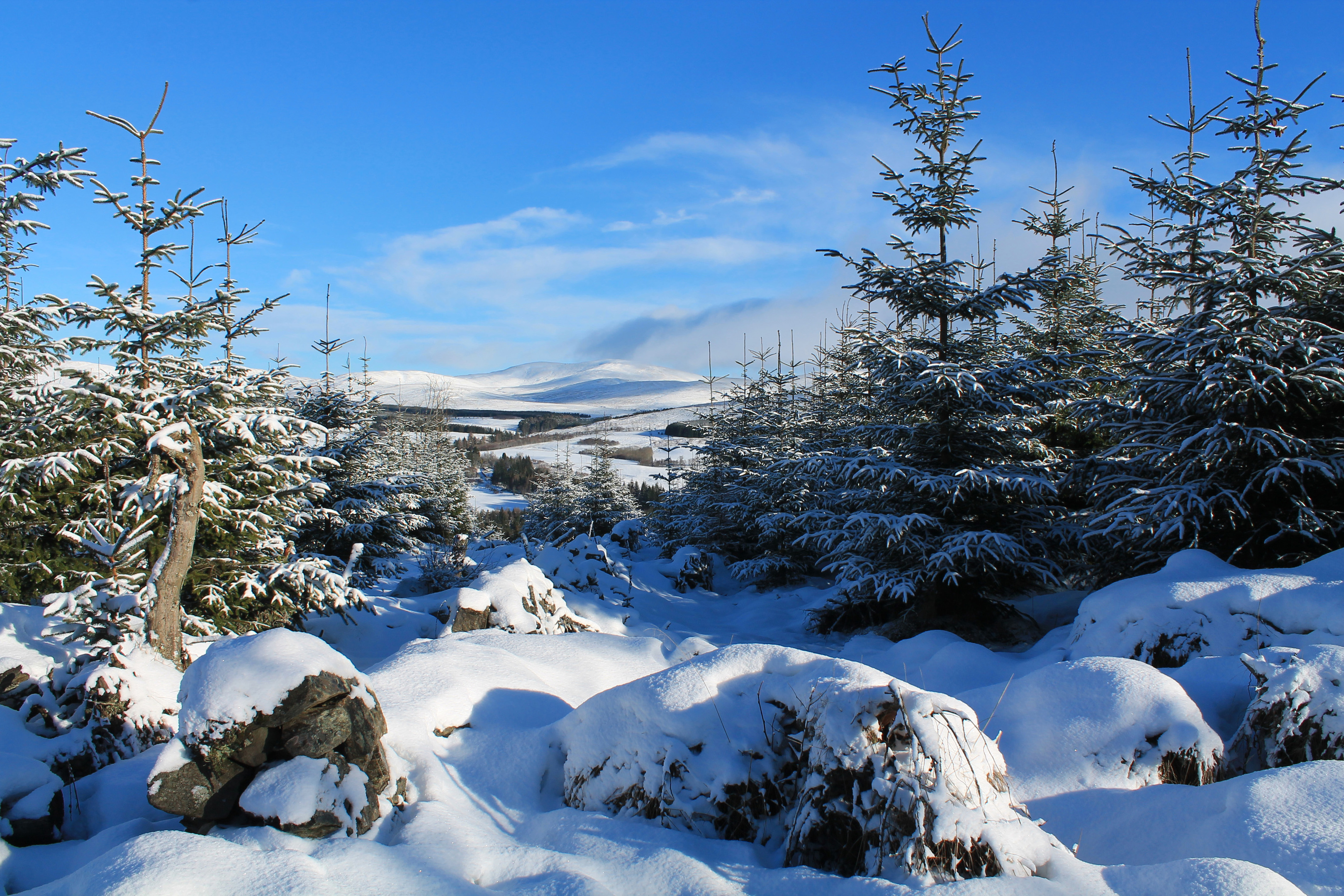 On a previous attempt to conquer Kindrogan Hill, I found my way blocked by windblown trees. As I quickly discovered, there are very few things more frustrating than attempting to clamber over and through fallen conifers.
Hot under the collar and speckled with pine needles and bits of bark, I eventually admitted defeat and, under my own grey cloud, I reluctantly turned tail and headed home.
Returning to do battle with this hill once more (and hopefully reach the summit this time), I set off from the hamlet of Enochdhu, wandering by a row of pretty cottages before crossing the River Ardle by mid-19th century Kindrogan Bridge.
The forest road to Kindrogan House, a former country mansion that now houses a field studies centre, took me as far as the estate's East Lodge where I began my ascent, a track sweeping up through the trees to a junction.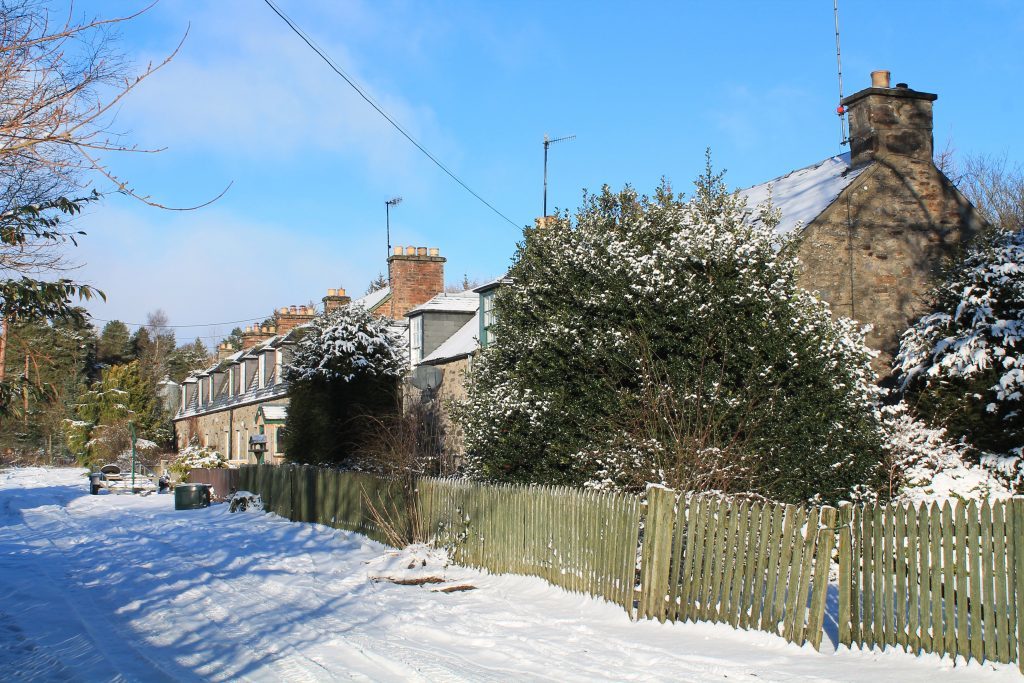 Here a relatively new sign for Kindrogan Hill renewed confidence that a clear course to the summit lay ahead and, after a bit more track walking, I found a waymarker arrow pointing up the hill.
A slim path of grass and reed rises between younger spruce, running parallel with a wall, to a junction where, after pausing to catch breath, I branched right, passing through a gap in the tumbledown stone line.
Following a break in the trees, the path contours the slope, heading north towards the edge of a band of taller conifers. Approaching these older trees, the path appeared to end. However, I pressed ahead into the tall conifers and a trail, distinct enough, crossed a tiny stream and curved left.
Passing a couple of old numbered marker posts, there is evidence here of past efforts to clear the way of windblown trees and, thanks to the forester's deft work with a chainsaw, I enjoyed an unimpeded climb.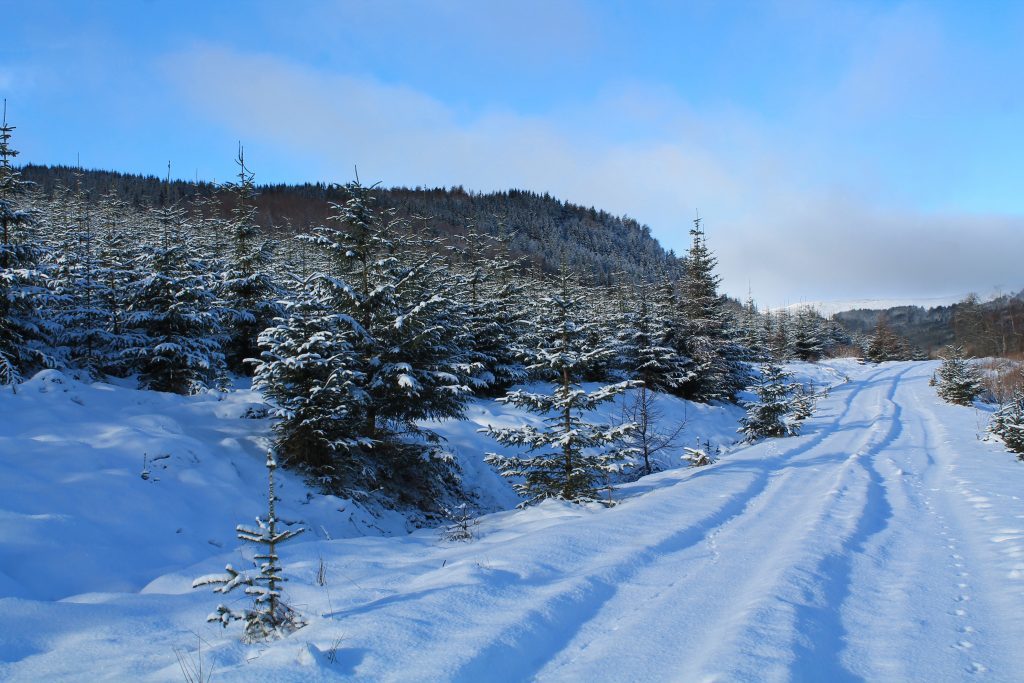 Higher up, however, it was a different story and my earlier optimism began to fade. Beyond a second stream crossing, the path proper disappeared into an impenetrable mesh of tumbled timber.
Fortunately, an alternative trail led into a clearing, re-entering the trees at a section of broken down fence on the left, below crags. By crossing the fence, following it up to a wall then bearing left along the line of the wall, I re-joined the path above the impassable section.
Climbing steeply, the slope was a bit wet and muddy underfoot but, with exposed roots offering a foothold here and there, I emerged from the trees, albeit briefly, at an arrow post.
Again, fallen trees prevented me from progressing along the marked trail but, after making a short detour over open ground to the right, I was back on track and, from here, it turned out to be plain sailing all the way to the top.
The trig point crowns an oval plateau of exposed heather, the path making a beeline for the concrete pillar after it clears the treeline.
Basking in the glory of a successful conquest, an open vista across the tree tops towards the snow-capped mountains of Glen Shee offered a refreshing antidote to the confines of the forest.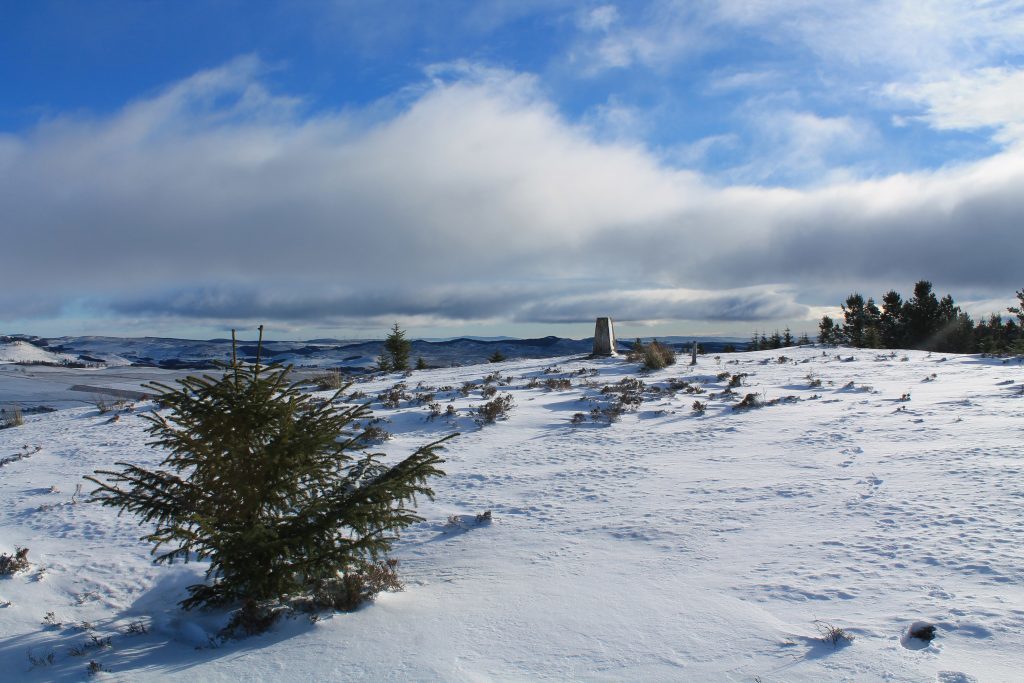 The forest, however, beckoned once again, an established but not particularly well-walked trail descending west then south through the trees to meet the track leading back down to Enochdhu.
ROUTE
1. At rear of parking area, go left along track by cottages, turn right and, where track forks, continue straight ahead, crossing River Ardle.
2. Turn right on track to East Lodge.
3. Turn left, ascending track through gate to junction.
4. Turn right (signed Kindrogan Hill) and walk 400m to waymarker.
5. Turn left and ascend path to junction. Go right, passing through gap in wall and follow path north-west.
6. Entering tall trees, cross stream and bear left, ascending path, passing posts with numbers '5' then '6' on them.
7. Enter clearing, bear left below crags to re-enter trees at broken fence, cut up through trees, bearing left, to join path to summit.
8. Head south west from trig point to join path descending through break in trees. Branch left then, where way appears to fork, bear right, following grassy path down to meet track beyond wall.
9. Turn left and descend track to Enochdhu.
INFORMATION
Distance: 7.25km/4½ miles
Ascent: 250m/825ft
Time: 3 hours
Grading: A short but moderately challenging route up through forestry to the summit of a low hill, following tracks and paths, the terrain rough in places. While there is some waymarking, careful navigation is required
Start/finish: Parking area adjacent to Recycling Point in Enochdhu, 14km north of Bridge of Cally on A924 (Grid ref: NO 062628)
Map: Ordnance Survey 1:50,000 Landranger sheet 43; Ordnance Survey 1:25,000 Explorer sheet OL52
Tourist Information: Blairgowrie Information Centre, 26 Wellmeadow, Blairgowrie PH10 6AS (Tel 01250 872960)
Public transport: Stagecoach bus service 71 from Blairgowrie to Enochdhu