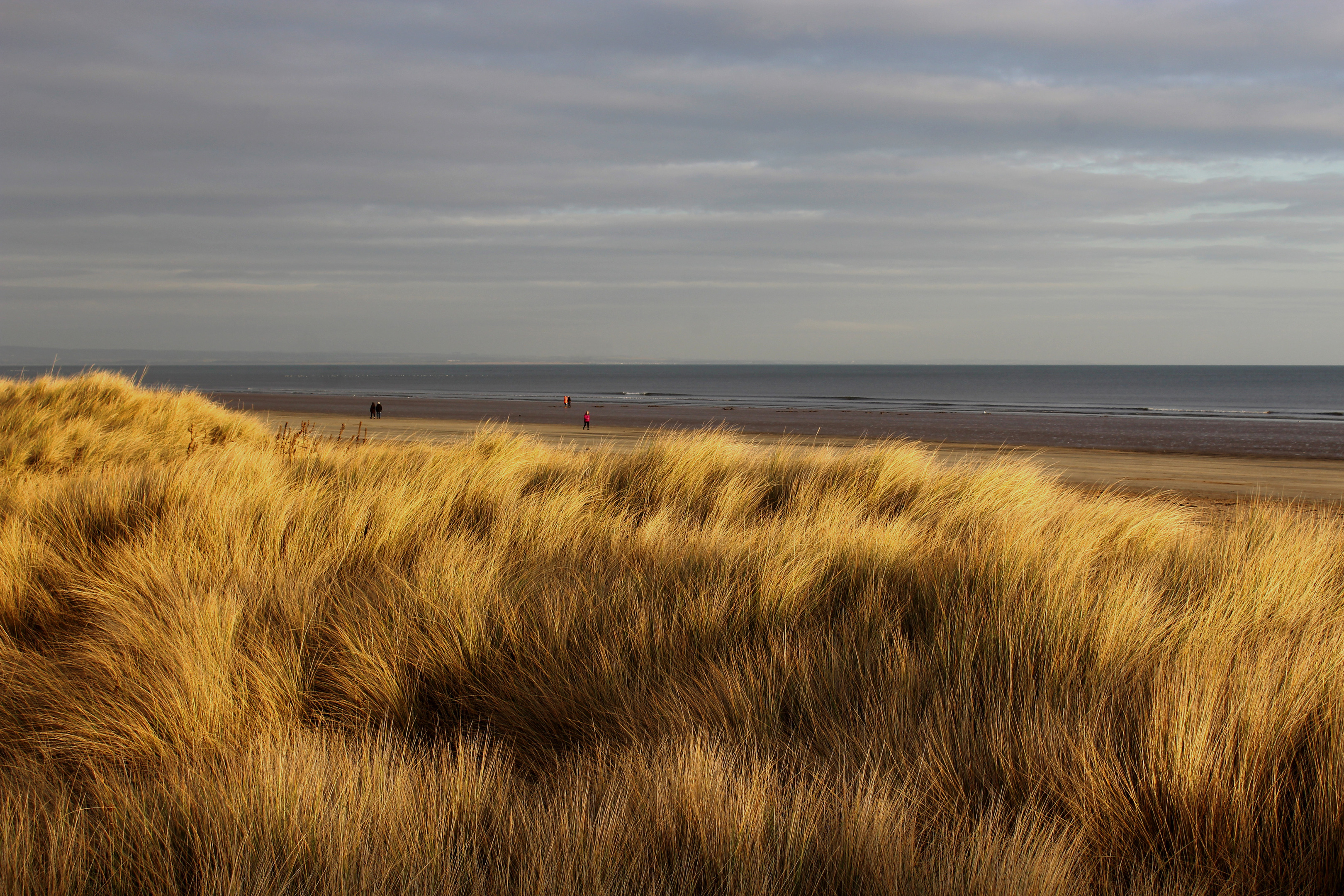 Come rain or shine, the West Sands in St Andrews always draws visitors. In the height of summer, it is a popular spot with sun worshippers, holidaymakers, surfers, sand yachts and kite buggies. In the depths of winter, hardy walkers, runners and horse riders proliferate.
Bounded by the North Sea to the east and the town's world renowned links golf courses to the west, the beach extends north to the mouth of the River Eden, protecting an estuary cherished for its rich variety of birdlife.
Combining beach and bay in one circuit, I set off from Bruce Embankment, a promenade of sorts at the southern end of the sands.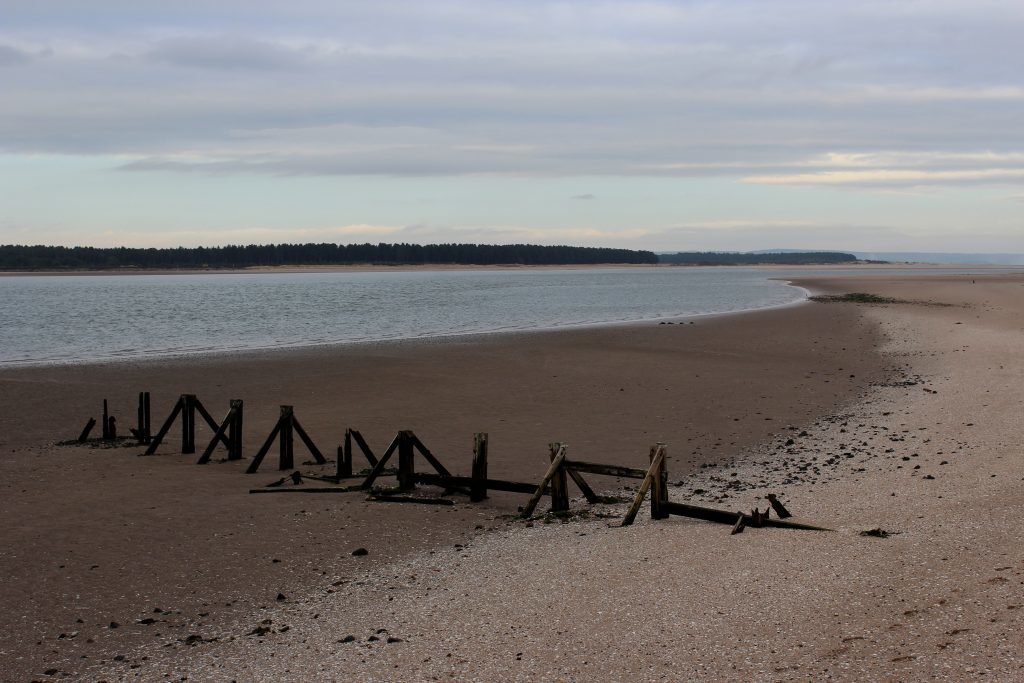 The shoreline teasingly close at hand, I followed the footway round past a seating area where a small plaque records the beach's starring role in the opening sequences of the 1981 film Chariots of Fire, the fact-based story of two young athletes determined to compete in the 1924 Olympics.
On from here, by an information board, a ramp descends on to the beach and, from marram grass-topped dunes, I headed seaward to tramp firmer sand nearer to the edge of the water.
Wandering north, passing well-wrapped families, dog walkers and fishermen digging for bait, the temptation to break into a jog, then perhaps a run, was tempered only by a post-festive season dip in fitness and I settled for a swift walking pace, quietly whistling the famous Chariots of Fire score to myself.
The coastal strip progresses towards sandbanks at the outflow of the Eden, Tentsmuir Forest visible across the channel, but a prominent notice warning against exploration of these shifting tidal bars prompted me inland, a path cutting through the dunes to meet a surfaced track.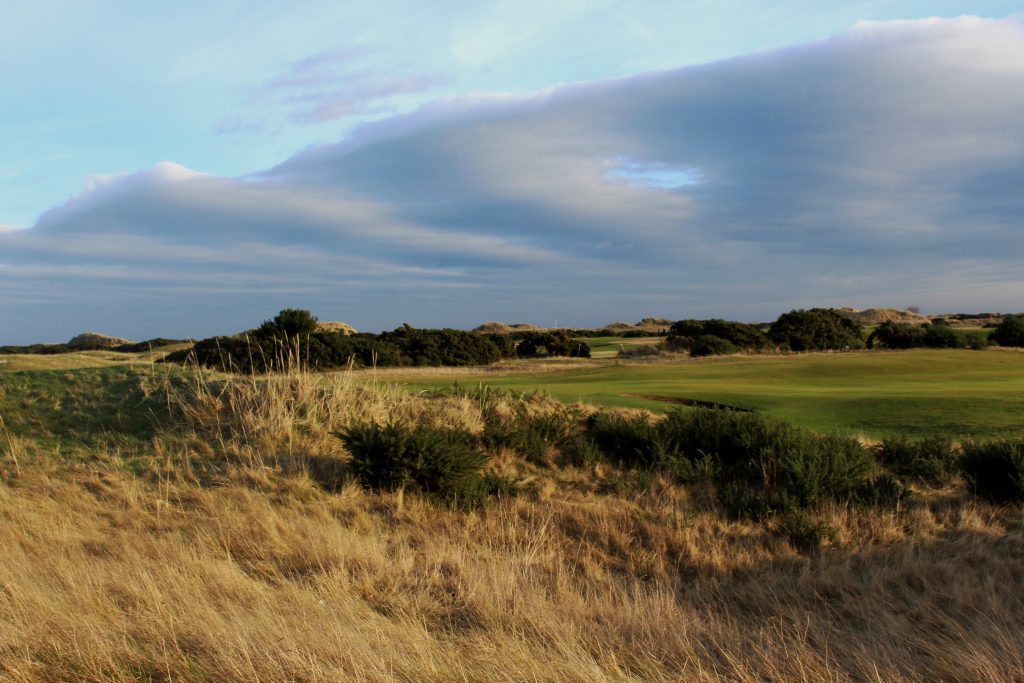 Car-free beyond a metal barrier gate, the way leads past enclosures, where the grazing of Hebridean sheep is helping maintain the dune grasslands, to Out Head. Here, a raised wooden platform offers both information on the Eden Estuary nature reserve and a welcome seat.
A gap in the fence below provides access to the reserve and, avoiding the fragile dunes, a path runs south, skirting along the edge of the golf course.
Initially separated from the greens by a mound, the way soon veers closer to the fairways, a slender grassy path following a line of white posts delineating the boundary of the links.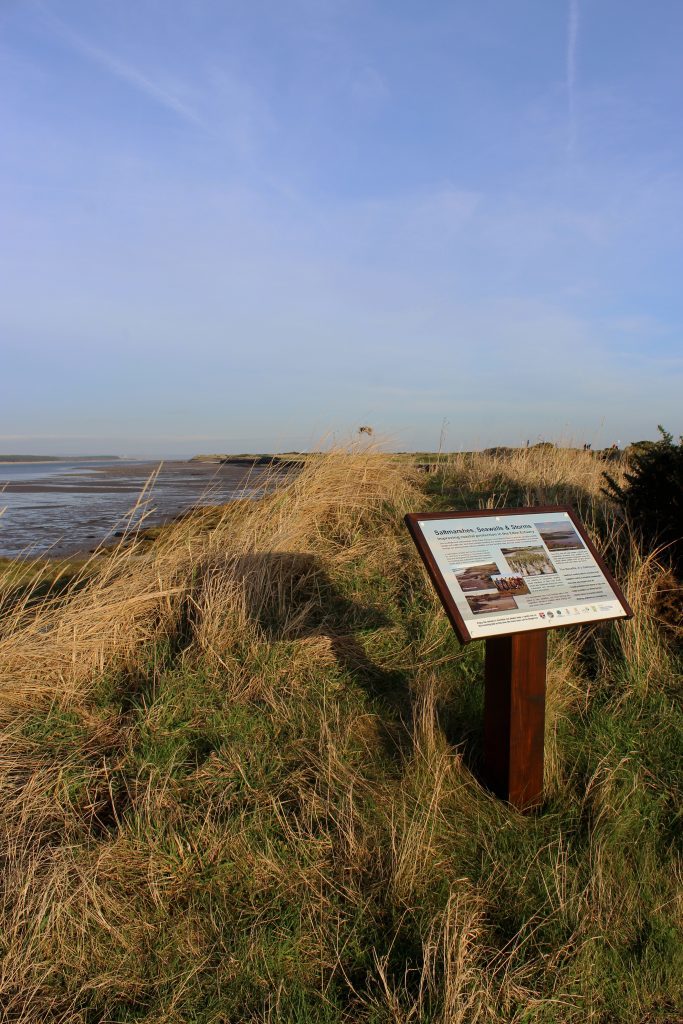 I briefly joined a surfaced track but where it swung left, roaming off between the fairways, I continued ahead, the white posts leading me down on to a broad stretch of grass overlooking the estuary.
The mud flats and saltmarshes here attract birds such as oystercatcher, grey plover, shelduck and redshank while seals may be spotted on the sandbanks. Dolphin have, on occasion, even been tempted to enter the mouth of the Eden.
A little further on, an information board perched on the edge of the golf course offers gen on efforts made to conserve the ecology of the river, wire cages of stone below the path part of a bid to halt coastal erosion.
Beyond the end of this rock armoury, a marker post points the way across a fairway and, after pausing briefly to avoid disturbing golfers on the nearby green, I stepped over the neatly mown grass to join a right of way leading back through the links to St Andrews.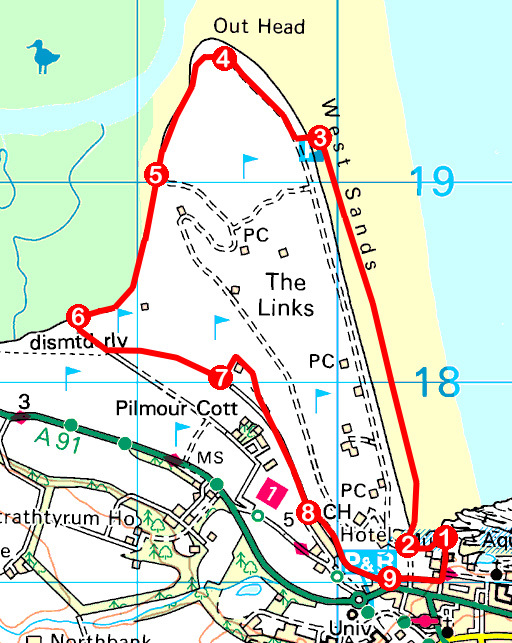 ROUTE
1. Bear right out of car park and walk west along Bruce Embankment.
2. Turn right, descend ramp and walk 2km north along West Sands.
3. Approaching yellow warning sign (marker post 13), head inland through dunes to turning circle. Bear right, passing round barrier gate, and follow surfaced track north.
4. Enter nature reserve at gateway between information boards then bear left, following path along edge of golf course.
5. Join surfaced track briefly then, where it curves left, continue straight ahead, along edge of course.
6. Turn left at Scotways marker post, crossing green, to meet path. Go left then left again at next junction.
7. Branch left to pink cottage (toilets) then turn right to Old Course Hotel.
8. Pause if necessary to avoid interrupting play on 17th hole then continue ahead.
9. Turn left along Old Station Road, left again along The Links, then left once more along Golf Place.
INFORMATION
Distance: 7.5km/4¾ miles
Ascent: 45m/150ft
Time: 2-3 hours
Grading: Easy low level walk on beach, tracks and paths, some crossing golf courses. Keep dogs under close control, avoid disturbing play and watch out for stray golf balls
Start/finish: Bruce Embankment car park, Golf Place, St Andrews (Grid ref: NO 505172). Pay and display charges apply between April and September (Mon-Sat)
Map: Ordnance Survey 1:50,000 Landranger sheet 59; Ordnance Survey 1:25,000 Explorer sheet 371
Tourist Information: St Andrews iCentre, 70 Market Street, St Andrews KY16 9NU (Tel 01334 472021)
Public transport: Stagecoach bus services 99 from Dundee, 23 from Stirling or X59 from Edinburgh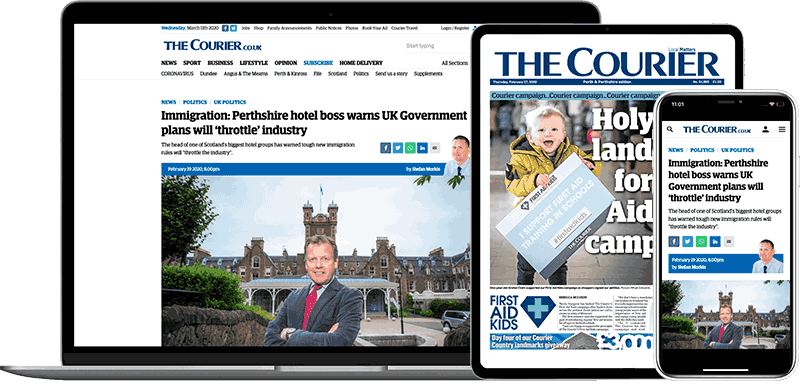 Help support quality local journalism … become a digital subscriber to The Courier
For as little as £5.99 a month you can access all of our content, including Premium articles.
Subscribe